Kickin' Up Heels with Horse Fun!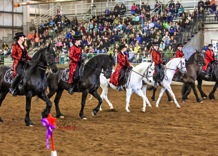 It's an Equine Extravaganza! More than 180 horses from all over the Northwest will gather in Albany, as the Northwest Horse Fair and Expo kicks up it's heels, with horses galore! The 18th annual Northwest Horse Fair, presented by Akins Trailer Sales, will run March 24 through the 26 at the Linn County Fair and Expo Center. "If you own or love horses, the Northwest Horse Fair is the perfect event for you!" said John Cloe, Event Manager and Founder.  "This year's event is loaded with good old fashioned family fun for horse lovers of all ages! We're featuring a dynamic group of top-notch riders and trainers, exciting equine entertainment, clinics, workshops, breed demos, special equine events, a model horse show, pony rides, a huge trade show, and a chance to take home a newly trained mustang!"
Mustang Adoption Challenge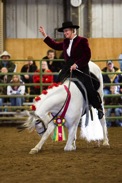 For the first time ever, the Northwest Horse Fair and Expo will host the Mustang Adoption Challenge 2017, presented by the non-profit organization, Teens and Oregon Mustangs. Contestants from Oregon, Washington and British Columbia, acquired their mustangs in December, and have had just three months to train and prepare the horses for the Challenge competition. Both Youth and Adult Contenders and their mustangs will compete in a series of classes to include Overall Body Condition, Showmanship, In-Hand Trail, and Riding. The contest gets underway Thursday, March 23 at 6pm in the Akins Trailer Sales Arena, the only arena open that evening; admission no charge. The barn area and trade show will not be open to the public Thursday. The competition will continue Friday and Saturday during the expo, culminating Sunday, when the placings and winners are announced. The overall Grand Champion will take home a new saddle! Following the special awards ceremony Sunday, the horses will be live-auctioned to help the trained mustangs find their forever homes. On-line auction bids can also be placed for the mustangs. For more information about the Mustang Adoption Challenge 2017 and bidding information, go to http://www.teensandoregonmustangs.org.
BreyerWest –A Model Horse Competition!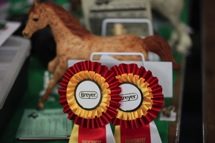 Returning for the second year running, The Breyer® Horse Model Horse Show event, BreyerWest®, will again be a part of the Northwest Horse Fair. "The Open Show is completely sold out, with competitors coming from as far away as New Jersey, Kentucky and Texas!" said Mr. Cloe. The extensive model horse event features model horse hobby demonstrations, model horse shows, model hobby artistry and crafts, and fun activities for children. A number of equine artists and experts will teach workshops and seminars during the model horse show, including sculptors, painters, model horse tack-makers and model hobby experts. Model horse shows will be held Friday and Saturday. Free Stablemates painting for kids 18 and under, plus demonstrations, will be held all three days of the expo.  For more information on BreyerWest and related activities, go to www.BreyerHorses.com or follow BreyerWest 2017 on Facebook.
First-Class Clinics & Workshops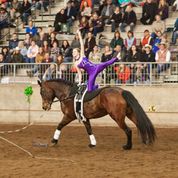 Top-notch riders and trainers will teach a variety of clinics, lectures and workshops, throughout the weekend.  Presenters include: Ken McNabb (WY) teaching General Horsemanship; Van Hargis (TX) providing Ranch Versatility clinics; Jec Ballou (CA) presenting Conditioning & Fitness for Classical and Western Dressage Horses; Roddy LaRā (AZ) working with Mules; Peggy Cummings (WA) featuring Connected Riding®; and Bonnie Davis (CA) giving workshops and lectures on Horse Camping & Trail Riding. In addition, radio and on-line TV host of Speaking with Horses, Wayne Williams (WI), will be on hand at the horse fair.
Horses: What Can They Do??
From delicate and dainty, to sturdy and stout, magnificent horses will represent a wide variety of breeds from around the world, in the Breed Showcase and the Stallion Review.  These horses will be led, ridden, driven or worked at liberty, in captivating demonstrations showing off the strength of their breeds! Fans can also visit the horses up close and personal, in the stall barn. Among the many breeds demonstrating the diversity of equine are: Andalusians, Canadian Horses, Drum Horses, Haflingers, Fell Ponies, Gypsy Cobs, Gypsy Vanners, Lipizzans, Mustangs, Paso Finos, Peruvian Horses, Quarter Horses and Tennessee Walking Horses!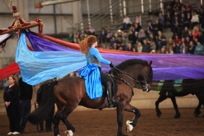 An awesome array of entertainment will also be a part of the Northwest Horse Fair! Endo, a blind Appaloosa horse, will provide amazing performances, both at liberty and ridden, under the guidance of his trusted owner, Morgan Wagner. The Ecco Ridge Vaulters will demonstrate daring gymnastics from the back of a moving horse, and the Brokenridge Drill Team will execute synchronized precision maneuvers on horseback. Always a crowd favorite, the BlackPearl Friesian Dance Troupe will don colorful costumes and provide creative choreography on graceful dancing horses! And not just horses will be ridden! The Legendary Longhorns will be on display, with owner/trainer, Frank Rendon astride!
Fantastic Shopping for Horse Enthusiasts!
A large trade show, with rows of commercial booths will fill two buildings, providing a wealth of shopping options for horse enthusiasts! Among the items being offered by vendors from all over the country, include trailers, feed, saddles, hats, clothing for riders and horses, farm products and supplies, gifts, services, home décor items and much more!
Benefit Food Drive for Albany Helping Hands
Northwest Horse Fair attendees can enjoy the expo and help a great cause too!  On Friday, March 24, attendees can bring a non-perishable food item to the gate and get a dollar off their ticket price. All donations go to the Albany Helping Hands Homeless Shelter.
KMTR Youth Day – Free Admission for Kids!
Sunday March 26 is KMTR Youth Day at the Northwest Horse Fair. All children 12 years and under, get in free that day with a paid adult admission! Plus 4-H and Pony Club Members, aged 13 to 18 years will be admitted for no charge, with their club ID cards. FFA members wearing their jackets also can receive free admission to the expo on KMTR Youth Day.
More Information
For more details about the Northwest Horse Fair, go to www.equinepromotions.net, email jjcloe@equinepromotions.net, call 765-655-2107, or join us for late breaking details and excitement, on Facebook and Twitter.
Sponsors for the Northwest Horse Fair and Expo 2017 include: Akins Trailer Sales, the presenting sponsor; Beelart Embroidery; KMTR-TV, Youth Day sponsor; KRKT; Logan Coach Trailers; Northwest Rider Magazine, the official publication of the Northwest Horse Fair and Expo; Phoenix Inn & Suites, the hosting hotel for the Northwest Horse Fair and Expo; and Wilco.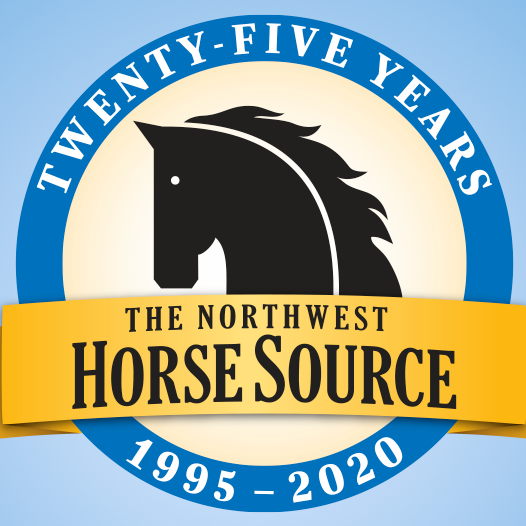 News from the horse industry. Sharing today's information as it happens. The Northwest Horse Source is not responsible for the content of 3rd party submissions.