Meet an Accomplished, Blind, Dressage Rider
by Betsy Fradd, WSU 4-H Extension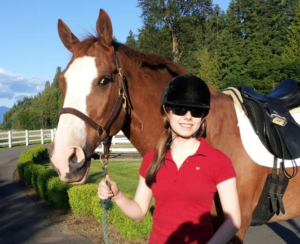 It's not often you see a guide dog, a horse and a 4-H equestrian together in the horse barn at the 4-H State Fair. It's not often you meet a teen like Ali Steenis.
Sight-impaired since birth, Ali charges at life with high octane energy. At 17, the Snohomish 4-H'er navigates her senior high school classes, sports, clubs and volunteer activities with confidence and optimism. "My guide dog is a walking bill board and people often wonder how I manage," said Ali. "I can do anything anyone sighted can do—just in a creative, innovative way."
That outlook spurred Ali to compete twice in the Snohomish County dressage contest with her horse, Watchman, where she won with the help of others who called out the letters (known as Living Letters) needed to navigate around the arena. As her former therapy horse, the 19-year old Hanoverian is completely familiar with Ali's movements since she began riding him at age five. Trust, love and an innate sense of each other's strengths and challenges are part of their human/animal bond. "He knows I have very limited sight and is sensitive and protective of me," said Ali.
Back in the Puyallup show ring Ali partnered with her 4-H friends who became Living Letters competing at the state level September 16. With four youth on the outside corners and one in the middle, Ali was able to guide Watchman to do the required dressage movements. Cuing him with her legs to turn, walk, trot, and canter, Ali used the reins to help him find balance and set his frame.
"I felt very supported, encouraged and embraced by the other girls who were helping me," said Ali. "They learned very quickly what I needed and jumped right in." That support, along with Ali's talent, earned her a personal best and third place out of 40 contestants in her division.
Kelsie Nickerson, one of Ali's closest friends and main Living Letter caller, gained new perspective from her involvement. "Now I really understand about 4-H teamwork, friendship, and life in general," said the 19-year old from Marysville. "Working with Ali and seeing the group all come together, that was the biggest event at state. My second place was not as big a highlight as seeing Ali taking third."
When she's not riding you can find Ali reading, participating in one of six clubs at Glacier Peak High School, trying new sports (snowboarding is a favorite) or volunteering. Recently Ali was approached about taking part in experimental gene therapy to treat people with specific types of blindness. Her mother, Cyndie, said Ali quickly jumped at the opportunity mainly to help others. "I asked her why she saw this as a way to help others and not necessarily herself," said Cyndie. "She told me 'Because I would rather live a life of service than a life of ease.' " 
Ali's future plans include college, a business degree, and, possibly, opening up a therapeutic horse barn with Kelsie." 4-H has given me a lot of independence. I've been able to transition from therapeutic riding to being an able-bodied rider," said Ali. "People have given me confidence in my abilities in what I can learn about riding and management. It's super fun. I love it so much."
Meet Ali Steenis in this Komo TV special video–http://www.komonews.com/news/local/Blind-girl-wins-state-4-H-horse-riding-competition-180713931.html?tab=video&c=y  *
To learn more about Ali visit her blog at: Nosightnoproblem.wordpress.com**
*This link was not active at the time this article was added to the website in 2018.
**This link was not active at the time this article was added to the website in 2018.
Published January 2013 Issue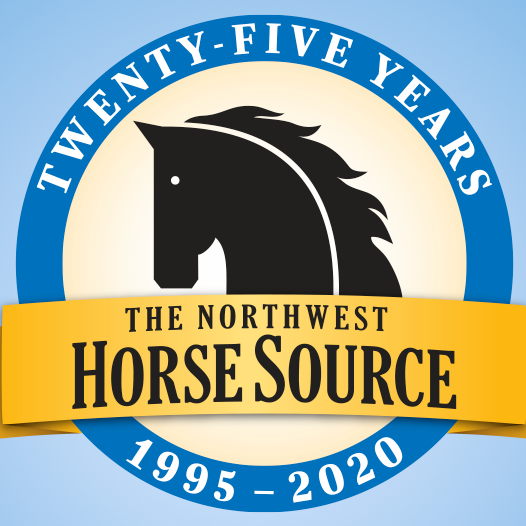 The Northwest Horse Source is an independently owned and operated print and online magazine for horse owners and enthusiasts of all breeds and disciplines in the Pacific Northwest. Our contemporary editorial columns are predominantly written by experts in the region, covering the care, training, keeping and enjoyment of horses, with an eye to the specific concerns in our region.