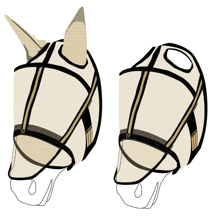 Noble Outfitters®, a California-based equestrian company, is proud to announce the launch of the new & improved Guardsman™ Fly Mask. Engineered for durability and comfort, the Guardsman™ Fly Mask in now available with several new key features that will make it a must-have for every horse owner this summer.
The new & improved Guardsman™ Fly Mask is truly one of a kind. Unique, patent-pending Flex Spline Technology creates a canopy away from horse's eyes, providing excellent protection while keeping the horse's face cool and ventilated. The contoured fit of the Guardsman™ Fly Mask prevents insects from penetrating the mask, while the new removable and adjustable patent-pending nose attachment provides customizable protection for the horses that need it most.
The Guardsman™ Fly Mask is built to last featuring heavy-duty UV coated mesh with anti-rub nylon and guard bumpers to create stability with rip-stop protection. Strong, double-sided hook and loop provides a secure attachment and guarantees the mask stays put. While protection is the number one goal, the comfort of your horse cannot be overlooked; the Noble Outfitters Guardsman™ Fly Mask provides comfort details with brushed fleece on crown, ear holes, and nose that prevents rubbing and irritation. We also added an elastic relief at hook and loop closure under jowl.
Your horse will love how comfortable the mask feels and you will love how easy it is to put on and off. Enjoy the convenience of an easy hang bridle loop for storage or wear with halter/bridle. Another great feature every horse owner will appreciate is a light-colored tag with a space to write your horse's name and your contact information.
The new & improved Guardsman™ Fly Mask is available in two versions: With and Without Ears, and is offered in two colors, Noble Gold and Black. The Noble Outfitters Guardsman™ Fly Mask comes in sizes S-XXL and retails starting at $24.95.
About Noble Outfitters®
Headquartered in Modesto, California, Noble Outfitters® creates products that exceed the needs of our customers with quality and function, while delivering exceptional value. Each Noble Outfitters item, from apparel and bags, to gloves and socks, is carefully designed in close collaboration with equestrian enthusiasts and professionals. Learn more and view the full range of items at www.NobleOutfitters.com.