An Interview with Producer MJ Isakson
by Alayne Blickle
This month, as a break from articles about small farm management, I thought NWHS readers might be interested in learning about an up and coming horse film produced by a Seattle native, MJ Isakson. This is a film about the cow horse discipline, the three-day eventing of the Western world. Cow horse has three components: reining, called the dry work; cutting, called the herd work and the fence work. The last is the celebrated highlight where horse and rider fly down the fence while working a 900 pound steer in a specific pattern and manner. Each of these events requires skill, courage and finesse, not to mention guts on the part of both horse and rider.
Most horses have a certain amount of "cowiness," the ability to rate and move a cow, but it takes a talented, special horse to learn how to go down the fence and cut a cow out of a herd. Like many things, this discipline is based on historic tradition: ranch work performed by early cowboys who had to cut a cow or calf out of a herd for doctoring, branding or chasing an ornery steer. In the 1800's, Spanish Vaqueros moved large herds of cattle through the southwest. These vaqueros developed a style of riding and working with horses and cattle. The modern day cow horse was developed from this tradition.
MJ Isakson has spent the last six years interviewing cow horse trainers, Western tradition craftsmen and horse breeders, as well as researching the history of Vaquero style horsemanship. This journey has taken her from the Santa Ynez Valley in California, to Magic Valley in Idaho and even the south of Spain.
"I went to my first cow horse futurity in 2008 in Reno," explains Isakson. "I couldn't believe the level of horsemanship I was seeing. I tried to find more information and just wanted to learn [what cow horse is about] and I realized there wasn't a lot out there about it [available in film or video.]"
That's when the idea sprouted for Isakson to do a documentary film. "It just felt important to make sure it was documented, this story about the legends and culture of our time," says Isakson, the excitement in her voice rising.
After researching and shooting video shorts, Isakson met Lori Adamski-Peek, a highly accomplished commercial photographer. Adamski-Peek was just getting into cow horse and falling in love with it herself. "I'm still in a little bit of shock," says Isakson. "Lori just showed up with her amazing crew and said let's do it!" This is how Down the Fence was born.
Adamski-Peek and her crew went to Utah and shot some initial footage which was then sent to Isakson. "I just sat at my computer and cried because it was so beautiful. [It was] exactly what I'd hoped for," shares Isakson.
One can imagine that many of the shots and filming requirements for Down the Fence are rather unique so lots of cool, new technology is being employed along with creative filming techniques. "Using multiple cameras of different kinds, cameras that are incredibly lightweight and mobile because we're following horsemen. We also need something that can handle slow motion, fast motion and the low light of indoor arenas." Some overhead shots were accomplished by lying in the bucket of a tractor and using a horse blanket to keep from getting dirty. "There's a lot of laying in the ground close to the fence with the horses racing by you," grins Isakson.
Images are only part of what will give this feature length film a special feel. "As riders, we know that the visual part is probably the least prominent of the senses," Isakson explains. "When riding, sound and feel are the sensations we notice the most. In Down the Fence we hope to utilize sound [including music] to evoke the feeling of what it's like to be in the company of horses."
Down the Fence is on track to be completed by the end of summer 2015. After that they will begin applying for entry into 2016 film festivals and planning for distribution.
"Our goal is to get it out to as many people as possible," Isakson states.
Want to see more and follow the journey? Go to http://www.downthefencemovie.com/ or follow them on Facebook.
Originally Published December 2014 Issue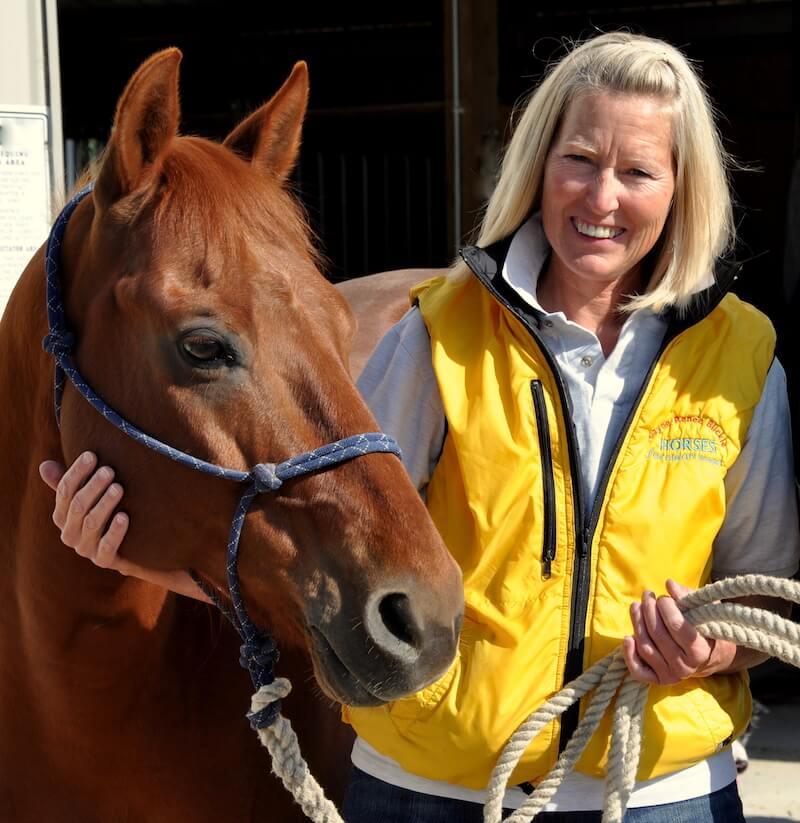 Alayne Blickle, a life-long equestrian and educator, is the creator/director of Horses for Clean Water, an award-winning, nationally acclaimed environmental education program that "wrote the book" on caring for horses and land. Known for her enthusiastic, fun and down-to-earth approach, she is an educator and photojournalist who has worked with horses and livestock owners for over 20 years. Alayne teaches and travels throughout North America and abroad, and also runs Sweet Pepper Ranch, an eco-sensitive guest ranch and horse motel in Southwestern Idaho where she and her husband raise top-notch reining horses and beautiful grass hay. For more information contact Alayne at alayne@horsesforcleanwater.com or 206-909-0225.