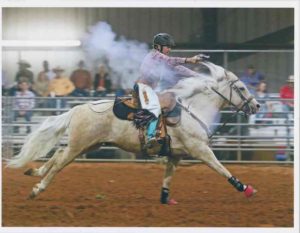 Invest in a New Shooters Clinic and Get Involved in the Fun
Capture the feeling of the Wild West: the feel of pounding hooves beneath you, the sound of gunfire and the smell of gun powder as you draw your single action Colt 45 and shoot your first target . . .  a balloon. Mounted shooting has been described as an addiction—once you start, you can't stop. 
Any breed of horse or mule can be used for mounted shooting though some horses take to this sport easily and others do not. Since you will be shooting with one hand and riding with the other, your horse must be well trained and obedient. If you're interested, take the time to invest in a new shooters clinic (or two or three). It is well worth the time and money to set you and your horse up for success. The most successful horses get started slowly with exposure to gun fire in a safe, controlled, herd environment. Many people start at a walk or trot. 
It will be a great year to get involved in this family sport which teaches knowledge and respect for firearms and horses starting at a young age. All shooters start out as a Level 1 so there is a division for everyone. The new season is just beginning, and there are several mounted shooting clubs in the greater Pacific Northwest. For information on a club near you contact the Cowboy Mounted Shooting Association (CMSA) Website: CowboyMountedShooting.com
2014 May Events:
May 9-11: Columbia Basin Mounted Shooters, Pacific NW Regionals (Friday)
and Oregon State Championships (Sat-Sun), Hermiston, OR.
May 18:  Kittitas County Mounted Shooters, Ellensburg Rodeo Grounds.
May 31: Western Washington Mounted Shooters hosting a New Shooters Clinic in Sultan, WA
with World Champion Cindy Griggs of Hermiston, OR.
Published May 2014 Issue
WWMS members vary from kids to adults, and from the recreational shooter to the serious National and World competitor, so there's a spot for everyone. We are a friendly group, and enjoy introducing the sport to others. Please feel free to contact us at any time, and come join the addiction that is Cowboy Mounted Shooting!!! www.WesternWashingtonMountedShooters.com