Age Shines on the Obstacle Course
by Mark Bolender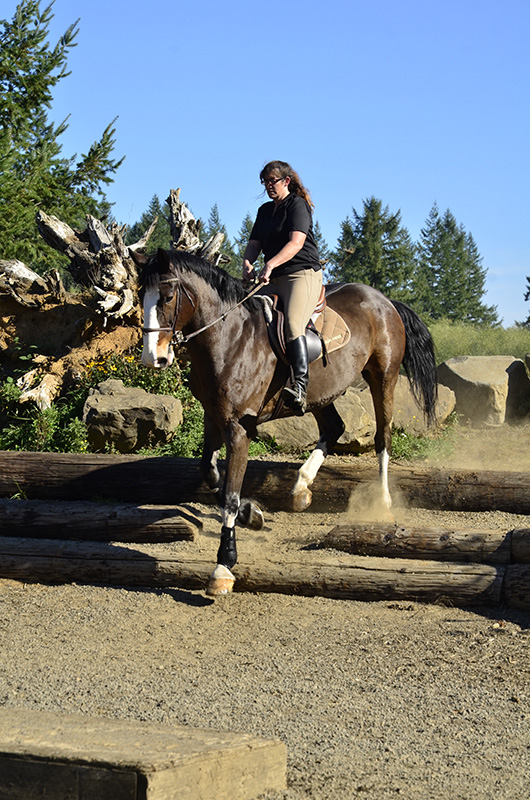 The discipline of mountain trail goes quite naturally with an aged horse. While an older horse may struggle at the most demanding level of the sport, it can still be quite good for them. Recently I watched a healthy, yet slightly arthritic, 25-year-old horse being ridden at a mountain trail challenge. It was not hard to see that the horse loved the job and was having many muscles stretched in the process—just what that aged mare needed. With this idea in mind, let's consider a few common obstacles and see how mountain trail benefits a senior horse.
The "Texas Two Step" is an obstacle where the horse must step up three small steps and then down three small steps. It is a great stretching exercise. The horse I just mentioned was riding a pattern that called for the horse to first walk up three steps and down two, but then stop on the last step and turn around. In order to turn around the horse had to stop and use care to turn slowly without stepping off. This maneuver required it to collect up, stretch back out and then collect up again before stepping off. It was low impact on older joints and warmed up stiff muscles.
This horse then moved on to the rolling bridge. Here she had to step up, and on, with great care and then balance herself so the bridge would not move. When she stepped off the bridge it didn't move which meant she was collected and correct. This obstacle tightened her muscles, but she was able to quickly stretch out and relax again.
The next obstacle was a step-down with a 24 inch drop. The mare had to take her time because it really stretched her to the limit. As she continued on the course, however, I noted she seemed to perform with greater ease even as the obstacles became more demanding physically. I noticed, by her third class, that this particular horse had an easier time trotting because her muscles were warmed up and stretched out.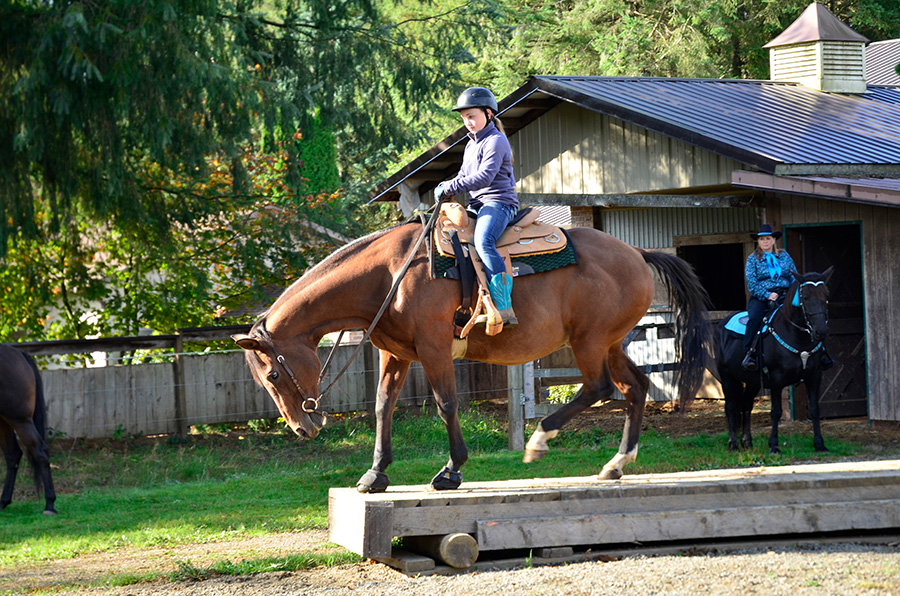 The more I watched this mare (ridden by a young girl) the more I realized that she was happy to be working and enjoyed her job. An ex reining horse, it had been fifteen years since she had been in the show ring. Despite some arthritis, the horse was back in her element and it was a joy to watch her. This is the beauty of mountain trail, a sport naturally suited to the aged horse that still has a great mind and is able and willing to help a new or timid rider.
We had a veterinarian come out to watch a few aged horses walk and trot through our trail course at Bolender Horse Park to get his thoughts on mountain trail for horses that were old or had old injuries. He confirmed that it is a low impact sport which requires the horse to stretch out its ligaments and muscles. This can only be beneficial to them (aged or otherwise).
Many senior horses pass through Bolender Horse Park each month and often they have a few physical flaws and/or a little arthritis. Regardless, they love to be ridden and love having a job. It is not unlike the "aged" rider, actually: a bit of arthritis or mild discomfort can't take away the joy of being in the saddle. Not always, but often, senior horses can be picked up for a very reasonable price and have mature minds making them safe and reliable. They are what I call confidence builders, or, "babysitters." This has real value as often a person cannot afford to spend a lot on a first horse but needs something dependable. Perhaps they have a lot of fear or have just never had the time to learn to ride. A senior horse can build up confidence by removing fear and replacing it with a smile. That particular person will learn the joy of riding with a safe partner making us all smile and say, "You gotta love those mature horses!"
Happy Trails and Bolender Blessings.
Published in December 2015 Issue
Mark Bolender's name has become synonymous with the new and exciting international equine discipline Mountain Trail. Mark earned national titles in this sport in 2008, 2009 and 2010 and has been supporting Mountain Trail for the past nine years by teaching clinics, judging shows, and building courses worldwide.
Prior to his involvement in Mountain Trail, Mark developed a solid foundation of experience by breeding Quarter Horses and showing in open, Quarter Horse, and Reining competitions. He writes for a number of magazines and is the author of the popular book, Bolender's Guide to Mastering Mountain and Extreme Trail Riding. He has produced four DVD's about training for Mountain Trail and one DVD entitled The Road to Bridle-less. He has been featured twice in the American Quarter Horse magazine America's Horse for mastering the Trail Challenge. Mark operates a judging school which certifies judges in the USA, Canada and Europe for Mountain Trail and Trail Challenge. He and his wife, Lee, are the founders of the International Mountain Trail Challenge Association (IMTCA) which was formed to promote the sport of Mountain Trail. Mark and Lee own and operate Bolender Horse Park in Washington State, which houses the finest Mountain Trail course in the world. Mark and Lee travel the world to give Mountain Trail clinics in almost every corner of the globe.
Mountain Trail made its television debut on RFDTV in November of 2016, further promoting the sport to audiences everywhere.
Using Bolender Horse Park as the model, Mark and Lee have designed and built Mountain Trail courses for private and public use in the USA, Canada, Australia and Europe – with many more in development. These courses are premier sites used by beginners and highly advanced riders alike; they are designed for clinics, shows, and training.
Mark and Lee actively promote the Bolender training philosophy, which centers on using the natural instincts of the horse in the training process. Mark says that activating key instincts in the horse combined with good horsemanship results in real equine magic. They continue to set goals to build more and more courses, promote the IMTCA, and write books and articles for eager enthusiasts. The next goal is to bring Mountain Trail to the Olympics.