One Horseman's Journey to Farrier Science
by Karen Plumlee and Catherine Madera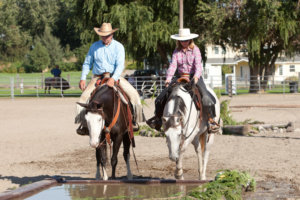 "If you can aspire to become a good horseman, you can't help but become a better farrier."
So says Mark Plumlee, founder and instructor of Mission Farrier School in Snohomish, WA. Now in its 17th year, Mission Farrier School has become known for cutting edge science and the high quality of farriers it graduates—over 400 worldwide. Guided by Plumlee's mantra that horse shoeing and barefoot trimming should always be something done for a horse rather than to a horse, 90% of the school's graduates are still in the industry three years after graduation. This is astonishing as the national average of farriers retained after three years is below 10%. To understand what makes Mission Farrier School a cut above the rest, one must look more closely at owners, Mark and Karen Plumlee.
"Mark's life could read like a string of country songs," says Karen, "from 'Mamas Don't Let Your Babies Grow Up to Be Cowboys' to 'Big Iron on His Hip.'"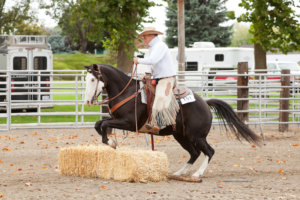 Unlike many farriers, Mark has a true cowboy background, growing up around the rodeo arena and ranch cowboys in Selah, WA. As a teenager he competed in calf roping, team roping, bull riding and saddle bronc riding. What remained constant was the need for good, sound horses as part of any day's success. Mark intuitively understood, prior to his farrier education, the truth in "no hoof, no horse".
Following in his father's footsteps as a horse shoer and professional horseman, Mark shod his first horse at the ripe old age of 14. He became a Certified Journeyman farrier at age 34 and has added several certifications from three national farrier associations since that time. Still learning, Mark's latest was received just a few years ago: a lameness specialist certification through the Equine Lameness Prevention Organization based in Penrose, Colorado.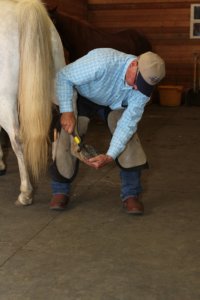 Mark met an important mentor in the early 1990s, Colorado based farrier/researcher Gene Ovnicek. "Ovnicek's research lead us to reevaluate what we thought we knew about farrier science", says Plumlee. And while critics hold to "the way we've always done it," Mark maintains that Gene's studies have done more for horses and hoof science than any other researcher in the last 2000 years. "Gene hasn't reinvented the hoof, he has simply discovered the way it was designed to function." Both men share a passion for "doing right" by a horse and Gene encouraged Mark to start Mission Farrier School in the mid 1990s. The first class had just one student.
"I haven't always done it right—in my personal life, horsemanship, or farrier career," says Mark, who would add the song "Praise the Lord I Saw the Light," to his life's "album."
Karen Godwin Plumlee was raised in the Tonasket/Oroville area to an apple farming family with a strong work ethic. She began working at a young age, driving tractor for her dad before the age of six. When she isn't helping in the farrier school or running the business end of things, you are likely to find her on her tractor, doing the daily ranch work at Faith Equestrian, the couple's Snohomish facility. A retired Alaska Airlines flight attendant and former University of Washington and Seattle Sea Hawks cheerleader, Karen is now living every little girl's dream of spending her days around horses.
"And she can darned sure shoe a horse," says Mark.
Both Plumlees are active equestrians, bringing an "insider's" understanding of performance horse challenges and soundness issues to professional farrier science. The Plumlees compete in cowboy mounted shooting events throughout the western U.S. (Mark is the president of Western Washington Mounted Shooters and Karen is the secretary). They also compete in trail challenge competitions and occasional cow work, when time permits. Multi-faceted horsemen, the Plumlees teach horseshoeing school, operate an equine lameness lay-up care facility focusing on podiatry, run a full-care boarding business, and host a variety of clinics at their facility. In their "spare" time they operate a custom saddle shop, sharing a passion for making saddles and cowboy gear for ranch work and mounted shooting. In addition they are ardent supporters of the 4-H program and continue to work with various Snohomish county clubs, and the Horsebowl and Hippology Teams. They have been called the hardest working people in the horse industry.
"We both work real hard to avoid having a 'real' job," jokes Mark.
Eschewing titles, Mark simply embraces the journey of learning, in all things. He has been described as a "master farrier," but considers himself a student; has been called a cowboy yet strives to also be a horseman; and while not a trained preacher, he believes it to be a personal calling. 
Answering the call with excellence: a founding principle at Mission Farrier School.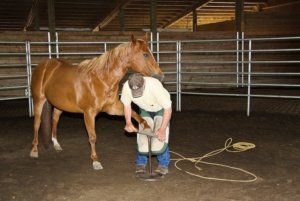 To learn more about the Plumlees and Mission Farrier School visit missionfarrierschool.com or call (360) 862-1406
Published February 2013 Issue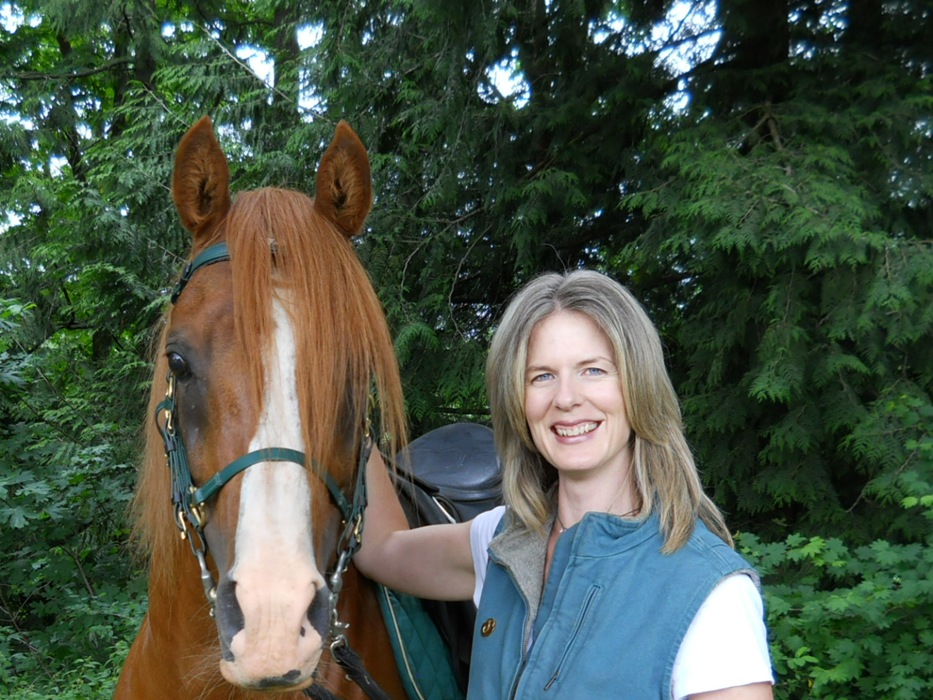 Catherine Madera served as editor of the Northwest Horse Source for five years. She has written for numerous regional and national publications and is a contributing writer for Guideposts Magazine and the author of four equine-related books. She has two grown children and lives with her husband and three horses in Northwest Washington.