The Surprising Benefits of this Natural Supplement
by Tom Schell, DVM
Mushrooms have been used for centuries in various medicinal cultures to aid in health conditions ranging from digestive issues to fatigue to cancer. There are many types of mushrooms with noted medicinal activity and include Shiitake, Maitake, Reishi and Cordyceps. The potential power of these mushrooms was not readily revealed in traditional venues until the 1996 Olympics in which three female Chinese track athletes broke several world records. In the end, they were expected to test positive for illegal substances, but as their tests were negative, it was revealed that they were consuming large quantities of Cordyceps Sinensis. Cordyceps has been known to enhance muscle strength as well as overall endurance and today is used by athletes in several venues as a natural means of enhancing endurance. Mushrooms are not only natural sources of important enzymes, amino acids and minerals they also have been shown in research to:
Boost immune function

Provide anti-oxidant protection

Improve cellular function and oxygenation (ATP production)

Anti-inflammatory properties

Tremendous anti-cancer properties

Reduce blood pressure /cholesterol

Protect and regenerate the liver

Help lower blood sugar (glucose) levels

Anti-bacterial/ Anti-viral properties
In our veterinary practice, I have found mushrooms to be essential in treating  patients with a variety of conditions. They are especially helpful for managing allergic conditions as well as boosting energy levels and vitality in our cancer patients. I also find that routine use of mushrooms in the diet of patients under stress due to competition or other lifestyle factors helps to reduce recurrent infections. Mushrooms have also proven especially helpful in managing ongoing infections due to wounds, respiratory ailments as well as skin conditions. Overall, they not only aid ongoing medical conditions, but taken on a daily basis can improve energy levels and potentially help to reduce the incidence of infections and other health conditions. Our immune formulas for horses, pets and humans are a blend of 6 medicinal mushrooms in extract form. They include Agaricus, Cordyceps, Lentinula, Grifola, Gandoderma and Coriolus species.   We have customers using our equine immune formulas to enhance recovery from EPM, COPD, tendon injuries, uveitis and also for horses with arthritis and navicular conditions. Our companion animal formulas are very beneficial in allergic type conditions, skin infections as well as in cancer recovery and overall support. Enhance overall health, energy levels and recovery today. Add a Cur-OST Immune formula to your regimen and start getting benefits tomorrow!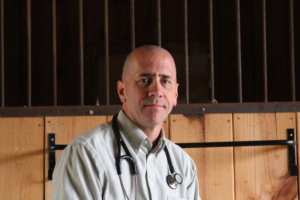 Dr. Tom Schell is a licensed veterinarian and a graduate of The Ohio State University. In his practice, Dr. Schell offers traditional as well as alternative therapies to his equine and companion animal patients. He has conducted research with several published articles focusing on the impact of inflammation on health and the impact of herbal therapy. In 2006, Dr. Schell developed the Cur-OST® line of all natural anti-inflammatory formulas for horses and companion pets. Dr. Schell can be contacted at tschelldvm@nouvelleresearch.com or by visiting www.curost.com. Links to Cur-OST videos can be found on Nouvelle Veterinary YouTube channel.

Published May 2013 Issue

<!-comments-button-->