A Resting Place for Mind, Body and Spirit
by Catherine Madera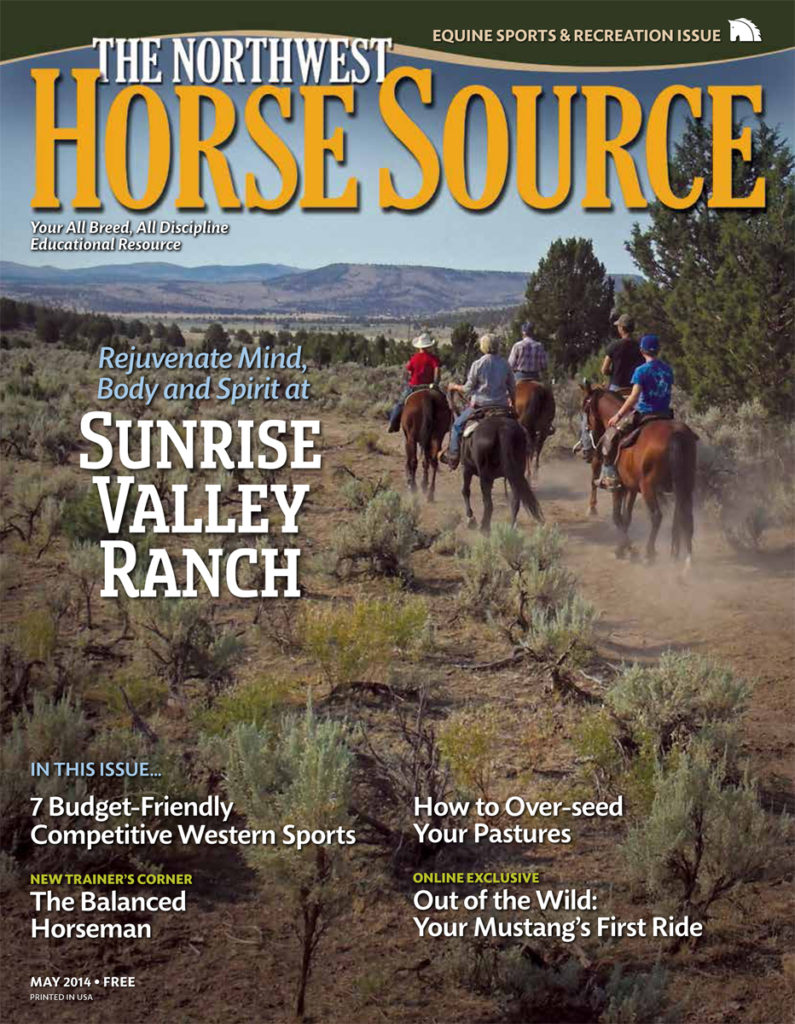 In the 1991 film City Slickers Billy Crystal and his two friends vacation at a working ranch in an attempt to unwind, adventure and discover that elusive "one thing." This One Thing, the trail boss Curly assured them, would put life back together in its rightful order. At Sunrise Valley Ranch in central Oregon, visitors don't drive cattle or encounter a boss like Curly (played by Jack Palance), but they, too, can be assured of one thing: a soul stirring adventure.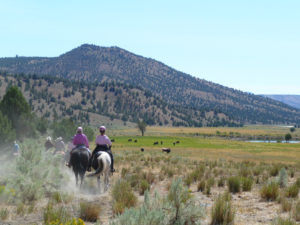 Located 65 miles east of Bend, Oregon, Sunrise Valley Ranch is a genuine working ranch that raises beef cattle, American Quarter Horses and hay on 11,000 acres of land that sits at the base of the Maury Mountains in the southern part of the Ochoco National Forest. Purchased 14 years ago by the Fildes family, the ranch produces unusually lean and healthy beef (a variety lower in saturated fat than chicken or fish) and foundation bred Quarter Horses. They're also passionate about the land and provide a wholesome, enjoyable way for visitors to experience a unique historical area.
Painting a Picture
Imagine rising each morning with your favorite companions to the smell of coffee and a gourmet ranch breakfast. Outside your own horse has rested comfortably all night and is ready for a 2-6 hour guided trail ride. This part of Central Oregon boasts a wide variety of terrain from sagebrush and Juniper to pine and fir-covered mountains. The geology of the area is fascinating and includes fossil and agate beds, bubbling mud springs and stunningly beautiful formations known as the "painted hills" which resulted from volcanic activity. History buffs will enjoy visiting four different pioneer homesteads that still exist on the Fildes property and learn interesting facts about the Oregon sheep farming families who lived there over 100 years ago.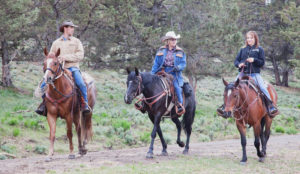 "The rides are all destination rides," says Becky Fildes-Scott, the ranch cook. "The locations we share with visitors are the result of years of other people stumbling on them."
For those who didn't bring a horse, fishing, hiking and riding ATVs are a few other things especially suited to this area. After the fresh air and time outdoors has created a pleasant exhaustion, return to the lodge and a genuine gourmet Dutch oven dinner. The food at Sunrise Valley Ranch is so good it has been known to attract repeat guests all on its own. All meals are made by Becky; she even provides lunch on the trail for horseback riders.
A Ranch for Every Season
The four bedroom, two bath lodge is open year-round, but the official season for trail riding is June—October. The lodge can be used for family vacations, relaxation, fishing, hiking and other outdoor recreation. For winter adventurers, visit the ranch after October to snowmobile and cross country ski. In addition to bed and bath, the lodge features a great room and kitchen. Sunrise Valley Ranch has become a popular destination for city dwellers and sees visitors from both inside and outside the northwest region.
"We have a very high return rate with our clients," says Becky. "Over half of the reservations we have made are people returning for the second, third, or fourth time."
Rates per night range from $130 (3 day/4 night) to $110 (4 day/5 night and up). This includes 3 large ranch meals, feed for your mount and guided trail ride costs. For more detailed information visit sunrisevalleyranch.com or call 541-477-3711.
Here's what guests are saying about the ranch experience:
Thank you, thank you, thank you, to the kitchen chef, trail guides, historians and all the other roles you perform to share your wonderful ranch with us. You are so generous with your time and you have made us feel a part of your ranch experience. I love the quiet, beauty and  magnificence of nature in your part of the country. —Bonnie P.
Just like last year, we had a wonderful experience: great food, great company, great riding. Who could ask for more! Thank you so much. —Maureen Mescher
Thank you all for your hospitality. Your ranch is beautiful; it is a gift for you to share it with others. A 'thank you' does not seem to be enough. Everything was above and beyond our expectations. —Nancy and Bob Lee
Published in May 2014 Issue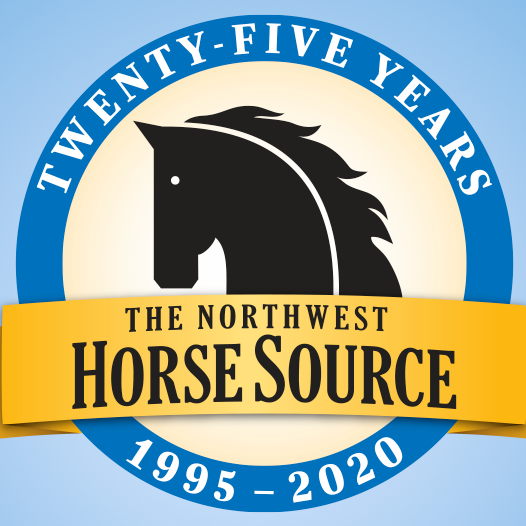 The Northwest Horse Source is an independently owned and operated print and online magazine for horse owners and enthusiasts of all breeds and disciplines in the Pacific Northwest. Our contemporary editorial columns are predominantly written by experts in the region, covering the care, training, keeping and enjoyment of horses, with an eye to the specific concerns in our region.