Two Spreader Options Compared
One reality we all face on our horse properties is manure – and lots of it. We know we need to construct manure composting bins, but then what? How do we get the compost out to a field and spread thinly enough to do the earth some good?
A manure spreader may be the answer. Manure spreaders can be filled at the stalls and waste dumped into a pile in bins (PTO models) or spread on a field. A ground-driven model can be used with an ATV, golf cart, or garden tractor and must be in motion to work. Some models are even small enough to go through a four-foot stall door. The Northwest Horse Source compared two American-made manure spreaders.
---
The Newer Spreader®
Easy to Use and Low Maintenance
The Newer Spreader® is aimed at small farms and backyard livestock owners and is designed to work with a golf cart, ATV, or garden tractor. The Newer Spreader is easy to use and lightweight, breaks manure into small pieces and has an adjustable outlet (on some models.) It is virtually maintenance free – only two grease fittings to lubricate twice a year. It has aluminum and galvanized construction for longevity.
Lightweight and Durable
These manure spreaders have no chains or belts. Every Newer Spreader is ground-driven with a simple engagement lever on each wheel to tap when you are ready to spread. These spreaders are compact enough to fit through most stall doors. Newer Spreaders are made from strong, lightweight materials including aluminum, stainless steel, and galvanized steel. The Newer Spreader Model 100 weighs only 115 pounds.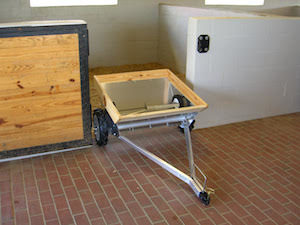 Standard Features for All Newer Spreaders
– Lightweight, durable 1/8" thick aluminum construction
– No belts or chains
– Spring-loaded relief panel allows the passing of small rocks, sticks, or other solid objects
– Tractor tread solid tires (standard equipment)
– Balanced whether full or partially loaded
– Fits through standard 4-foot-wide stall doors
– Complete discharge of full bin in about 300 feet
– Easily pulled by a lawn tractor, golf cart or ATV
– 1-year factory warranty
newerspreader.com • 866-626-8732
"I am absolutely stoked about finding the Newer Spreader. I had the pleasure of trying the model 125 when I was in Colorado. What an easy piece of equipment to use and move around. We used an ATV to pull the unit. Just step off, engage the wheel and start spreading. Easy to maintain and lightweight. For the small farm without a tractor, this is ideal!" – Karen Pickering, Publisher, NW Horse Source
---
The ABI Classic Manure Spreader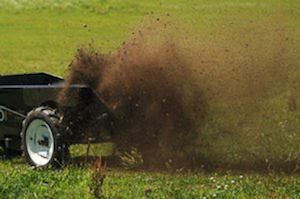 The ABI Classic Manure Spreader is available in both ground drive and PTO configurations. ABI starts with an all-welded box frame made of 12 gauge COR-TEN steel on smaller models and 10 gauge COR-TEN steel on larger models. ABI Spreaders are hand welded to handle rough pastures. ABI Spreaders shred the manure and evenly spread it. The Classic Spreaders feature four apron speeds that control the manure output. These features help promote a healthy, eco-balanced, pasture.
Delivered Fully Assembled Direct to Your Property
ABI spreaders are sold direct to the customer. This distribution method removes the middleman and allows ABI to provide a higher quality spreader for about the same price as many competitors. ABI spreaders are shipped fully crated and assembled, direct from the factory to your property via a common carrier truck.
Corrosion and Rust Resistant
– Corrosion resistant COR-TEN steel construction.
– All-steel components are sandblasted before painting. This cleans the impurities off the steel and opens the pores for the best bond.
– Rust-Oleum paint is applied. This paint is easy to repair and touch-up, and unlike powder coating moisture cannot get behind the paint to rust from the underside.
– Coal tar epoxy box liner is applied inside the box.
– Tongue and groove poly lumber flooring will not rust, corrode or rot.
Shreds Before It Spreads
ABI Classic spreaders shred manure before they spread. This is accomplished by incorporating shredding beaters inside the box.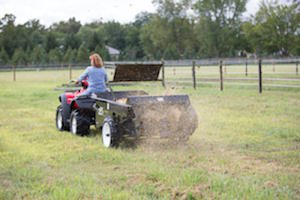 4-Speed Variable Flow Control
ABI Classic Manure spreaders feature the ability to control the flow rate of manure being applied to the ground with 4 speeds. Speed is controlled by the lever (ground drive units) or pull rope (PTO units).
www.abiattachments.com • 877-788-7253
"We purchased the ABI P50 Manure Spreader for up to 10 horses. It has a PTO drive so it's really nice for spreading in small areas. It is well constructed, came fully assembled, is easy to maintain, and ABI provided great customer service. I would definitely recommend this unit for small horse farms." – Joe Remenar, Sedro-Woolley, WA
Originally Published March 2018 Issue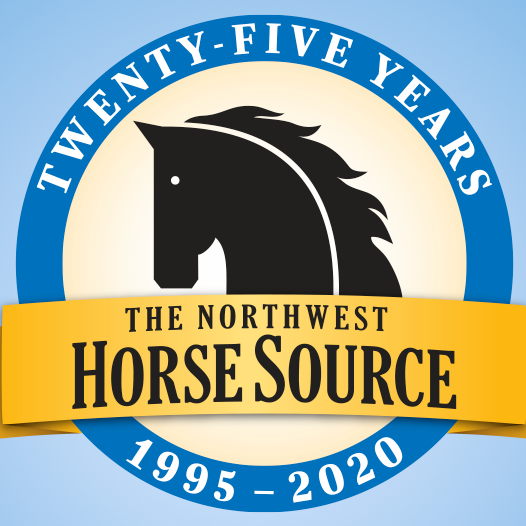 The Northwest Horse Source is an independently owned and operated print and online magazine for horse owners and enthusiasts of all breeds and disciplines in the Pacific Northwest. Our contemporary editorial columns are predominantly written by experts in the region, covering the care, training, keeping and enjoyment of horses, with an eye to the specific concerns in our region.