A Woman's Journey to Cavalia Rider and Aerialist
by Cavalia Staff Kim Huard-Carette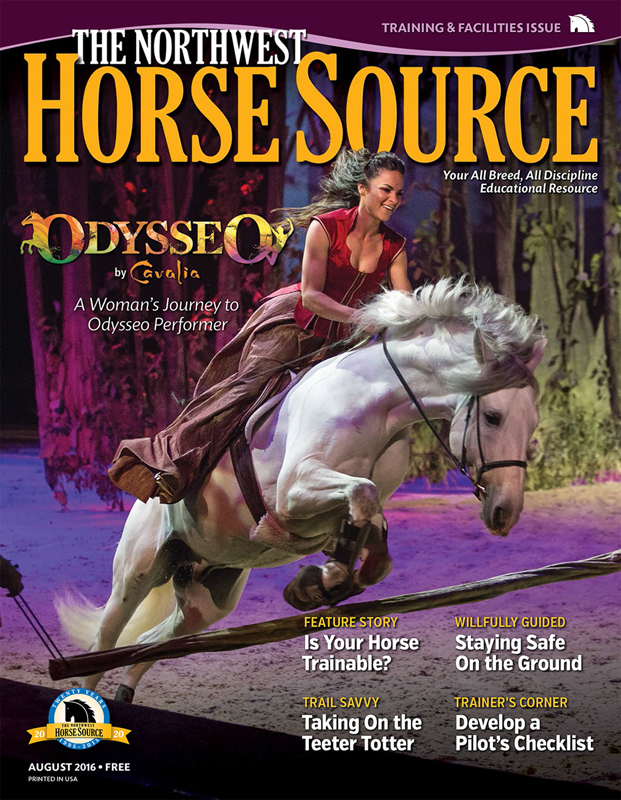 Rebecca Ratte has traveled the world, first as the daughter of a nuclear submarine captain, then as an eventing groom and assistant trainer. That job took her to the Beijing Olympics and the Rio de Janeiro Pan American Games. But when she joined Cavalia, and now Odysseo, her worlds came together, fulfilling all the elements that make her an equestrian athlete and an artist.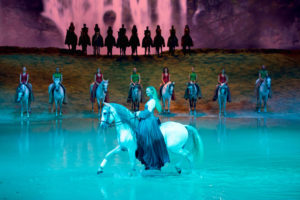 Odysseo, the new adventure by Cavalia, opened a few weeks ago in Portland, Oregon under the White Big Top at the Zidell Yards in South Waterfront. The 30 million-dollar extravaganza celebrates the relationship between horse and human as they journey through nature, employing enchanting equestrian arts, stage arts and high-tech theatrical effects under the world's largest traveling tent.
Odysseo is presented on a 17,500 square feet stage—bigger than a hockey rink. Ten breeds of horses perform with riders, acrobats, aerialists and musicians before a state-of-the-art video screen that is three times the size of the world's largest cinema screens. Furthermore, they dance up and over a three-story mountain and through a lake of 40,000 gallons of recycled water which seemingly appears out of nowhere for a splashing finale.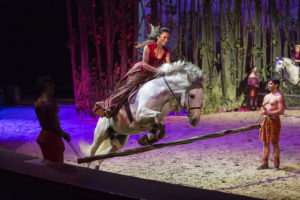 As a young girl who moved every year or two to major navy bases on the East Coast, Rebecca would snag rides on neighbors' horses until she settled in the Washington D.C. area long enough to work for Jo Whitehouse, former CEO of the U.S. Eventing Association, followed by four years at Virginia Intermont College where she earned a degree in equine science and management, and was a ranking member of the dressage team. At the same time she earned a degree in art.
The missing piece that would lead her to Cavalia was found when she went to work for Temecula's Allen Clarke at Horsemanship Unlimited, in California. "He did liberty training and taught me ways to create a bond with horses," says Rebecca.
And then she met the brother of an aerialist in Cavalia. "I went to the show in San Diego and fell madly in love. The aerialist convinced me to try out for the show. I put together a video doing liberty work and riding my dressage trainer's grand prix dressage horse."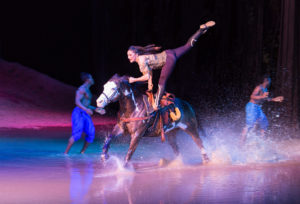 The day after she sent the video, Rebecca received a call for an audition at which she had 15 minutes to demonstrate her talent riding one of the show's Lusitanos, performing half passes, piaffe and lead changes. "I got along great with him and the show liked the philosophy I had assimilated from the California trainers. I believe in the connection between horse and rider, and if you teach a horse how to learn, you can teach him anything. That step is so often skipped."
"With Cavalia and Odysseo I've been able to pursue my philosophy, and the shows have given me great experience to take to the competition world and in training young horses."
Within one week of her audition, Rebecca was in the show. Her growth as a rider continued while on tour. "I'm an eventer at heart and I have lots of energy. When I was in Australia, doing dressage, I needed the adrenaline. So I learned trick riding."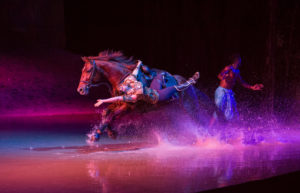 And soon she learned the art of an aerialist. "For me, riding the horses is as much of an art as painting. Getting a perfect upward transition to the canter is as much of an art as creating the perfect brush stroke. Another part of me needed to be expressed, and I have found that as an aerialist."
"The aerials create better body awareness in my riding, my lines for trick riding, and my core strength for dressage."
Odysseo is presented at the Zidell Yards in the South Waterfront neighborhood of Portland, OR. For tickets and information, visit www.cavalia.net or call 1-866-999-8111.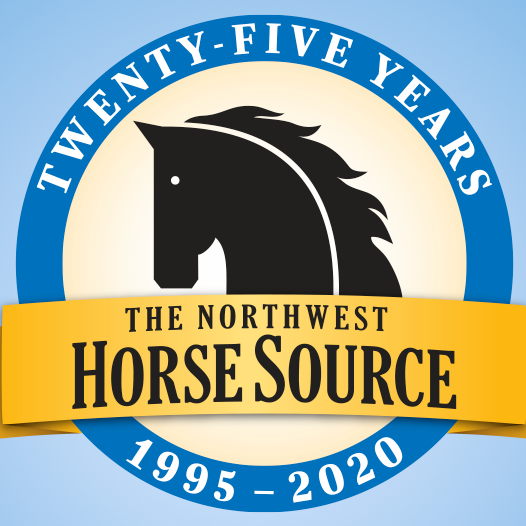 The Northwest Horse Source is an independently owned and operated print and online magazine for horse owners and enthusiasts of all breeds and disciplines in the Pacific Northwest. Our contemporary editorial columns are predominantly written by experts in the region, covering the care, training, keeping and enjoyment of horses, with an eye to the specific concerns in our region.