The Pacific Northwesterner's Triumphant Win of the 2014 Snaffle Bit Futurity
by Allison Trimble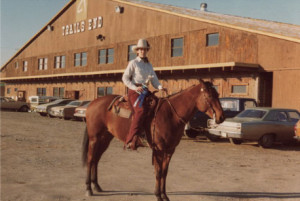 Each year the NRCHA Snaffle Bit Futurity draws hundreds of excited competitors, owners and spectators. The nation's top 3-year-olds compete in a trifecta of herd work, rein work and fence work competition hoping to be crowned champion and take home the $100,000 prize.  Hundreds of open entries each year spin, slide and turn yet only 35 horses, to date, have won. The odds of becoming open champion against such amazing horse flesh and talented riders are slim. Many horses have lost the title in the finals, on the last circle of the fence work.
The 2014 NRCHA Open Snaffle Bit Futurity Champion is a horse called Here For A Good Time (One Time Pepto x Dual Nurse x Dual Pep), ridden by Corey Cushing and owned by Pacific Northwesterner Lynne Wurzer of Tacoma, WA.  At 75 years young, Lynne has been involved in the Northwest performance horse scene for years and since her first trip to the Snaffle Bit Futurity she has dreamed of owning a "snaffle bitter." Just owning a good one would have been enough, but this year Lynne checked the dream off her bucket list in grand fashion.
Recently I got to chat with Lynne and learned more about the woman who owns the greatest horse of 2014.
How did your love of horses begin?
When I was 8, my grandfather bought a colt. That is where it all started for me. When I was about 13 or 14, I joined the Parkland Riding Club and participated in the drill team. Every Saturday we would ride to the arena, because there were no horse trailers, and practice and then spend the afternoon riding on the military reservation. What really captured me was a book I read when I was about 15 called Hackamore Reinsman, by Ed Connell. It talked about training horses according to the vaquero tradition. I couldn't get enough of it. I loved the methods and it really shaped my interest. This was in the early 1950's. We didn't really have trainers—we rode our own horses—so the book was very helpful to me.
After I graduated high school I married my husband, Joe. He was a farmer, but he was supportive of the horses. He rode one time, fell off, and that was the end of it, but we built our house and barn and in 1960 I bought my first registered Quarter Horse, Holly Coke. Up until then it had been mostly play days, pleasure riding and obstacle competition, but reining was starting to become popular. By this time I had a horse trailer and started competing in some reining shows on a horse called Cokes Destiny. (Photo of Lynne and Cokes Destiny at the Trail's End Arena with first reining ribbon. She still has those sliding plates.)
After that I dabbled in more reining with my horse, Checkers, and enjoyed trail riding on a great mountain horse I had named Harold. I took many trips with friends and loved riding at Mount Adams. I ended up buying a horse called Oak N Cash from a lady in California named Karen Twisselman. He is 21 this year and was a phenomenal fence horse, but I stuck to the boxing classes with help from trainer Dean McCann. That was mostly in the 90's and early 2000's as cow horse competition started to grow in the Northwest. I still have 2 horses at home and still live on a chunk of my family's original property.
What made you want to own a snaffle bitter, and how did you choose Corey for your trainer?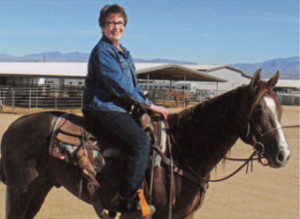 I went to my first NRCHA Snaffle Bit Futurity in 1983, in Reno. Bobby Ingersoll was my hero. I had never lost my love for the hackamore and vaquero tradition and I think that in the Snaffle Bit Futurity is the epitome of that. It takes a real horse that can do all three events. Before my husband passed in 2002, he told me to "spend the money on your horses." I reached a point where there weren't many more years, and it was time to do something.
I watched Corey compete and win on CD Diamond and I just felt a connection to him. I called him and told him I wanted him to buy me a futurity horse. He said he would. It took a few months but he finally saw a "good one" that his friend, trainer Hayden Upton, was riding and called me. The horse was more money than I was planning on spending; he said not to worry, we would find one. I sat on it for a couple of days and thought, "This is probably the last horse I will own; I am just going to do it." It was probably the best decision I have made in a number of years. My friend Karen Twisselman (who I'd purchased Oak N Cash from) had since moved to Texas and went along to see the horse. I still have the video she sent me of him working a cow when he was a two-year-old. I got to sit on him once, right after we bought him and there is even a picture to prove it! (Photo of Lynn on Good Time) They call him GT in the barn, but now that he is a celebrity I call him Good Time. I asked the breeder why she named him that, and she said she knew that whoever ended up with him was going to have a heck of a good time.
How did you handle the showing process?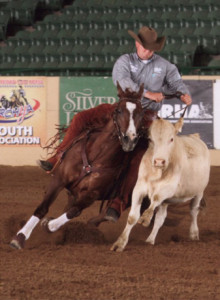 Well, we entered him in the pre-futurity in Flagstaff, Arizona. I had just had knee replacement surgery, but I was able to get there to see him go. He ended up reserve champion even with some tough cattle. When we got to Reno, it all started to be a bit of a blur. I wasn't particularly nervous or excited, just a bit numb to tell you the truth.
I would ask Corey how it was going, but he is a cautious trainer and is realistic about the journey. I appreciate that. I think his goal was to get into the finals. I didn't get my hopes up. Honestly, I was just happy to be there and hoped for the best. Corey had said his best event was the fence work and I remember after the prelims telling him, "You didn't tell me he was that good!" I did buy a turquoise necklace and told my friends I was going to wear it in my win picture. But even then I was joking.
Going into the finals, I just kept going and tried not to think about the outcome. I am not a real swift person, I am more methodical and go with the flow of things. After Good Time's fence run, I remember Dean McCann saying "Well, I think you just paid for your horse." I didn't even hear the score. People were talking to me, and I vaguely remember someone saying that no one could catch him, but other than that I don't remember much. It was like a dream. I was trying to get everyone together so I could have all my friends in the win picture. I had always wanted to win a trophy saddle and this was a perfect way to do it.
So, what's next?
Good Time and I are going for it. I want to take it as far as we can go. We are hoping for the NRCHA Stallion Stakes in March, as well as the NRCHA Derby. I have always loved the World's Greatest Horseman Competition so that would be a real treat. I want to thank Good Time for being a special horse, Corey for being the trainer and person he is, my friends and support network that stayed enthusiastic with me, and my husband for helping me to make my dream come true. It has been a blessing.
Published in February 2015 Issue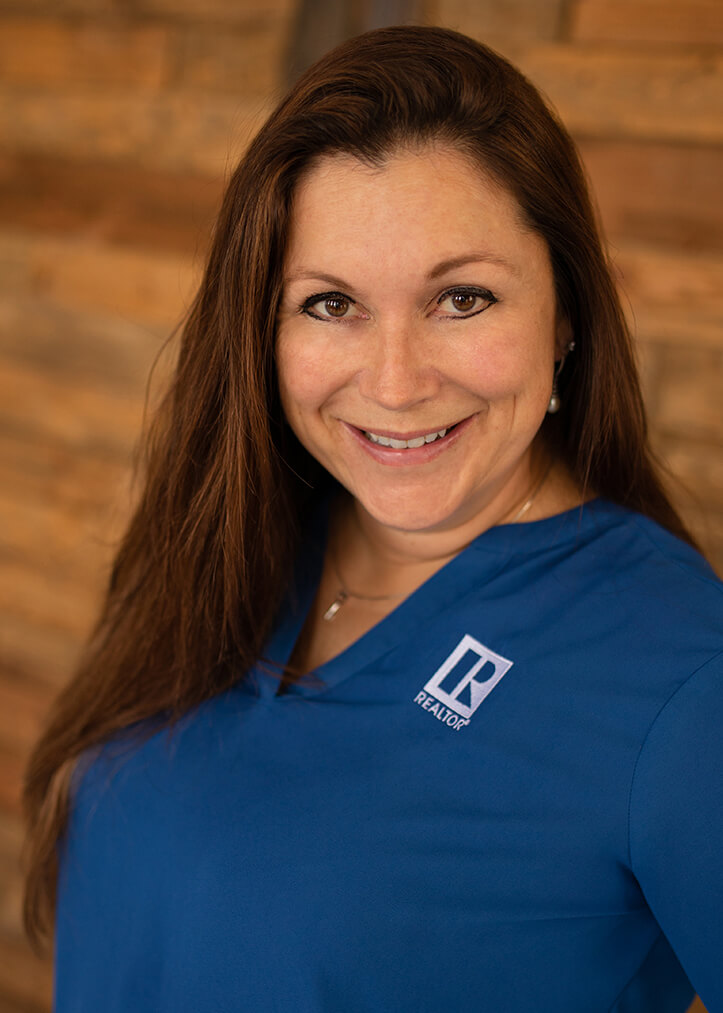 Allison Trimble is a Realtor® specializing in equestrian properties, farm and ranch properties, and residential real estate. As a former horse trainer, and a current owner, breeder and non-pro competitor in cow horse and reining events, she combines her experience in the horse industry with her lifelong real estate expertise to guide her clients through the real estate process.
Learn more at www.coastalrealtywa.com