How to Qualify for Finals
by Sally Sutherland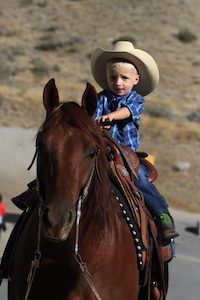 By now everyone is back from the end-of-year finals of their various associations and so it's time to plan for next year's qualifying periods. For the National Reining Horse Association, you will need to select a local affiliate club and attend their shows. Competitors who place high enough in the year-end standings of the affiliate can then travel to the Northwest Affiliate Finals in Nampa, Idaho, held in October. The top riders in each division at Nampa are qualified to attend the North American Affiliate Finals in Oklahoma City at the end of November.
The Washington Reining Horse Association will hold two shows in 2017 for qualifying. The first is April 7 – 9 in Wenatchee and the other is June 2 – 4 in Monroe. These shows will offer three full slates of each class offered at the finals. So start practicing your maneuvers, take some lessons, and join your local affiliate.
Also in the plans for 2017 are increased cash award payouts for the showcase classes and bigger and better awards. At the April show we will host a pizza party on Thursday evening with the 2016 awards presentations.
We also hope to have a seminar in early spring – The Secrets of Judging. This will have very limited seating so stay alert for the announcement as it sold out very quickly last year. The class is well worth the investment whether you have been showing for years or are just starting out in reining.
The WRHA wishes to thank our fine sponsors, without whom these activities would not be possible:
Diamond – Sky River Equestrian Center, David and Terri Stroud, Maria Danieli Real Estate, and Timberland Homes.
Platinum – Evergreen Equine Veterinary Practice, Heritage Building Contractors, Presco Telecommunications, Red Pony Insurance, Eve Willett, Rhodes River Ranch, and Stancik Non-Pros.
Gold – Eric Carlson, DDS and Rocking "E" Feeds.
Originally Published January 2017 Issue
Washington Reining Horse Association's objective is to promote and encourage the showing of reining horses; and to develop and dissemble informational material deemed desirable to provide contestants and spectators a better understanding of a proper performance of the reining horse in the show arena. Our club has members from under ten years of age to over seventy years old and classes are offered from beginner riders to national level open riders. Learn more at www.wrha.net