Discover a new way to develop and test your partnership with your horse.
New to the lineup for North American Western Dressage in 2017 are long-reining tests, a proven way to help enhance communication and skills of horse and rider alike.
Long-reining (also called long-lining) is commonly known as a technique for transitioning young horses from groundwork to working under saddle. It's a great next step for your young horse to reduce the level of confusion and anxiety when the rider climbs on for that first ride.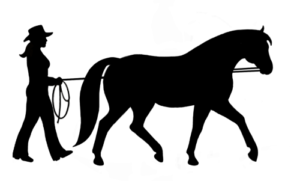 In addition, when used with attention to equine biomechanics and the science of movement, long-reining can be beneficial in many other ways, and it's great for horses of all ages. Integrating long-reining into your training program can improve balance, rhythm, impulsion and relaxation.

Anything you do under saddle can be accomplished in long-reins, too. Being able to see how your horse moves brings a new understanding to the handler. This program enables you to fix problems you are having under saddle without the added weight of the rider.

NAWD's long-reining program is beneficial to horses of all ages, all skill levels and as preparation for all disciplines. It is used by many classically trained dressage horses at Olympic levels, as well as the famous Lipizzaner stallions of the Spanish Riding School in Austria. Now, with the help of Dan James of Double Dan Horsemanship, North American Western Dressage is pleased to bring a progressive set of tests to you, developed by Amanda Lane of Double Lane Horsemanship with help from Mike and Laura Marquez of Vaquero Training Center.

"As a full-time horse trainer, I have been familiar with long-reining for a long time. With the help of Double Dan Horsemanship and their great DVDs and instruction, I now see, understand and have witnessed the amazing benefits! I've begun using this program on many of my client horses as well as some of my personal horses. The benefits and results have been infinite. I've even found some of my horses to really enjoy the long-reining and therefore become more willing and confident horses under saddle," Amanda said.

These exercises are being used more and more around the world, thanks in part to our friend Dan James and his partner Dan Steers of Double Dan Horsemanship. Thanks to NAWD's partnership with these great horsemen, we come together to bring long-reining and dressage together.

NAWD has developed six long-reining tests for practice and competition, along with program guidelines and sample videos. View them all and get started at nawdhorse.org/tests/long-reining. Long-reining will be part of NAWD's virtual shows and TRAX programs for 2017.

If you're just starting to try long-reining or looking to perfect your skills, look no further than Double Dan Horsemanship's terrific DVDs, which provide great instruction in a safe and step-by-step system. Also available for purchase is their great book, Long-Reining with Double Dan Horsemanship. Both are available on their website, doubledanhorsemanship.com.

About North American Western Dressage

North American Western Dressage (NAWD) is a non-profit organization dedicated to educating horse enthusiasts about the universal benefits of Western dressage and providing fun, affordable ways to participate in this popular new sport. NAWD offers a variety of programs as well as virtual coaching and showing opportunities, achievement awards and more. Learn more about NAWD at nawdhorse.org and at facebook.com/WesternDressageNAWD.

<!-comments-button-->