Amy Rushing Wins Rookie of the Year
by Sally Sutherland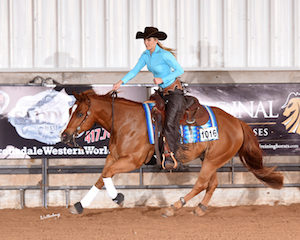 One of the highlights of the reining horse show year is the Silver Spurs Equine Rookie of the Year competition held during the North American Affiliates Finals in Oklahoma City. To qualify as a Rookie, you must be a non-professional member of the NRHA and not have won more than $500 in your lifetime. The top riders from each club compete at their Regional Affiliate Finals for the right to continue on to Oklahoma.
This year local rider Amy Rushing went all the way to the winner's circle. Amy had competed Hunter/Jumpers and in dressage but this year had the opportunity to use the gelding West Coast Magnum through the new NRHA lease program. Karen Elliott had just bought Magnum for herself to show when she suffered a hip injury that was going to keep her out of the saddle for the year. Magnum so loves to show that Karen decided to let Amy compete on him for the 2016 season. Amy's husband, Ryan Rushing, is a NRHA professional rider, so Amy has wanted to try her hand at reining.
Competing at local WRHA shows Amy placed in the top 10 Rookie riders so that she could go on to the NW Affiliate finals in Nampa, Idaho.  At Nampa she was co-champion Rookie with Johanna Lee Anstensen on SLJ Custom Style. After Nampa Amy prepared for the long drive in November to Oklahoma. There Amy bested a class of 56 riders to win the Rookie of the Year! Karen Elliott could not have been more proud of how her wonderful horse performed for Amy.
The WRHA wishes to thank our fine sponsors. Diamond – Sky River Equestrian Center, David & Terri Stroud, Maria Danieli Real Estate & Timberland Homes.  Platinum – Evergreen Equine Veterinary Practice, Heritage Building Contractors, Presco Telecommunications, Red Pony Insurance, Eve Willett, Rhodes River Ranch, and Stancik Non-Pros.  Gold – Eric Carlson, DDS and Rocking "E" Feeds.
Originally Published March 2017 Issue
Washington Reining Horse Association's objective is to promote and encourage the showing of reining horses; and to develop and dissemble informational material deemed desirable to provide contestants and spectators a better understanding of a proper performance of the reining horse in the show arena. Our club has members from under ten years of age to over seventy years old and classes are offered from beginner riders to national level open riders. Learn more at www.wrha.net