Meet an Inspiring Young Horseman
By Allison Trimble
I made my first trip to the Mane Event in Chilliwack, BC and was pleasantly surprised by the horsemanship in the Trainer's Challenge. Competing in the challenge were Steve Rother, Jon Ensign, and Kade Mills. The trainers each had 4 hours to work with an unbroke colt that was split up into one hour intervals. They were only able to work with the colts in the round pen, in front of the crowd and the judges. They then took their colt and had 30 minutes in the main arena to complete a series of obstacles and maneuvers in the Trainer's Challenge Final. In a very close race, this year's champion was Kade Mills, 27, of Innisfail, Alberta.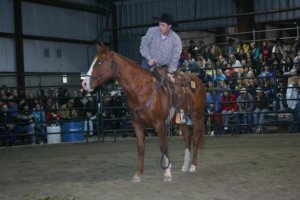 Kade is the son of Doug Mills, a trainer who is a successful clinician and reining and cowhorse competitor. Doug Mills Horsemanship promotes "Training Thru Trust" and has a wide and loyal following. Also Champion of the Mane Event Red Deer Trainer's Challenge, Kade has had marked experience in the performance horse industry. From a young age he assisted his father in training on the ranch, but has also worked on other prominent performance horse operations, including Carol Rose Quarter Horses. He was also a 4-time National High School Rodeo Finals qualifier in both Team Roping and Calf Roping. 
The experience Kade has shone through in his handling of "Walk Around," a big, stout colt brought to the Challenge by Douglas Lake Ranch. Kade spent time on the ground in his first hour building trust with his colt and preparing him for riding. He was the first of the trainers to saddle and ride his colt and his colt had the most forward motion of the three, bolting each time the audience clapped. Kade handled the colt with skill and ease. He was fair but firm with the colt that almost got him off on the second ride. The work he did in the round pen stuck with his colt and he handled nicely through the Finals which had requirements including: stand quietly while saddling and mounting, walk, trot, and lope both directions, walk over a bridge, stop and back, weave trot cones, step over ground poles, swing a rope over head, and drag a pole 25 feet. Kade's handling of the colt was only surpassed by his good nature, ability to explain his methods, and his genuine enjoyment of the process.
When I asked him what he thought was best about Trainer's Challenge he answered that he thought it was a great opportunity for the public to see a trainer in action, handling a young colt, before they commit to sending a horse to him. It is a good time to listen to a trainer's philosophy on horses. The crowd is able to see how a trainer handles a horse that is not his own, in a high stress environment. He also thought it was a great opportunity for trainers who make their living more as clinicians than as competitors to have an arena to compete in. 
Coming from a cowhorse background, I was very impressed. I like to see a horse put to work, but in a gentle and consistent way. I respected that Kade was putting a foundation on this colt that could be built upon. He was clear and specific in his technique and kept the colt engaged and fresh in a unique working environment. Talking to Kade throughout the event was enlightening. Soft spoken, humble, and a John Wayne fan, it was clear that Kade is a horseman at heart. He stayed true to his training while maintaining a competitive edge; he entertained the crowd while still educating them. It was refreshing to talk to Kade about his philosophy on horse training and to see how passionate he is about training a horse the right way. His face lit up as he said, "I wake up every morning excited to go out and ride my horses. I can't wait to see if they are where I left them the day before." It is inspiring to know that he is the next generation of horse trainer. For more information on Kade visit www.dougmillshorsemanship.com
Published December 2011 Issue
Allison Trimble has a Bachelor of Science in Animal Science from Cal Poly, SLO. After her graduation in 1999, Allison started Coastal Equine and has been training and competing in cowhorse, reining and cutting events. She has had marked success in the show pen boasting many titles and championships.
Willfully Guided is an educational program based on Allison's training process. For more information visit: www.willfullyguided.com
Allison is also a Realtor specializing in horse properties, hobby and commercial farms, and family housing. She combines her experience in the horse industry with her lifelong involvement in real estate to help clients find their perfect property. Learn more at www.coastalrealtywa.com