Giving a Horse a Fun Job is the Key to Top Performance
by Kim Roe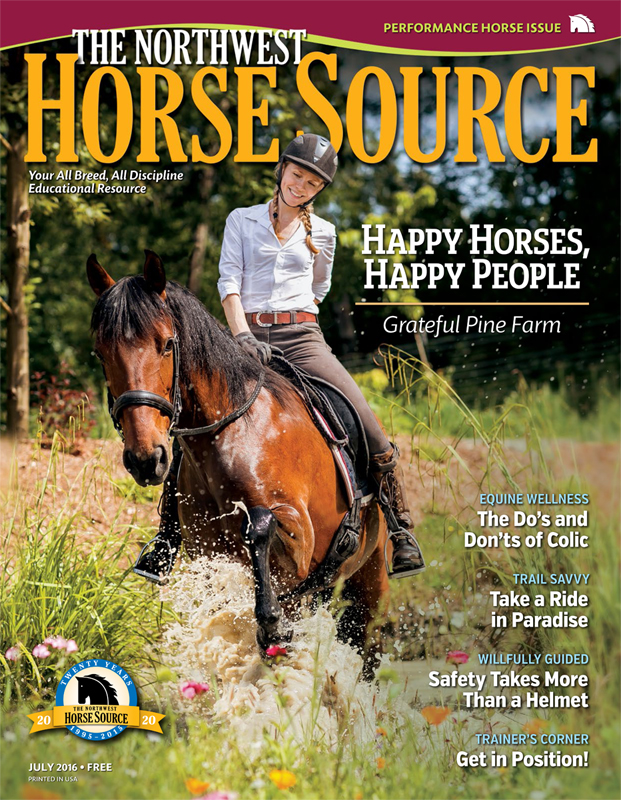 Kelly and Dan Munro's beautiful Grateful Pine Farm is the result of big dreams—and the hard work needed to make those dreams come true. Kelly is a dressage rider with over 20 years of experience showing multiple disciplines and starting young horses. After more than nine years as a riding instructor, she helped found the equine mud management company, Lighthoof, and now balances that with continuing to fulfill her dream of improving the lives of horses as a conscientious stable owner, trainer, and breeder.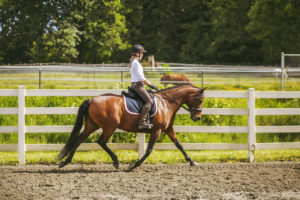 Dan Munro is the inventor of Lighthoof, a patented product that helps deal with mud problems in paddocks and other areas around the farm. Lighthoof works by holding gravel in place in a series of 3-inch deep interconnecting cells made of flexible high density polyethylene. This limits the displacement of footing from the downward action of the hooves and protects the paddock footing against erosive forces such as heavy rainfall and runoff, creating a solid, even surface.
Dan and Kelly purchased their current property for Grateful Pine Farm as a paddock and pasture renovation project. They have used Lighthoof around the farm at Grateful Pine to rehab the paddocks and as a way to showcase this innovative product.
The farm, in Snohomish, Washington, was originally known as Lord Hill Stables. The Munros purchased the property in March 2015, bringing with them their ideas, horses, and the name Grateful Pine.
Grateful Pine Farm is a horse-centric boarding facility with multiple places to train or play, from a fully enclosed indoor arena within the barn to the park-like mountain trail course. Horse care and facilities are focused on catering to the horses' emotional and physiological needs. Grateful Pine is known for its exceptionally friendly barn atmosphere and for keeping healthy, unstressed horses. New clients and long-time boarders come together regularly for outdoor movie nights in the arena, clinics, shows and evening rides.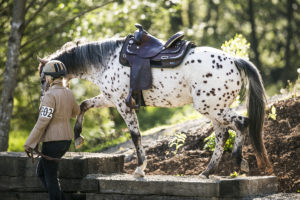 The sunny, 17-acre property includes a large lighted outdoor sand arena and a 20×40-meter indoor arena with a heated viewing area and bathroom. There is also a round pen, multiple indoor and outdoor stabling options with heated tack rooms, large turnouts, and a half-acre mountain trail course. Bridle paths meander around the property.
The beautiful, newly installed mountain trail inspired obstacle course was designed by national champion, Mark Bolender. Besides being available to their boarders, they will be holding events there and haul-in riders will be able to buy memberships that allow them to use these fantastic facilities. Keep an eye on their website for more information about these opportunities. The farm is strategically located with easy access to Highway 522, Lord Hill Park, and Pilchuck Animal Hospital.
As a dressage-based trainer of young horses, competing horses, and companion horses, Kelly values the great outdoors as much as the show ring and likes to let horses "be themselves" as much as possible. Recognizing that horses (and riders) need to do more than go in circles in the arena, she tailors her lessons and training to each horse's and rider's strengths while carefully stretching their comfort zone and abilities. Her gentle and intuitive approach aims to develop each equine's balance, strength, and understanding. This ensures that any style or level of riding — whether in the show ring or on the trail — can be easy and enjoyable for both partners.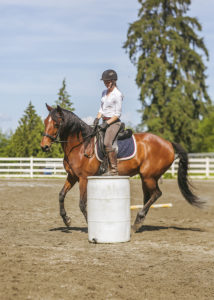 Kelly is an advocate of the saying, "The horse is not for dressage; dressage is for the horse." She is also becoming involved with and training horses for the sport of working equitation.
In addition to owning Andalusian horses, Dan and Kelly breed and train top-quality sport-type Norwegian Fjord horses for competition, adventure, and companionship. They also keep ornamental chickens and grow organic vegetables. They are vegans, health nuts, outdoor enthusiasts, and completely in love with their extended equine family.
Find out more about Grateful Pine Farm and Lighthoof at www.gratefulpinefarm.com and www.lighthoof.com.
All Photos taken by: Mykel Leddel. http://www.equineographer.com/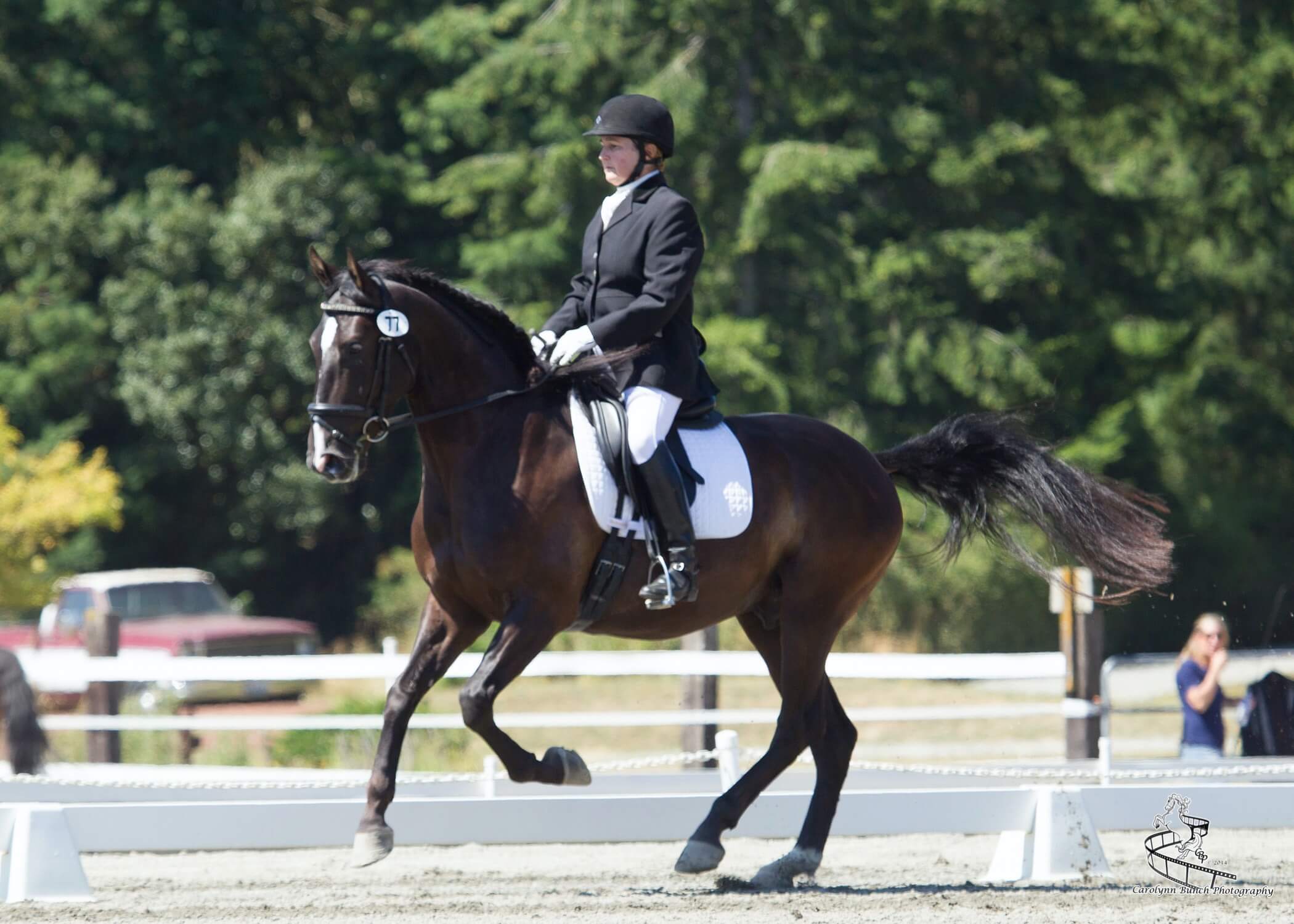 Kim Roe grew up riding on the family ranch and competed in Western rail classes, trail horse, reining, working cow, and hunter/jumper. She trained her first horse for money at 12 years old, starting a pony for a neighbor.
Kim has been a professional dressage instructor in Washington state for over 30 years, training hundreds of horses and students through the levels. In recent years Kim has become involved in Working Equitation and is a small 'r' Working Equitation judge with WE United.
Kim is the editor of the Northwest Horse Source Magazine, and also a writer, photographer, and poet. She owns and manages Blue Gate Farm in Deming, Washington where she continues to be passionate about helping horses and riders in many disciplines.