Drawing ended January 31st, 2016.
Join us in congratulating Susan G. our January drawing winner and loyal email subscriber!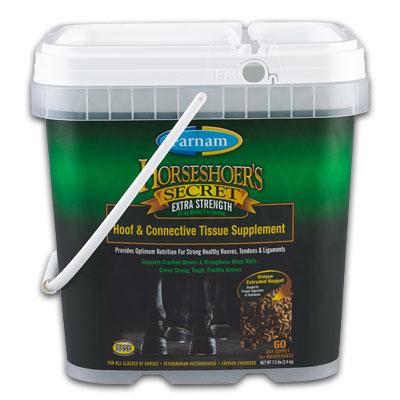 Enter today for a chance to win a 7.5 lb. 60-day supply of Horseshoer's Secret® EXTRA STRENGTH Hoof & Connective Tissue Supplement in the Farnam® Fresh Keeper Bucket — a retail value of $89.95!
Just sign up for our E-newsletter and you'll be entered for a chance to win. AND as long as you are active on our email subscriber list you will automatically be entered in all future drawings and contests! Hurry! Drawing ends January 31st.
Interested in having your product featured by sponsoring a drawing? Check out our "Sponsor our Monthly Subscriber Drawing" page for more info.
By entering our drawings, contests and giveaways, you certify you have read and agree to all terms, conditions, rules and regulations.

---
New Farnam® Horseshoer's Secret® Extra Strength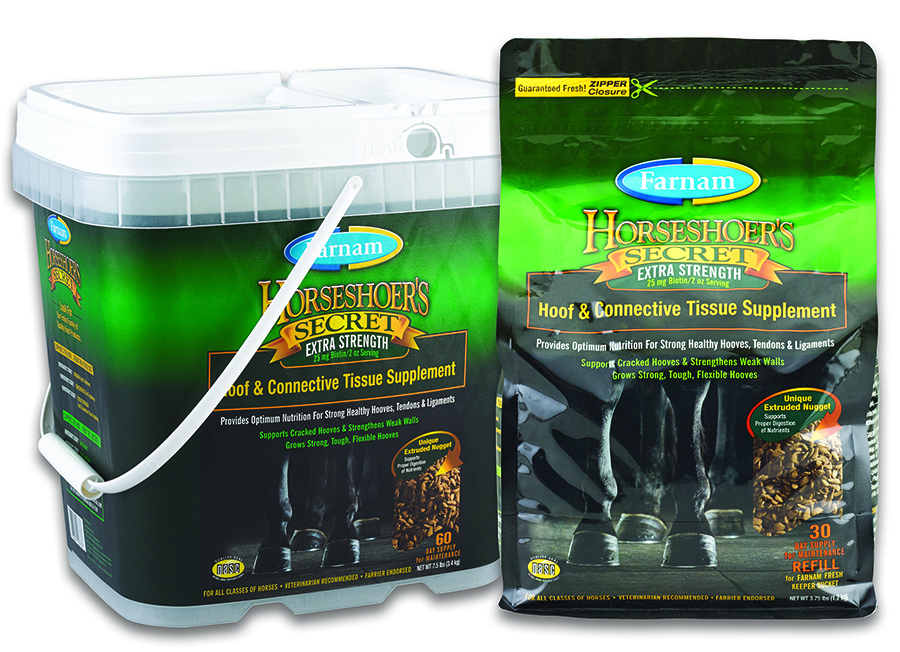 Athletic talent and pedigree alone won't carry your horse into the winner's circle, or down the trail. He needs good feet and strong legs under him. That's why Farnam developed new Horseshoer's Secret® EXTRA STRENGTH Hoof & Connective Tissue Supplement. Formulated by an equine Ph.D. nutritionist and endorsed by farriers, this supplement provides extra benefits where your horse needs them most. Horseshoer's Secret® supplement has long been a popular Farnam® product, but this new extra-strength formula offers peace of mind because you know that you have done what you can to serve your horse's unique hoof and connective tissue needs.

Veterinarian-recommended, this supplement provides optimum nutrition for strong healthy hooves, tendons and ligaments—including 25 mg of biotin per 2 oz. serving — to keep hooves durable, hydrated and flexible. Plus, the unique extruded nuggets support proper digestion of nutrients. This addition to the Horseshoer's Secret® product line is ideal for horses that need more support than others, due to genetic predisposition, tough environment or rigorous performance demands. Available in two convenient packaging options: a 7.5 lb. Farnam Fresh Keeper Bucket and a handy 30-day, 3.75 lb. bag. Feed Horseshoer's Secret® EXTRA STRENGTH supplement year-round to provide vital support no matter what kind of riding you do.

For more information about Horseshoer's Secret® EXTRA STRENGTH Hoof & Connective Tissue Supplement and other helpful Farnam® products, visit www.horseshoerssecret.com. Download your free hoof care guide at www.farnamhorse.com.

<!-comments-button-->