David Lichman and his Liberty Horses Headline Washington State Horse Expo
by Lynn Jenkins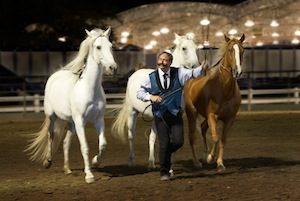 A fiery horse with the speed of light… Hi-yo Silver, away!
"As a young boy, my hero was the Lone Ranger," says David Lichman, Five-Star Master Parelli Professional, who specializes in liberty horses and is the featured presenter at the WA State Horse Expo, March 2–4, 2018. "Or more accurately, I was a huge fan of Silver."
According to this renowned horseman his passion for horses began at an early age, but access to them was limited. "I was able to rent a horse now and then, attend a summer riding camp, and later muck stalls in exchange for an occasional riding lesson. I even tried to convince my father to convert our suburban two-car garage into accommodations for a horse—it was a no from Dad."
Fast-forward a couple of decades, during which time Lichman toured the US as a bass player, earned a Bachelor of Science Degree, worked as a software engineer and got married. It wasn't until 1981, when he was 32 years old, that he finally realized his dream of owning his own horse. In fact, two horses — both Tennessee Walkers. Just a few short years later, he and his 5-year-old gelding, The Artful Dodger, won the World Grand Championships in the Light Shod Pleasure Horse Division.
Lichman's curiosity about natural horsemanship began in 1986 when he watched Ray Hunt start a different colt on each of the 18 days of the California State Fair. "I'd been fooling with horses for a couple of years by then, but when I watched Ray, my jaw dropped," Lichman says. "I'll never forget. It was my miracle moment." The following year, Lichman watched Pat Parelli do colt starts. In 1994, he became part of the first group of certified Parelli instructors in the United States.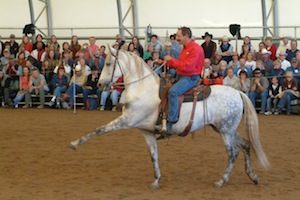 "I have taught thousands of students," says Lichman. "From Canada to Costa Rica and from Austria to Australia. I've been teaching courses all over the world for over 20 years." Lichman has refined his craft in two areas of expertise: gaited horses and performing liberty routines to music. He is the only clinician at the national and international level to use natural horsemanship to train gaited horses and the only gaited horse trainer to specialize in natural horsemanship.
"I try to help people connect with horses so that it's fun for both the human and the horse," says Lichman. "By asking instead of telling them to do things," he puts his relationship with the horses above all else.
In addition to being at liberty, the horses have to adjust to unfamiliar surroundings without the round ring enclosures typically seen in a circus show. According to Lichman, the show is improvisational. Although there are specific things the horses know, they have a say in what happens depending on how they are feeling. The result is a display of affection, bonding and respect.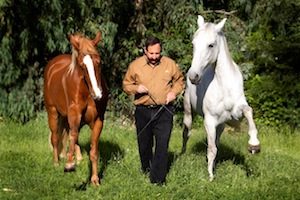 Music is a big part of the teaching concept. It establishes the "Rhythm of the Ride," a concept developed by Lichman and Grammy-nominated singer-songwriter Mary Ann Kennedy to help a rider or dancer synchronize with a horse's natural motion. "Music creates a joyful sense of connectivity. There is no dancing without music. If you want to dance with your horse—and I do—you need music. Plus, music lifts your spirits."
"I don't see them as horses. I see them as friends. They have names, desires and needs—as do I. Friends help fulfill each other's needs and desires." Lichman will be bringing some of his friends to the Washington State Horse Expo at the Clark County Event Center in Ridgefield, WA.
The Northwest's premier equine event, the Horse Expo will be featuring an all-new lineup of nationally ranked clinicians and speakers including Lichman, Mustang Maddy, Louis Bruhnke and Jennie Fiendish. And, of course, all your favorites will be returning—Steve Rother, Brandi Lyons, Jessica Wisdom, and Morgan Wagner with Endo the Blind. New this year, Steve Rother is designing a competitive equine challenge.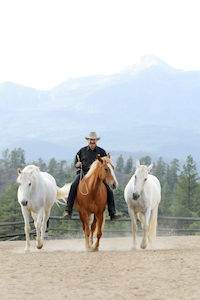 Expo goers will be treated to amazing acts performed by beautiful horses each day of the Expo. And with even more riders and spectacular horses, the very popular Saturday night show will be bigger and better than ever. This year's Red, White and Blue Showcase promises to be a "can't miss" event.
Bring the family, watch a clinician in action and then meet them in the presentation pen; attend a seminar; shop in the Marketplace for the latest products; stop by the Kid's Corral; eat at the Chuck Wagon or catch an entertaining equine performance. The 2018 Washington State Horse Expo promises three full days of activities and education for the horse enthusiast.