Gift Ideas for Your Favorite Cowboy Mounted Shooter
by Jennifer Burnell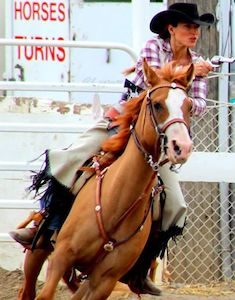 It's never too early to prepare for next year's riding activities. What does your mounted shooter friend or family need this holiday?
After each event and practice, guns need to be cleaned; so how about gun cleaning supplies? Ear protection, gun cases, and gun bags are also thoughtful and useful gifts.
Our very traditional sport uses lots of leather —tack, chinks, and holsters —so leather conditioner is a must. Maybe consider accessories like spur straps or belts. Or go all out for some new gear.
The safety of our mounts is always a priority, so gift certificates towards a spring trailer tune-up or a truck tune-up is another idea.
Speaking of horses, local tack stores have a variety of horse splint and bell boots; bright colors are popular among shooters. Horse earplugs often need replacing… you can't have too many!
Need more ideas? These WWMS sponsors will be happy to help you:
Kirschner Trailers, now part of Everything RV in Monroe www.everythingrv4u.com/
Epic Firearms, Monroe www.epicfirearms.com
Stoney Creek, Monroe www.stoneycreek-outfitters.com
Luft Trailers, Ellensburg www.lufttrailers.com
Gun Goddess www.Gungoddess.com
Rairdon Dodge & Jeep, Monroe www.dodgechryslerjeepofmonroe.com
For saddles, holsters and chinks: Matt Rockwell Saddles www.rockwellsaddles.com
Don's Leather, Ellensburg www.donsleather.com
Originally Published December 2016 Issue
WWMS members vary from kids to adults, and from the recreational shooter to the serious National and World competitor, so there's a spot for everyone. We are a friendly group, and enjoy introducing the sport to others. Please feel free to contact us at any time, and come join the addiction that is Cowboy Mounted Shooting!!! www.WesternWashingtonMountedShooters.com