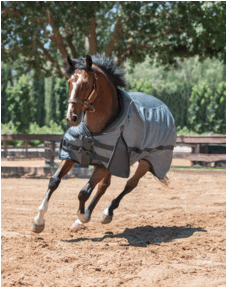 Noble Outfitters® expands their innovative designs to more horse products with the Guardsman™ Turnout, available in September 2016. For product inspiration and development, Noble Outfitters listened to customers to create an innovative blanket with proprietary features.
The Noble Outfitters Guardsman Turnout Blanket is designed with functionality and durability in mind. This ingenious blanket features two front patent pending 360° Quick Connect™ buckles on the front closure along with a 4-inch hook and loop for added security on the interior. The buckles are made from a heavy-duty copolymer plastic resin construction with a breakaway threshold of 200 lbs., engineered for mobility and naturally moving with the horse. Plus, you can easily use them with gloves on.
Waterproof and breathable, a tough 1000 Denier Ballistic nylon outer shell with rip-stop protection shields the horse from wind, rain and the elements. This blanket is offered with 200 & 340 grams of insulation ensuring optimal heat retention during the cooler months.
The comfort collar and withers feature is uniquely designed with memory foam to contour and adapt to the horse's anatomy. Eliminating uncomfortable wear points, the deep cut neck adds comfort while feeding and sleeping. The scalloped hem for a contoured fit with a shape based on muscle anatomy of the horse allows mobility and reduces bulk around mid-section. The full mobility shoulder is crafted for freedom, while the forward placement allows for more range of motion.
The Noble Outfitters Guardsman Turnout Blanket comes with a 4-year Product Warranty for repairs against manufacturers defects with a complimentary repair program and a complimentary 2-year Wash Program (separate from Warranty). After the customer registers their new blanket by mail or online, they are eligible for free repairs against manufacturing defects and Noble Outfitters will pay return shipping from the repair location. Customers are also eligible for one free wash per year and Noble Outfitters will pay return shipping from the wash location. Redeeming the warranty and wash program can be done online, via mail or by calling Noble Outfitters Customer Service at 855.526.6253.
Available in two weights and with removable Neck Cover, this blanket is guaranteed to change the horse blanket market. The Noble Outfitters Guardsman Turnout Blanket is available in sizes 66-84, with prices starting at $189.95.
About Noble Outfitters™
Headquartered in Modesto, California, Noble Outfitters™ creates products that exceed the needs of our customers with quality and function, while delivering exceptional value. Each Noble Outfitters item, from apparel and bags, to gloves and socks, is carefully designed in close collaboration with equestrian enthusiasts and professionals. Learn more and view the full range of items at www.NobleOutfitters.com.
Noble Outfitters is committed to partnering with and giving back to the equestrian community. In support of these efforts, Noble Outfitters commits 5% of profits through the Noble Tomorrow® program, which aims to assist youth programs that foster equine interest and participation while strengthening values and providing meaningful learning experiences. To find out more or recommend a youth program in your area, visit www.NobleOutfitters.com/pages/noble-tomorrow.