It's been quite a ride. The past 25 years have brought a lifetime of fond memories serving the horse industry. I'm truly blessed to have worked in an industry I love for so many years. Its humble beginnings have grown into a glossy, well-designed magazine for equine enthusiasts all over the Northwest.
I have met so many amazing people and horses on this journey. I've had the opportunity to travel all over the U.S. and have gained some best friends in the process. I've always had a great team of people to help shape the magazine into what it is today.
What's on the agenda for the next journey for The Northwest Horse Source? Well, I'm trying to figure that out right now. This year has taken a bite out of magazine profits. I know something has to change. I really want to keep it going as long as possible, but we might move online unless we get the subscribers we need. It makes sense. With COVID-19 keeping us from going out as much, ordering a subscription means you'll get the print edition each month. However, we're making the switch to more online all the time now. We have developed beautifully designed websites, one for our community news and one for the magazine. We've even added a store locator so you can conveniently find the store nearest you. We can really use your support.
Many national magazines have kept their subscription price the same but have cut back to only four issues per year. It's certainly an indication that people are going online for information. Though many people still prefer the print magazine, advertisers are spending their dollars online. This means we have to make some significant changes.
My goal is to keep serving the horse industry in the Northwest by continuing to feature Northwest trainers, veterinarians, and other experts in the magazine. This builds our community and keeps the focus on our region and the specific issues we face. I owe an incredible debt to all the advertisers who have supported us over the years and to the readers who continue to read our magazine.
If you would take a moment and complete our survey online, it would really help us keep the magazine going in the direction our readers and advertisers need. My greatest joy is to help equine businesses grow and help people get the most enjoyment from their horses. After all, our horses are what keep us sane!
This month we are proud to feature Standlee Premium Western Forage on our cover. They are a Northwest business that feeds horses all over the world! Please see the story on page 6. We also have our senior horse essay contest winners! Celebrate with our winners on page 16. Lastly, thanks to all of you for keeping the magazine alive for 25 years!
See this article in the 2020 December online edition: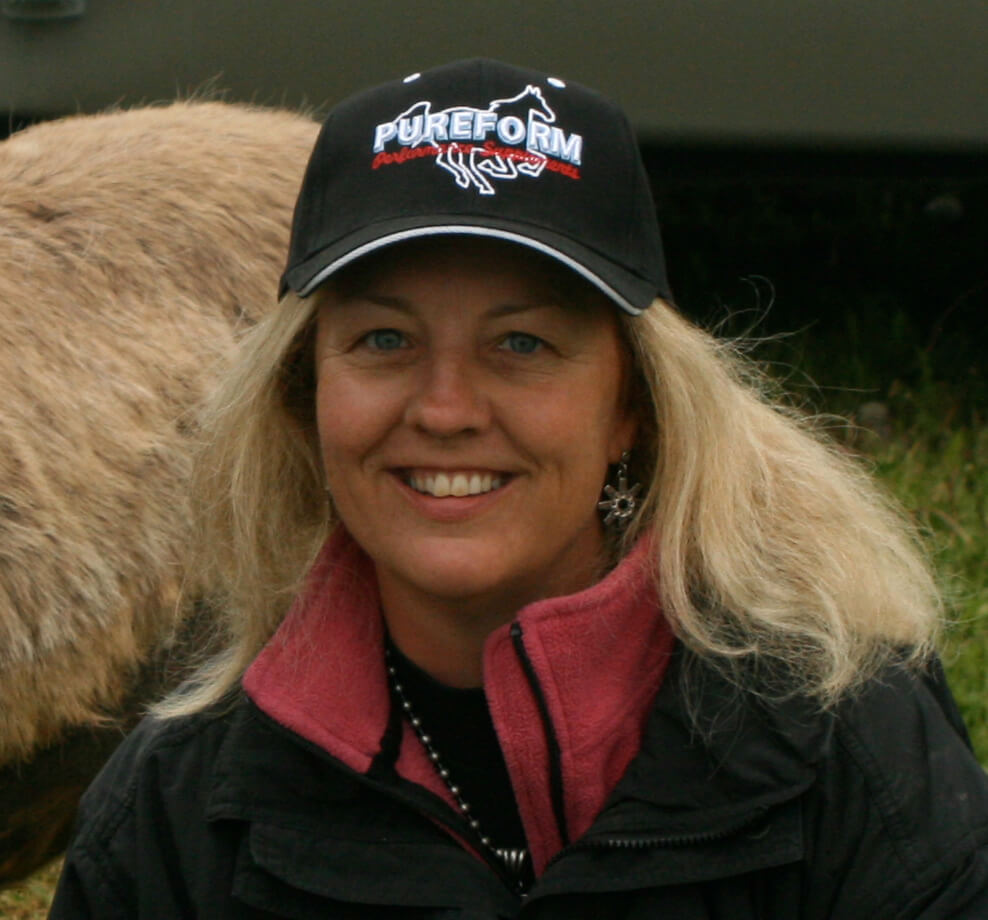 Owner/Publisher Karen's lifelong love of horses began at a very early age when she wore out a couple of rocking horses before convincing her parents to get her the real thing. That ill-tempered bay gelding, Brandy, was a challenge for the young horsewoman, but it drove her ambition to become a horse trainer. After attending Canyonview Equestrian College's Horsemanship Program, Karen realized she needed work that was a little more lucrative than training, so she took a job with Customs Brokerage to pay the bills. There, she discovered an affinity for computers and a talent for creating informative, entertaining newsletters. The Northwest Horse Source began as such a letter in December 1995, with a distribution of 1000 copies for its 12 black and white pages.  Now 25 years later, it's an online magazine and website with a reach of over 10,000 per month and growing! Not bad for the results of one woman's dream to work with horses!
Today, Karen remains involved with every aspect of the magazine and treasures the community of thousands who share a common passion. Somewhere in the wee hours of the early mornings and late evenings, she still finds time to care for April, her gorgeous and sweet-tempered Quarter Horse.