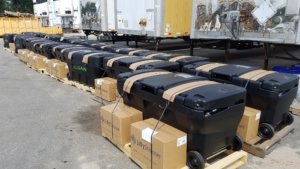 September 7, 2018: Knowing that many potential FEI World Equestrian Games equine contenders rely on steamed hay every day, the Haygain team began planning to provide it many months before the competition begins Sept. 11 at the Tryon International Equestrian Center.
As with the WEG 2014 in Normandy, France, Haygain began working with country federations to understand requirements for hay steamers at Tryon. Past experience helps, but a new host country, venue, organizers, teams and – most of all — horses meant a whole new series of logistics.
Those have all been mastered now as 22 300-pound HG 2000 hay steamers await designated horses at the Tyron International Equestrian Center's highly-secured FEI stabling. They're ready for close to 200 horses whose representatives jumped at the chance to have the same clean, irritant-free hay their elite equine athletes thrive on at home.
Haygain also partnered with Kentucky Equine Research to organize the complex logistics of stall allocation, set-up and communication with riders at WEG.  The world-renowned "KER" is the official equine nutritionist for WEG Tyron 2018, a role it has filled for international equestrian sport for over 20 years.
"Competition support is a little-known aspect of Kentucky Equine Research's services to the global equestrian community," explains company founder and president Joe D. Pagan, PhD. "We have feed-manufacturing partners on six continents and are familiar with the sources and processes necessary to ensure the world's top horses continue to receive their proven diets in Tyron."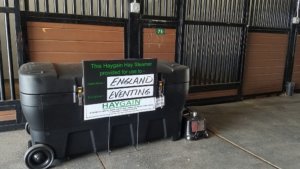 Kentucky Equine Research further spread word to equestrian federations worldwide of Haygain's willingness to fulfill steamer requests for team and individual horses. Many contenders, including Sir Mark Todd, Andrew Hoy, Beezie Madden and Selena O'Hanlon, have their own steamers – at home and on the road. WEG bio-security measures, however, mandate that all equipment brought to the venue be brand new, preventing conveyance of microscopic threats to horse health.
Requests rolled in from team veterinarians, stable managers and riders.
Next, Haygain USA VP of sales Robb Thomas and his team worked with KER to identify which teams wanted steamers, where they'd be stabled and their arrival and departure dates. With four disciplines contesting the WEG's first week, Sept. 11-16, there will be some quick relocations during the middle Monday as steamers are moved to wherever the second week's contenders are stabled.
The People Part
As the horses arrive in advance of the September 11 opening ceremonies and the start of Endurance, Reining, Dressage and Eventing competition, the people part of the steamer delivery will just be getting underway.
"We'll be checking on the steamers every day and working with the federations, grooms, stable managers, etc., to make sure they are operating properly, that water tanks have been refilled, etc." All the while, additional steamer requests are still coming in and the Haygain crew is ready for that, too, Robb assures. At last count, steamers were in place for 30-plus teams hailing from nine countries.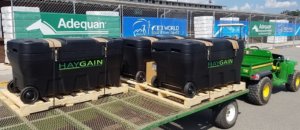 Once competition kicks off and the World Equine Expo Vendor Village opens, Haygain begins the horse-owner education phase of its WEG mission. Developed by university researchers and an equine nutritionist in the U.K. 10 years ago, Haygain is making steady headway in the U.S. market and the WEG role it has taken on is a major waypoint in that journey.

Headquartered in Shopping Area B3, as part of distribution partner SmartPak's huge outpost, Haygain will have all three of its steamers on hand for demos and explanations of the science behind hay steaming's benefits. The Forager™ Slow Feeder and the Flexineb® Portable Equine Nebulizer will also be available for demos. The booth also features the ComfortStall®Orthopedic Sealed Flooring System to give tired legs an energy rebound for long days of exciting sport.

Along with Robb, the on-site Haygain team includes Gina Harvey, national customer service manager; and new representatives for the fast-growing company: Kaitlyn Zaleski and Ryan Murphy. The otherwise brand new 22 WEG-used steamers will be sold at a nice discount once the Games conclude and the booth team will have the details on taking advantage of that.

Haygain-logoed swag in the WEG booth tops off the horse health company's presence at the WEG. And there may be a surprise or two in store once competition gets underway.

Stay tuned!

Reprinting is encouraged & high resolution photos are available. Haygain is committed to improving equine health through scientific research, product innovation and consumer education in respiratory and other health issues. With offices in the USA and England, Haygain distributes products for healthier horses to 19 countries, including its Haygain® Hay Steamers, ComfortStall® Orthopedic Sealed Flooring System, ForagerTM Slow Feeder and Flexineb® Portable Equine Nebulizer. Visit www.haygain.us for more information.

<!-comments-button-->