Even New Shooters Earn Top Ten Buckles!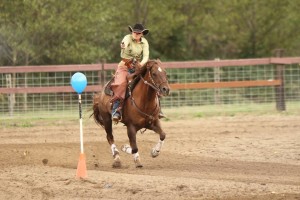 Western Washington Mounted Shooters year-end club awards dinner was held in November. Those who earned top 10 buckles are as follows:  Overall champion Carissa Kirk was followed by Jennifer Burnell, Jeff Kirk, Mark Plumlee, Karen Klein, Angie Harkness, Randy Gilden, Laurie Hughes, Garrett Dillon and Rick Harkness. Garrett and Rick were both new shooters in 2015.
WWMS is hoping to plan two early spring shoots in the Lynden, WA area, as well as three summer shoots in Sultan, WA. We anticipate offering two new shooters' clinics as well. You do not need gun experience or experience riding fast. The attractive thing about this sport is that everyone enters as a level 1, and many people start at a walk and a trot.  You just need a reliably broke horse that can neck rein and we'll teach you the rest.  There is also a kid's division for ages 11 and under and a senior division for those age 50 and over.  Come join us and experience the most fun you'll ever have on horseback!
Stay tuned to our Public Group Facebook Page: WESTERN WASHINGTON MOUNTED SHOOTERS (all caps).  Club Website: www.WesternWashingtonMountedShooters.com. Call/email Karen Plumlee, secretary at 425 985-8321 or missionfarrierschool@hotmail.com for more information.  For events in your area visit http://www.cmsaevents.com/events/.
Published in January 2016 Issue
WWMS members vary from kids to adults, and from the recreational shooter to the serious National and World competitor, so there's a spot for everyone. We are a friendly group, and enjoy introducing the sport to others. Please feel free to contact us at any time, and come join the addiction that is Cowboy Mounted Shooting!!! www.WesternWashingtonMountedShooters.com