A simple, safe and cost effective way to use a high line
The last weekend in August found me at Firemountain Trail Course in Sedro Woolley, WA. I love this place and Marilyn is a perfect hostess. She rides, trains and promotes trail safety at her place. She hosts many clinics and trail challenges throughout the year. It's a great destination spot for camping with a trail course that includes over 35 obstacles, dry camping with a wonderful hot shower facility made from an old horse trailer and several portable outhouses spread conveniently around the property.
I haven't been out much this summer due to my husband's illness but I snuck away for a few hours last Friday evening to watch Robert Eversole (TrailMeister) give a clinic on how to put up a high line. I really appreciate Robert since he's written articles for our Trail Savvy column for a few years now. His information is always so useful and he's a wealth of knowledge for our horse community. Check out his articles on www.nwhorsesource.com or pickup the latest issue of the Northwest Horse Source Magazine.
I have always wanted to know how to use a high line and have noticed people do it in a number of ways but what impressed me with Robert's method was how cost effective it was. Robert mentioned there are a number of pieces of hardware you can purchase to attach to your high line or use to set it up but there is an inexpensive and safe way to put up a high line. He keeps the cost down by using just a few knots and quality rope but invests in quality carabineers with a strength rating to ensure they hold.
Here is a list of the items you'll need for a high line: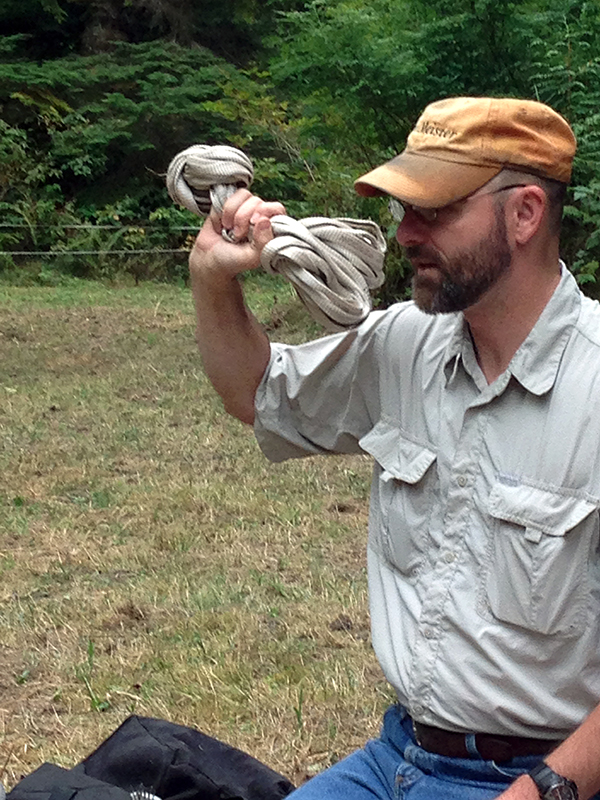 1) 100' Polyester Rope. It's strong and doesn't stretch. Marine rope is good, get 3 strand twisted 3/8" rope. Another option to reduce weight in your pack is Mule tape (used for pulling electrical wire). Usually you can get used line from an electrical contractor or purchase at Lowes or Home Depot. Caution: Mule tape is very thin and can cut a horse pretty quickly if they get tangled in it so use carefully.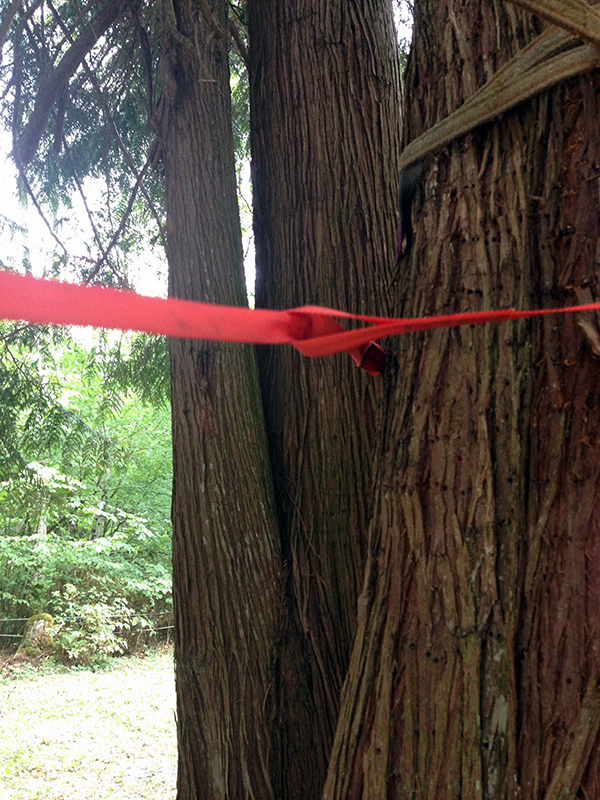 2) Tree saver strap: Polyester at least seven feet in length with loops at either end. You can also use an old cinch for smaller trees. You'll need 2 of course.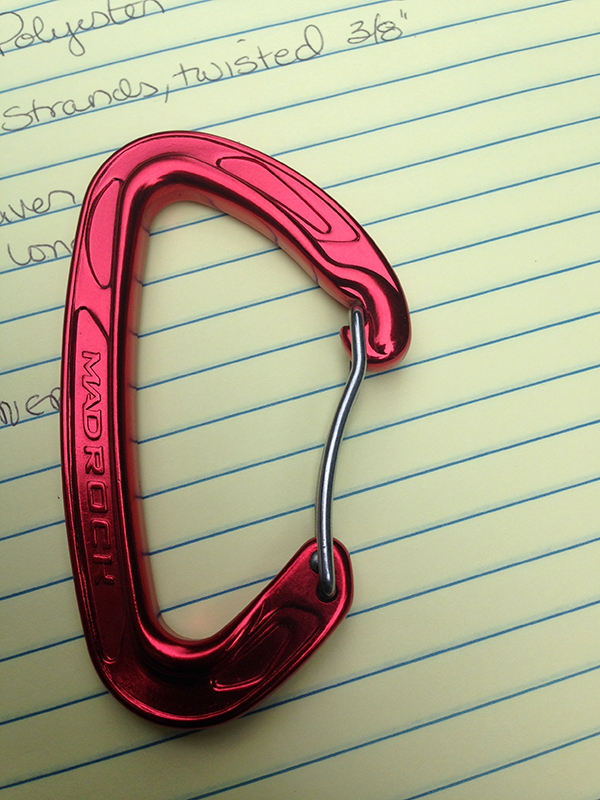 3)  3 to 4 carabineers (high quality, purchased from an outdoor store such as REI)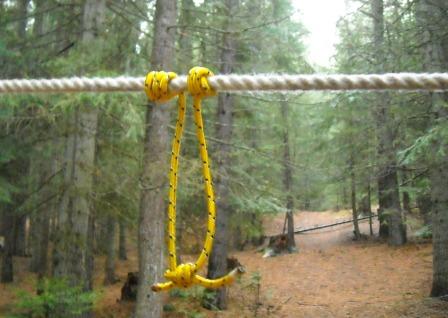 4) Boot laces or hay string (use Prusik knot to secure to high line)
Robert started by demonstrating the use of a "tree saver." This is a strap that wraps around the tree protecting the bark from damage. It should be at least 7 feet long and have loops at each end. Put as high on the tree as possible. Affix to the tree by running around the tree and run one end through a loop and pull tight.
Attach a carabineer to the loop. Attach your high line rope to the carabineer using a bowline knot. Be sure and run the end of your rope through the loop for safety. Move to the other tree and put another tree saver strap around the 2nd tree. Run your strap around the tree just as you did the first tree. Once you've attached the carabineer run the remaining high line rope through the carabineer hardware. Once you've completed this step you'll want to make a second loop using an Alpine Butterfly Knot . This will be a loop that will not slip and allow you to use leverage to tighten your rope. Once you've run your remaining rope through the Alpine Butterfly know tie it off using a half hitch (or two) running the remaining end through the loop for safety.
Once your high line is setup you're ready to attach your horses. Set your horse ties at least seven feet away from the base of the tree or past the root line. Horses paw and can damage the tree if tied too close. Also keep horses far enough apart they can't kick each other. Secure your horse to the high line by using a Prusik Knot  and a carabineer. Tie your horse's lead to the carabineer using a bowline and several loops to take up the slack in the end of your lead rope.
This is a simple, cost effective way to use a high line and protects the environment at the same time. Enjoy your camping trip!
For more information see: https://youtu.be/M-bhcgzF670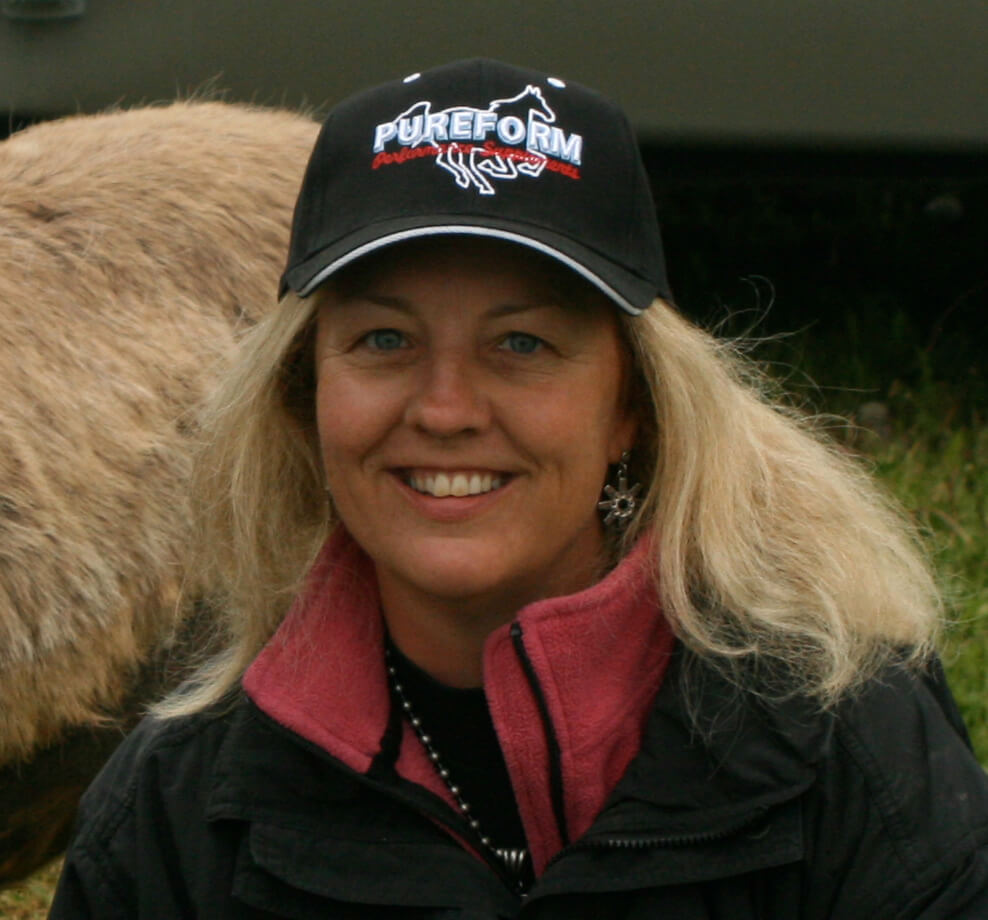 Owner/Publisher Karen's lifelong love of horses began at a very early age when she wore out a couple of rocking horses before convincing her parents to get her the real thing. That ill-tempered bay gelding, Brandy, was a challenge for the young horsewoman, but it drove her ambition to become a horse trainer. After attending Canyonview Equestrian College's Horsemanship Program, Karen realized she needed work that was a little more lucrative than training, so she took a job with Customs Brokerage to pay the bills. There, she discovered an affinity for computers and a talent for creating informative, entertaining newsletters. The Northwest Horse Source began as such a letter in December 1995, with a distribution of 1000 copies for its 12 black and white pages.  Now 25 years later, it's an online magazine and website with a reach of over 10,000 per month and growing! Not bad for the results of one woman's dream to work with horses!
Today, Karen remains involved with every aspect of the magazine and treasures the community of thousands who share a common passion. Somewhere in the wee hours of the early mornings and late evenings, she still finds time to care for April, her gorgeous and sweet-tempered Quarter Horse.