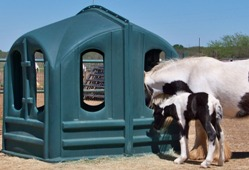 The HayHut is an innovative horse hay feeder. This enclosed plastic-molded feeder is just what is needed in a wet climate. By enclosing the hay within its 230 pound medium density polyethylene shell, it is protected from inclement weather and the ravages of horses that like to defecate on hay and use it as bedding. The wastage that can occur can be in excess of one third of a round roll and is almost totally eliminated by the HayHut. Specifically designed to accommodate large round bales, it will also handle stacked conventional bales with ease. The assembled HayHut unit easily tips to its side for bale placement and is easily tipped upright. One person can easily move and/or tip the HayHut for placing the hay. It has eight cutout openings. Horse owners are reporting less hay loss and being able to replace their bales in almost half the amount of time that they would with an open round feeder.
"We became distributors of HayHuts because we saw the importance of having free feed hay for our mini donkeys," remarks Craig Johnson, owner. "Our customers are reporting that their hay is not only being protected from the horse's thrashing, but from the elements as well."
HayHuts Northwest provides sales and service to Washington, Oregon, Idaho and British Columbia. You can contact them for more product info or to purchase HayHuts by visiting www.hayhutsnorthwest.com* or by calling 1-360-319-5413.
*This link was not active at the time this article was added to the website in 2018.
Published December 2011 Issue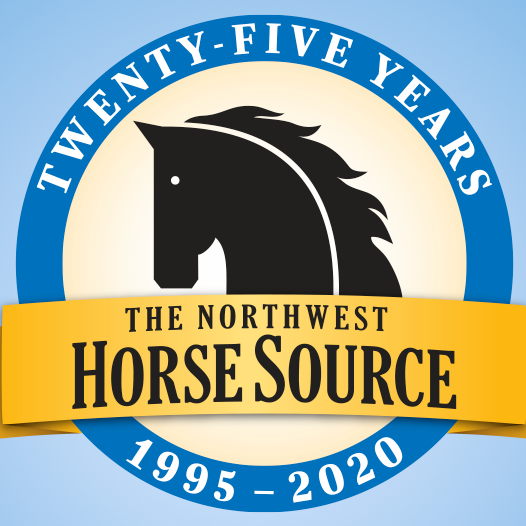 The Northwest Horse Source is an independently owned and operated print and online magazine for horse owners and enthusiasts of all breeds and disciplines in the Pacific Northwest. Our contemporary editorial columns are predominantly written by experts in the region, covering the care, training, keeping and enjoyment of horses, with an eye to the specific concerns in our region.