Earning Your Trust One Horse At A Time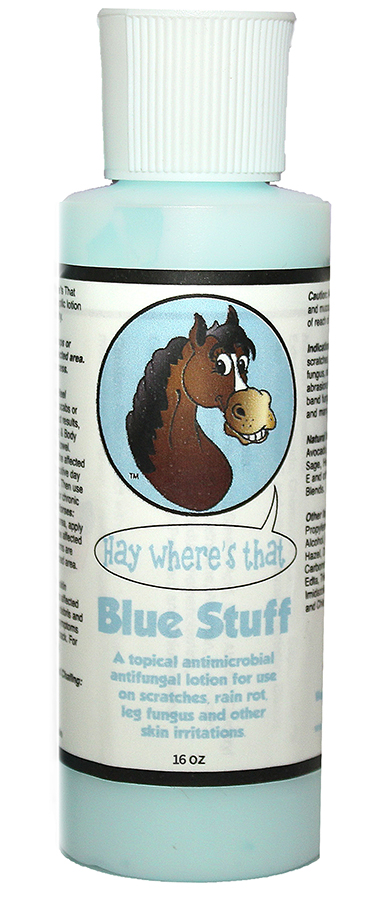 That Blue Stuff Lotion – Introducing Hay Where's That, Inc.  Home of Hay Where's That Blue Stuff, a topical antiseptic lotion for horses.  Hay Where's That products are made with all natural ingredients, are non-toxic and non-steroidal.  We stand behind our products with a 100% Money Back Guarantee.  Our mission is to make affordable, effective horse products that are pleasing to work with and safe for everyone.  Our Goal is to Earn Your Trust One Horse At A Time!
That Blue Stuff is a broad spectrum anti-fungal, anti-microbial, anti-bacterial lotion.  It is made with high quality natural ingredients and is safe to use every day.  It works fast on healing many skin irritations like rain rot, scratches, cannon crud, minor wounds, sweet itch, saddle sores and more.  That Blue Stuff is made with many essential oils such as, extracts of avocado, chamomile, lavender, sage, witch hazel and hemp oil.  The natural oils work in conjunction with the Chlorhexidine to provide broad spectrum healing.  All of the ingredients were carefully selected for their ability to help soothe and heal skin irritations, prevent infection and speed up healing.  Some of the oils are carrier oils that drive the natural oils, along with the chlorhexidine, deep down into the skin tissue, this allows the area to heal from the inside out.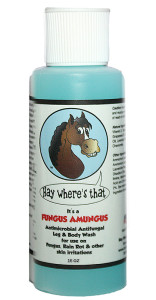 That Blue Stuff is not greasy and will not stain.  It is quickly absorbed into the skin and will continue to work all day with just one daily application until symptoms subside.  Our directions for use are very simple; do NOT pick scabs or scrub the area, wash gently with It's A Fungus Amungus body wash, for added healing power.  Then apply That Blue Stuff to affected area to provide immediate relief.  In colder temperatures apply That Blue Stuff to the horse directly without washing.

Testimonials:

"This product is wonderful! My horse Trinity had really bad rain rot and I have tried everything. Then I saw That Blue Stuff and decided to give it a try. All of his rain rot was gone within 10 days. I recommend everyone try it." submitted by Dana

"My warmblood gelding's back was covered in rain rot. We were scheduled to leave for a show in 14 days. I tried everything to get rid of it, nothing was doing the job. I finally decided to try that sample I received (Blue Stuff).  After 5 days of treatment, the rain rot was gone. By the time the show rolled around most of his hair had grown back. Thank you Blue Stuff!" submitted by Erin (horse trainer)

Every day we receive more great feedback on how these products are helping horses, owners that have tried everything and then they find the solution with That Blue Stuff.

Hay Where's That's products and That Blue Stuff are a must have for all horse owners and their tack box!

For more information visit our website: www.thatbluestuff.com

<!-comments-button-->