HandsOn Gloves are Great for Adults/Kids to use on Dogs, Cats, Horses, Livestock Animals and More!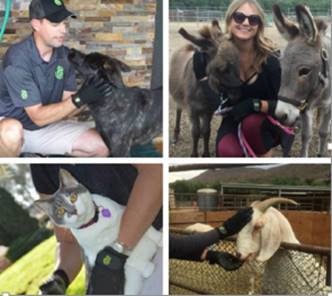 HandsOn Gloves make grooming and bathing your animal as natural as petting and creates a special bond between the two of you. With a flick of the wrist or arm the hair magically comes off the gloves due to its patented technology nodules. Adults and children alike are now able to bond with their beloved animals.
HandsOn is a set of unique grooming and bathing gloves that:
Can be used wet or dry
Great for dogs, cats, horses, donkeys, goats, etc.
The scrubbing nodules on the fingers provide a deep clean and are excellent for de-shedding
Massages and increases circulation for your pet
Distributes natural oils for a healthy skin and coat
Hands will stay clean and your pet will BE CLEAN. A win, win for both!
HandsOn Gloves has won awards in the grooming category at SuperZoo, a national pet trade show and named an industry all-star by Pet Business Magazine. It's amazing how it works, here's a video:  https://www.youtube.com/watch?v=QlWCbblBJKo
Northwest Horse Source Publishers Review:
HandsOn Gloves are a great addition to your grooming tools. My horses really enjoyed the massage and the benefits to circulation are impressive. Spend a little quality time with your horse and the grooming gloves. They will love the way the gloves feel and your canine friends will love it too!