Make Safe, Efficient Choices for Your Horse Property
By Alayne Blickle, Horses for Clean Water
Having the right gate is another key towards becoming chore efficient. There is nothing more irritating than not being able to get equipment or deliveries into an area because a gate is too small or when you have to walk "the long way" around a pasture every time you want to put horses out or bring horses in. I've seen many a horse property where cleaning paddocks is a real chore only because there's not a good way to get in or out of areas.
Stay away from corners; a corner can become an awkward, tight spot where a more aggressive horse can easily pin another (or a handler!) in a corner and cause an accident.
While we're speaking of corners, you may want to consider rounding out corners. Round corners in pastures are easier for mowing. They are also easier when bordering a driveway and you are pulling a vehicle around them.
Choose the very safest gate possible. Squared tops edges will help keep a young rearing horse from catching a hoof between the gate and post. This alleviates the gape where a young, energetic horse might rear up and get its hoof wedged into an opening.
Make sure the gate is constructed from material strong enough for horses. Will horse be leaning on gates or pawing them? If so, gates need to be very sturdy with solid panels to keep horses from catching a leg in-between. Do you need to keep dogs out? Wire mesh gates provide more of a dog barrier. Watch out for rough edges, broken metal, rusted parts or anything flimsy.
Here are some guidelines to think about when considering gate placement on your property: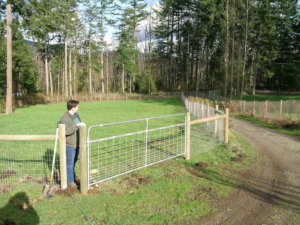 Size gates for the deliveries you plan to get.mHay? Gravel for footing? Does a tractor need to get through? Maybe the vet or farrier? How about getting the wheelbarrow or manure cart in or out of your paddocks? Think ahead and imagine what will be coming through your gates. Call places to see what size trucks they have and what clearance they need. Usually 12 foot is wide enough for most large vehicles, unless there's a corner involved.
For leading horses in and out, six feet is probably wide enough; bigger than that is often awkward and hard to hold other horses in or out when using them. Locate gates mid fence line.
Consider gate latches while you're at it. Ideally you want something that you can open with ease but your horse can't. Kiwi latches, the nifty, comma-shaped latch that came our way as a result of the New Zealand sheep industry, are handy little devices that allow you to open a gate with one hand while leading a horse with the other.
Pass-throughs are another gate consideration, for humans only (well okay, also for dogs and cats.) A pass-through allows a person to slip into an area easily and quickly without opening a gate. There are many configurations for pass-throughs but usually they consist of two wooden posts placed about 12 inches apart. Pass-throughs should not be used with young horses or smaller livestock like llamas or sheep.
At our new place in southwestern Idaho, Sweet Pepper Ranch, we are setting up one of our larger turnout paddocks with fencing and gates and have been considering exactly these points. We chose to have a six foot gate for where we take horses in and out, plus a pass-through for us. That way we can easily slip in with halters to get our horses, saving ourselves the extra step of opening and closing the gate. We also put in a 16 foot gate on the outside to be used for equipment (like tractors for mowing) or deliveries (like trucks with gravel footing) when we need to get into this area.
Good luck and happy horse keeping to you!
Alayne
Join Horses for Clean Water this fall for FREE educational events:
ISSAQUAH, WA
Saturday, September 24, 10 a.m. to noon
FARM TOUR: Laughing Horse Farm. Do you complain about having small acreage, no topsoil, lots of rocks and slope on your horse property? Then you need to visit Laughing Horse Farm to see how to one farm has made lemonade out of lemons! Join us on this tour to learn about gardening and horse keeping on very small acreage with a ravine and a seasonal creek. This property features a track paddock sacrifice area and an extreme trail course which doubles as a landscaping feature by combining stumps, lots of rocks and beautiful plantings with an obstacle course for horses. Their barn is another interesting feature–refurbished with "reclaimed" materials. We will also cover composting and mud management, very important components for small acreage properties so close to waterways. Register and receive directions at 425-282-1949 or signup@kingcd.org.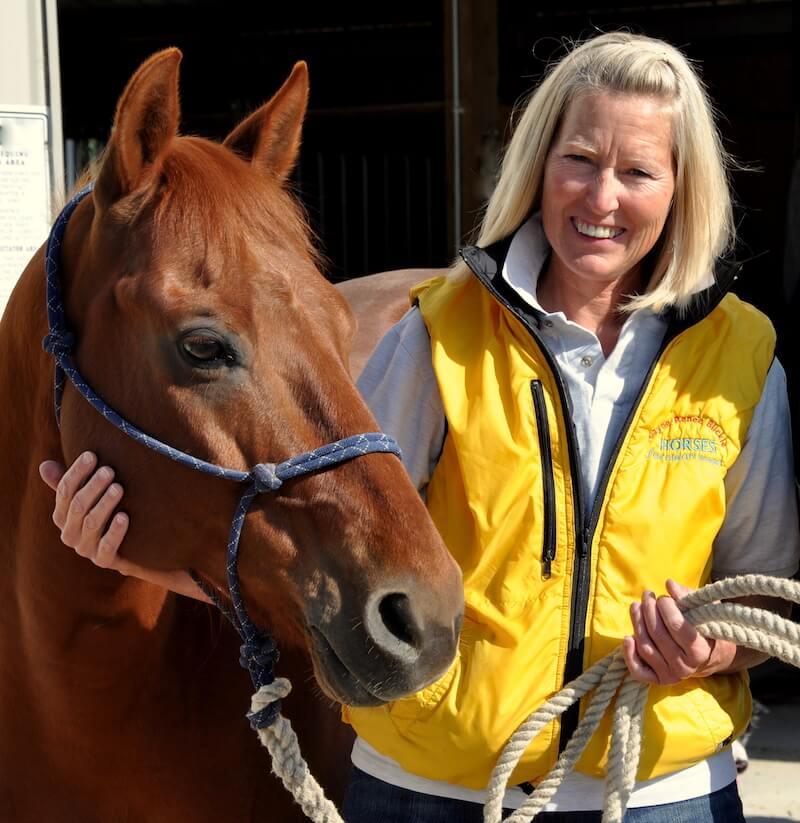 Alayne Blickle, a life-long equestrian and educator, is the creator/director of Horses for Clean Water, an award-winning, nationally acclaimed environmental education program that "wrote the book" on caring for horses and land. Known for her enthusiastic, fun and down-to-earth approach, she is an educator and photojournalist who has worked with horses and livestock owners for over 20 years. Alayne teaches and travels throughout North America and abroad, and also runs Sweet Pepper Ranch, an eco-sensitive guest ranch and horse motel in Southwestern Idaho where she and her husband raise top-notch reining horses and beautiful grass hay. For more information contact Alayne at alayne@horsesforcleanwater.com or 206-909-0225.