The Annual BCHW Winery Ride is Not to be Missed
By: Teri Starke
It's hard to believe that October is already here! Back Country Horsemen of Washington has been very busy across the state with prize rides and trail work; the miles of trails cleared so far this year is amazing. I want to let everyone know that October 29th, 2016 is the 15th Annual BCHW Winery & Halloween Costume Prize Ride in Zillah, Washington. This ride appeals to hundreds of riders who like to taste some of the best wines in our region as they ride from winery to winery, through grape arbors and other fruit crops, while enjoying the scenery of the lower Yakima Valley. Camping is available on Friday and Saturday evening. This is an event not to be missed!
Proceeds from the ride go to fund many Back Country Horsemen of Washington programs, including the annual Statewide Work Party, where over 70 BCHW members volunteer four days or more while working to clear trails for stock use. Past work has cleared hundreds of miles of trails on Table Mountain, in the Eastern Pasayten, and in the Methow Valley areas.
As you sip your wine from your festive Winery Ride cup, let your horse or mule carry you to your next winery, enjoy the Halloween costume contest and the Saturday night barbecue, you can be proud of your financial support for Back Country Horsemen of Washington efforts to keep trails open for stock use.
Registration forms and all other related information are available at BCHW.org or in this issue of NWHS. We look forward to seeing everyone there!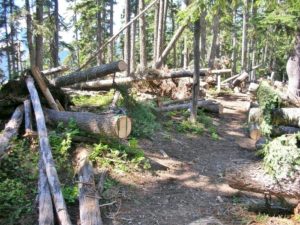 These pictures show how messed up the Polallie Ridge Trail #1309 was before BCHW members Mark Reiss and Jason Ridlon set their sights on making the trail passable again. The Polallie Ridge Trail #1039 is in the Alpine Lake Wilderness out of the Pete Lake Trail Head. Polallie Ridge runs to Waptus Pass. The trail leaves from the Cle Elum Ranger Station and is in the Wenatchee Okanogan National forest. They found 120 trees down in less than 2 miles of trail.  Mark, Jason, and the BCHW trail warriors have made this trail usable for all and it is just one trail example of BCHW's work on the trails. Amazingly, no chainsaws could be used to clear this log jam – only cross cut saws.
Please consider joining BCHW, your membership fees directly enable BCHW to coordinate work parties and monitor legislative issues that affect horse owners. Single memberships are $41 a year and families are $54 a year. Because BCHW is a 501C3 your membership is tax deductible at the end of the year. Go to bchw.org to join online or print off a membership form to mail in.
As always if you have any questions, give me a call at 253-709-5052 or email at treasurer@bchw.org.
Teri Starke, Back Country Horsemen of Washington State Treasurer, Ways and Means Chair and 2017 Rendezvous Chair.
Back Country Horsemen of Washington (BCHW), is a 501 (c) (3) organization with 32 chapters across the state dedicated to: keeping trails open for all users; educating horse users in Leave-No-Trace practices; and providing volunteer service to resource agencies.