Driving is My Next Adventure!
By Karen Pickering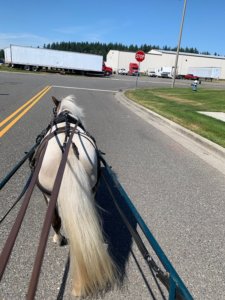 A few years ago, I was gifted a beautiful miniature horse named Chloe. She's a little spitfire—bossing April around and just being a bold little steed. She's been great to handle, and I've kept her exercised by lunging her and going for walks.
My good friend, Ken Solem, gave me a harness to get me started driving a couple of years ago. It was a great beginning on this adventure but ended up being too big for her. I saved up for over a year to order a nice BioThane® harness. My friend Barb sold me a cart, gave me some lessons, and I was hooked!
I love learning new things, and with my hip injury it's been hard to ride April. She isn't sound anyway, so I decided to put the mini to work. On my road back to wellness I needed a project that would keep me working with my horses every day. I've been ground driving Chloe quite a bit and we've gone down the road past semis, cars, and other scary things without being hooked to a cart. I'm pretty sure she's done this before. She's patient with all the mistakes I've made while learning.
Today, I hooked her up and drove towards town. The cars and trucks didn't seem to bother her. She looked a little funny at the marks and stripes on the road but did surprisingly well.
I have so many friends to thank, like DiaRae Harvey who came over and helped me get the new harness fitted properly and worked with me a little more on driving. I've driven draft horses a few times, but this really isn't that different. It's unbelievable how strong these little horses are. And wow, is it fun!
Learning is a lifelong process and I'm very blessed with good friends who are always willing to help. Be sure and read our cover story on page 6. Allison Trimble-Paparoa is a very special friend and is kind and generous to a fault. Her love and knowledge of horses has made her especially gifted at matching buyers and sellers when marketing horse properties. You may also enjoy her monthly column, Willfully Guided.
Have an amazing autumn and maybe think about learning something new this year. You're never too old!
Quote: "Everything you've ever wanted is on the other side of fear." ~ George W. Adair (1823-1899), Real Estate Developer
Published September 2019 Issue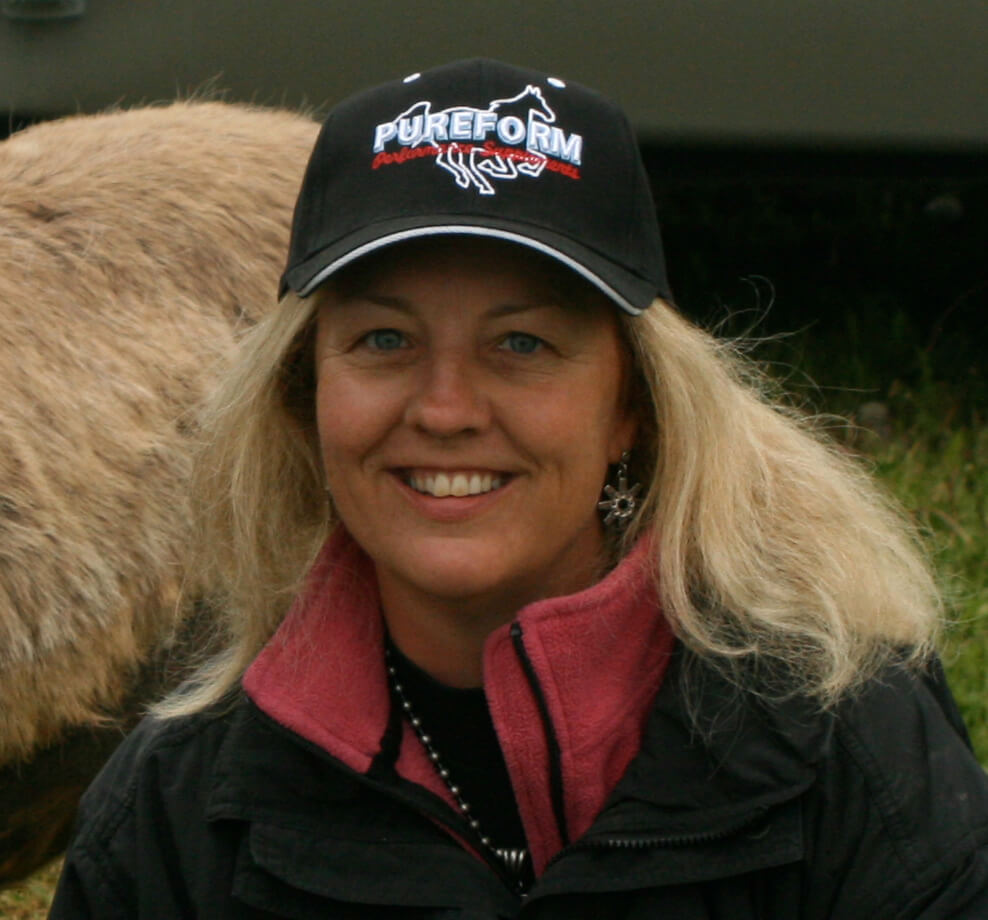 Owner/Publisher Karen's lifelong love of horses began at a very early age when she wore out a couple of rocking horses before convincing her parents to get her the real thing. That ill-tempered bay gelding, Brandy, was a challenge for the young horsewoman, but it drove her ambition to become a horse trainer. After attending Canyonview Equestrian College's Horsemanship Program, Karen realized she needed work that was a little more lucrative than training, so she took a job with Customs Brokerage to pay the bills. There, she discovered an affinity for computers and a talent for creating informative, entertaining newsletters. The Northwest Horse Source began as such a letter in December 1995, with a distribution of 1000 copies for its 12 black and white pages.  Now 25 years later, it's an online magazine and website with a reach of over 10,000 per month and growing! Not bad for the results of one woman's dream to work with horses!
Today, Karen remains involved with every aspect of the magazine and treasures the community of thousands who share a common passion. Somewhere in the wee hours of the early mornings and late evenings, she still finds time to care for April, her gorgeous and sweet-tempered Quarter Horse.