How to Choose the Best Boots for Your Lifestyle
In honor of this month's theme of tack and equipment, I wanted to write about a certain cowgirl obsession: boots. I am a partner in a retail store that specializes in all types of cowboy boots. Combining that with years of wearing this lifestyle necessity, here is what I have learned.
The Toe
Cowboy boots come with a variety of toe shapes. The original cowboy boot had a slightly narrowed and rounded toe for easy insertion into the stirrup. This shape is still quite popular, and seen in everything from riding boots to work boots. A pointed toe emerged in the 1940's. Today this is most commonly seen in dress boots, and can be uncomfortable for a work boot. My favorite shape is the square toe as it affords the most comfort for long days spent in your boots.
Sole and Heel
Leather soles are the original (and most popular) form for boots. Over the years, and with advances in technology, there was a need for more traction on a boot. You can now find rubber soles of all kinds, and cork or crepe soles. In the Northwest, a composite sole has merit because of the long, wet winters.
Heels on cowboy boots were originally 1.5 to 3 inches and were designed to be "home" in the stirrup. Because of the need for rodeo cowboys, such as calf ropers, to run in their boots a different shape of heel was necessary. Now all heel shapes and heights can be found.
The Shaft
The original cowboy boot was a 17 inch shaft, designed for protection of the rider's leg. Over the years there have been variations ranging from very short shafts to tall tops, but a common height is 13 inches. While many working ranch cowboys have never strayed from the original height, the longer I trained horses the taller my boot shafts became for the added protection. I found that a 13 inch boot hit my leg just where my calf made contact with the horse, which resulted in some painful rubbing and scarring on my leg.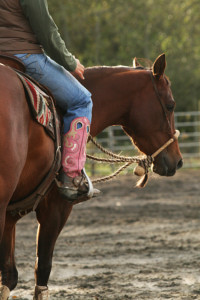 The fun thing about boot shafts is the decoration.
This is the place where style can meet functionality
and the options are endless.
Leather
The most common material used to make cowboy boots is cowhide. It is durable, water resistant and relatively inexpensive. Also used are goat and snakeskin, but they are more often seen in a dress boot. Exotic leathers, such as elephant, alligator, and lizard, have had long standing popularity in both dress and working boots for their unique patterning and durability but will be pricier.
Brands and price
Boot prices range new from about $60 to thousands of dollars and you will get what you pay for. Mass produced boots tend to break down much faster, but handmade boots are cost prohibitive for most folks. There is a huge difference in the comfort and longevity of a lower end manufactured boot and those in a higher price range such as Rios of Mercedes and Lucchese. My advice is to consider spending the money on a nicer boot that will hold up under hard using and can be re-soled/refurbished. I can roll through a $150 pair of boots in about 6 months, but I have a pair of Luccheses that I have resoled 4 times and still wear after 10 hard years. They were $500 at a closeout sale and are as comfortable as the first day I slipped them on.
Riding vs Dress
Dress boots can be worn with any outfit and for any occasion, but when it comes to riding boots there are some important things to consider. The original cowboy boot was designed as a using boot, and its form followed function. The sole of the boot was as narrow as the foot allowed, with a slick, leather bottom and a sizeable riding heel. This was to allow for feet to neither slip through the stirrup, nor be stuck in the stirrup.
I often see people riding in boots that are unsafe. Most dragging accidents are the result of a boot that either slipped through or wouldn't come loose from a stirrup. I do not recommend lace-up boots for riding. A pull-on boot can slide off the foot in a wreck, where a lace- up boot will not. A good rule is to never sacrifice safety or comfort for style. An even better rule is to find the perfect blend of safety, comfort and style… at least for this cowgirl!
Allison Trimble has a Bachelor of Science in Animal Science from Cal Poly, SLO. After her graduation in 1999, Allison started Coastal Equine and has been training and competing in cowhorse, reining and cutting events. She has had marked success in the show pen boasting many titles and championships.
Willfully Guided is an educational program based on Allison's training process. For more information visit: www.willfullyguided.com
Allison is also a Realtor specializing in horse properties, hobby and commercial farms, and family housing. She combines her experience in the horse industry with her lifelong involvement in real estate to help clients find their perfect property. Learn more at www.coastalrealtywa.com