Part 1: Practical Realities of Rehabilitation
by Allison Trimble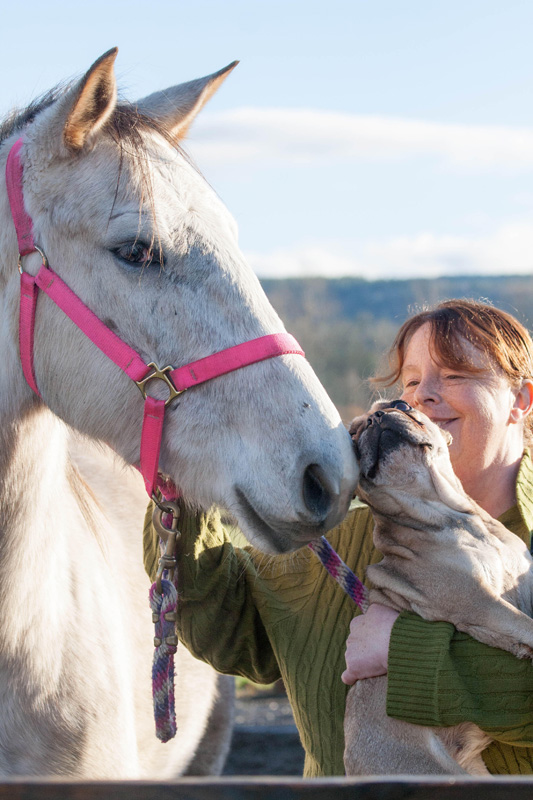 In this month that celebrates love and relationship, it's natural to consider the powerful connection between horse and human. It is a wonderful thing. However, romance aside, the unfortunate reality is that horses are expensive partners that, for numerous reasons, often end up in poor circumstances because of humans.
"Rescue horses" are a hot topic and auction horse photos and GoFundMe pages fill my newsfeed on social media. I have successfully rehabilitated a number of needy horses and enjoy the process. Recently, I was asked to help in the training of a mare that is blind in one eye (due to injury) and went through the auction, destined for slaughter. Her new owner, Shelli, has begun the journey of having a horse back in her life, as well as offering "Dreamer" a better future. I feel fortunate to be a part of the process.
There are many emphatic opinions about horse slaughter, mistreatment and neglect. The horses I have rescued were mostly in the years when slaughter was outlawed in the US. That said, doing away with horse slaughter does not remove the mistreatment and neglect of horses. As a horse lover, the idea of any horse suffering breaks my heart. Horse rescues—operations that are often funded as a non-profit—have popped up across the nation to remedy the problem. The sentiment is wonderful, but even legitimate operations face the same realities that all horse owners face. At a minimum, horses are expensive and time and space intensive. And, what about the sick, the old and the lame? They have the same requirements with no "benefit" to a human outside of their intrinsic value. It is honorable to believe that every horse deserves a home. However, there are limitations to that reality, making it a fragile ideal.
A horse lover can get lost discussing this complicated and heartbreaking issue. Certainly many wrongs are committed by humans, but the problem of neglected and unwanted horses includes many sobering factors that aren't solved by impassioned pleas from a soapbox. While I consider myself an emotional person, I have learned to set as much of that down as I can to be of real use. Big social issues (for humans or horses) are so overwhelming one can become paralyzed. Instead, I try hard to focus only on the things I can do, within my sphere of influence. In my humble opinion, if every person turned their energy in this way and truly made a difference for one horse, the union of action would positively affect the greater issue.
There are a number of a ways an individual can help; all of them require a financial contribution. In the Pacific NW it costs, on average, $200 a month for one horse. A great option is to research heavily and write a check to a reputable, existing rescue (emphasis on reputable). There are many excellent organizations with a history of success. Running a sizable equine operation of any kind requires experience, knowledge and funding. It is different than having a couple of personal horses and requires specific skill sets. Many rescues are run by kindhearted people with the best intentions, but often those horses end up in the same dire straits. In addition, the emotional component makes the rescue world ripe for crooks. Be careful where and who you give money to.
Another way to help is to become the steward for a horse in need. The emotional rush that horses give humans is exactly what led them to their sorry situation however, so please be logical for the sake of the horse. Whatever the eventual plan (rehome or keep as part of the family), there must be a budget for a minimum of $2,500 per year in expenses. Raising $450 to save Flicka from slaughter is just the beginning. If the intent is to rehabilitate and rehome, do not count on a sale price to help recoup expenses. That is certainly a possibility, but it should be considered a bonus, not a condition. Caring for the basic needs of a horse is a great start, but for a real future to be ensured the horse needs to become valuable to someone else. The best protection we can offer our horses is that in the event of the unexpected, they are a horse many people would be happy to own.
I may sound as though I am discouraging the rescue or fostering of a horse, but the opposite is true. Armed with the proper tools and expectations, it is a very worthwhile journey. Next month we will discuss the how of successful horse rescue.
Published in February 2016 Issue
Allison Trimble has a Bachelor of Science in Animal Science from Cal Poly, SLO. After her graduation in 1999, Allison started Coastal Equine and has been training and competing in cowhorse, reining and cutting events. She has had marked success in the show pen boasting many titles and championships.
Willfully Guided is an educational program based on Allison's training process. For more information visit: www.willfullyguided.com
Allison is also a Realtor specializing in horse properties, hobby and commercial farms, and family housing. She combines her experience in the horse industry with her lifelong involvement in real estate to help clients find their perfect property. Learn more at www.coastalrealtywa.com