Artificial intelligence adds power and unprecedented ease-of-use to Metron-DVM, a leading veterinary imaging product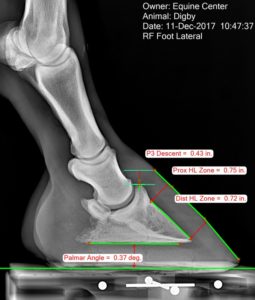 December 11, 2017 –Paso Robles, CA – Thanks to advances in deep learning technology, an artificial intelligence bubble is set to occur, especially in products that use images or speech. With the introduction of Metron-DVM version 8 from EponaMind, it has arrived for the field of veterinary imaging. If your veterinarian takes an x-ray of your dog, cat, or horse, they may be using a system powered by Metron-DVM, a leading veterinary imaging software. With the upgrade to Metron version 8 neural networks trained by deep learning techniques put the product in a class of its own.
The use of deep learning adds three new aspects to the Metron software:
The software can automatically recognize 192 different anatomical shots of the horse – this means the user need not spend time labelling images, nor specifying which particular x-rays are to be taken. Rather, the veterinarian simply shoots the x-rays and the software receives them and automatically labels them and orients them on the screen. Correct image processing is applied for each anatomical shot, and human error of labelling is eliminated.
The software can give real-time feedback to the radiographer by voice-announcing if the image was taken with poor alignment to the anatomy – in this case, the veterinarian can re-shoot that image right away while still at the horse, rather than discovering the need to re-shoot later.
In the most impressive feat of the new artificial intelligence in Metron, for x-rays of the equine foot – both lateral and DP (aka 'frontal') – the software automatically places key-points on the anatomy and makes several measurements which quantify the conformation of the hoof and lower leg. These measures are useful to both veterinarians and farriers.
Similar features for companion animals (cats and dogs) will be added to Metron-DVM in Q1 of 2018.

Additionally, EponaMind announces the new EponaCam smartphone App and hardware cradle, which turn any smartphone into a specialized hoof camera. This brings photography of the equine foot to the same advanced level as the radiography described above. The image of the hoof is sent immediately and wirelessly to the Metron software which recognizes and labels the image, places key points on the image, and measures the hoof. The EponaCam makes such record-keeping both easy and accurate, and adds valuable information to the patient record so that both the veterinarian and farrier can do their jobs at state-of-the-art levels.

Behind EponaMind are a husband and wife team of engineers, John and Monique Craig. John Craig received his PhD from Stanford University in electrical engineering and is the author of the well-known textbook on industrial robots: "Introduction to Robotics: Mechanics and Control" 4-th edition, from Pearson. Dr. Craig's interests have evolved from robot mechanics, to bio-mechanics, to image processing, and now to include deep learning and artificial intelligence.

State of the art digital radiography (DR) systems for veterinary which are based on the new Metron 8 software are available from Vetel Diagnostics of San Luis Obispo, California (www.VetelDiagnostics.com )

For more information about EponaMind and Metron software, visit www.EponaMind.com. Short videos showing Metron 8 in action are available on the web-page: www.EponaMind.com/neural-networks-deep-learning/

<!-comments-button-->