Advice from Professional Colt Starter Dusty Whitford
by Allison Trimble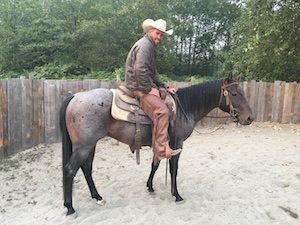 My best laid plans seem to have a way of changing. I had a great start getting my colts going, but between work, family, chores, and keeping the other horses going I was a lot more hit and miss than I had hoped. Fortunately, a friend of mine was looking to move back and set up shop in the Pacific Northwest, and things started to fall into place.
Dusty Whitford has put some time on my colts, and will continue to keep them going for me. It's been fun to have a fresh breath of life back into my facility, and I've really enjoyed seeing my colts grow. I'll admit it's been a little nostalgic for me, thinking back on when I started a lot of colts, but it's been fun sharing philosophies in the evenings. Dusty offered his thoughts on the first 30 days of training.
What is your philosophy for colt starting?
I focus on systematically moving step by step through the ground work and first rides to create a hole-free horse. Knowing that every missing step shows up down the road, I want to make sure I never speed through or avoid the tough work.
Sometimes, no matter how well I do with my prep work, a horse is going to object to getting broke. I don't ever want to shy away from going forward. I believe that as a professional I don't have the right to attempt anything but perfect consistency and communication.
Part of that is establishing that I am the leader. Horses are so much more confident with me in that position.
What do you think is the most important principle for those first 30 days?
Forward motion. It seems 9 out of ten problems I encounter from people starting their own colts stems from a lack of forward motion. When a colt throws in a buck, it's asking the question, can I stop forward motion if I buck? Answer no, and send them forward.
We want to mitigate as much risk as possible. But too often people ask me if they can try something else like pulling them in a tight circle and making it uncomfortable. Remember the initial question — can I stop forward motion if I buck? The answer is yes!
When a colt comes to you for starting, how do you help set realistic expectations for the owner?
I just try and be very honest and upfront. I tell them that the horse is going to set the pace of training, and that may be faster or slower than they are expecting. I also make sure they know that not all horses are suited for all disciplines. I won't let someone pour their money into a horse that isn't going to fit their needs.
What's the most common mistake you see when people start their colts at home?
A lack of confidence. Even I will have times where I'm nervous about a certain part of starting a colt, but I feel I lose the right to let them know it when I take on the job. Fake it till you make it. All horses ask questions, and they're looking to us for answers.
What do you think is a common misconception in this process?
Constantly disengaging the hindquarters. The front end is always twice as hard to move as the back end. I see clinician type colt starting and they're constantly over-yielding the hips. I do this only to gain their attention. In every western performance horse either the hind end needs to plant or to be the power, or both. If it is constantly being disengaged, when does the horse learn to finally use it? Instead, focus on freely moving the front end.
What's your favorite thing about starting colts?
Seeing those big jumps in knowledge that a 2-year-old can gain. When a horse locks onto a cow for the first time by itself or masters an effortless stop.
Dusty Whitford has spent the last couple years in Texas working for two of the largest cutting horse operations in the country. He has started 2-year-old strings for major ranches across the south and has seen many two-year-olds from his string continue into the NCHA and Snaffle Bit Futurity. He now specializes in training 2-year-old cutting and reined cow horses in the Northwest.
Originally Published September 2017 Issue
Allison Trimble has a Bachelor of Science in Animal Science from Cal Poly, SLO. After her graduation in 1999, Allison started Coastal Equine and has been training and competing in cowhorse, reining and cutting events. She has had marked success in the show pen boasting many titles and championships.
Willfully Guided is an educational program based on Allison's training process. For more information visit: www.willfullyguided.com
Allison is also a Realtor specializing in horse properties, hobby and commercial farms, and family housing. She combines her experience in the horse industry with her lifelong involvement in real estate to help clients find their perfect property. Learn more at www.coastalrealtywa.com