Great Prizes and Fun at the Show August 14-18
WSQHA is proud to host the final Regional Show August 14-18 in Monroe Washington. Don't miss this special one of a kind event. Buckles, sheets, saddle pads, and hay bags are just a few of the awards you have the chance to win. For the second year you also have the opportunity to earn AQHA points in the concurrent classes as well as WSQHA and Mountain States points. Place in the top ten and you qualify for the 2014 novice championships. New for 2014 will be an added cattle novice championships!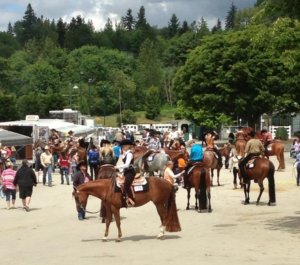 September brings us the state affiliate NW Emerald. The Emerald hosts are NSBA futurities with 500 added in each event as well as the Masters with an added $5,500 sponsored by Cranbrook Dodge, Fly Guard Systems, South Sound Properties and WSQHA. We have new faces showing in the Masters so be sure to mark your calendar for Friday September 6th to come join us for the Machine Made Party.
We wrap up September with our Trail Ride September 13-15. This is a must-do event! We will also be having our WSQHA board retreat in conjunction with the trail ride this year so join us for a chance to help shape WSQHA's future. Check out the August issue of America's Horse and the article on WSQHA. WSQHA is proud to have received a $10,000 grant to launch a reading program for young children. Contact us if you are interested in scheduling an appointment for the fall. We are proud to be your liaison to AQHA and welcome your thoughts and input as we work to promote our breed, the American Quarter Horse. Learn more at wsqha.com.
Published August 2013 Issue
This article sponsored by:
Genetic Testing Kit (55+ Traits) to Identify Equine DNA
WSQHA is the AQHA affilate group for Washington State. WSQHA is committed to encouraging the growth and development of the American Quarter Horse through showing, trail rides, community outreach and much more!