A Labor of Love
by Cavalia Staff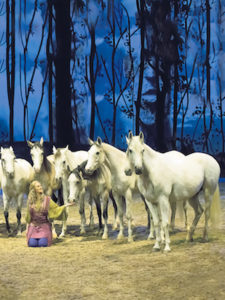 The 65 magnificent horses of Odysseo by Cavalia enchant audiences at every performance. Odysseo is a unique and sensational marriage of equestrian and stage arts with high-tech theatrical effects. The show portrays the relationship between horses and humans as they journey through a world of dreams.
Each horse is only on stage for approximately twelve minutes. What is the rest of their day like? As Odysseo makes its return under the White Big Top at Olympic Village in Vancouver, British Columbia, stables director Kristine Alach gives an insider's peek into everyday life in the Odysseo stables.
"In my job as stables director, I'm in charge of everything related to the well-being and the health of our horses," Alach explained. "Any questions or concerns about the horses' health, maintenance and wellness are within my responsibilities."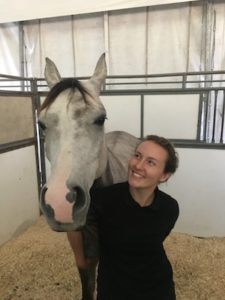 Her normal daily routine encompasses working in close collaboration with the riders and managing the 21-person staff. They care for the 65 horses and maintain the facilities, stables, and riding arenas.
Every day, nine staff members – including grooms, a team leader and a veterinary technician – arrive around 6:30 a.m. to begin turn-out, prepping the stable, cleaning, feeding and walking the horses.
Riders start to come in at 9:00 a.m. They do more than work or train their horses; they play with them, visit them in their stalls and hang out with them in their turn-outs. Having that time together off-stage is essential to building the bond between horse and rider that is so evident on-stage.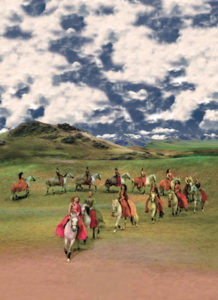 At around noon, ten grooms, their supervisor, and two veterinary technicians come in for the rest of the day. The grooms are responsible for physically preparing the horses: brushing them, washing them, walking them and warming them up for the riders. The veterinary technicians monitor the horses and consult on any questions or issues that comes up concerning the horses.
Following the performance, the horses are cooled down and groomed again. Evening hay is fed and finally there are the last checks to ensure that every horse is ready to rest for the night. Security checks continue throughout the night, quietly, so as not to disturb these four-legged artists at rest.
Primarily based in her home state of Massachusetts before joining the Odysseo tour, Alach has also worked with horses in Bavaria, New Zealand, and France.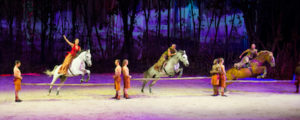 "That has given me a pretty good sense of the world equine population and how things can be done differently from country to country. That broader sense is very helpful here, with so many different nationalities represented among the artists and the grooms. It helps me be an effective leader of a diverse population of horse people."
"The horses are truly the hearts and souls of everything we do – both in my team, and also as a company" added Alach. "I could not take care of 65 horses alone. It's my priority to help my team treat every horse as an individual. We provide tailored care so that if there is something bothering a horse, or if they need a special piece of equipment, or whatever they need, it's taken care of right away."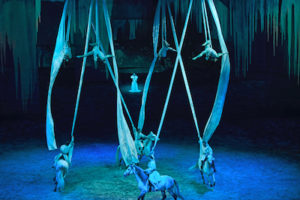 It's clear that the horses are treated as unique individuals behind the scenes as well as on stage; one day a horse might improvise and that's encouraged, they are just being horses.
"It's a tribute to the horse, to respect his individuality, and I love that," Alach remarked. "There are many acts where the horses are completely free on stage and the audience loves that. I keep that philosophy in the stables as well. Everyone here respects and loves the horses, and it is reflected in our work. We all work together for the good of the horses, and it's truly a labor of love."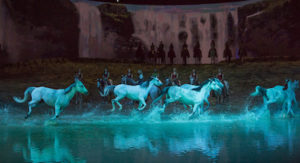 Tickets for matinee and evening performances of Odysseo by Cavalia in Vancouver are now on sale. Visit www.cavalia.com or call 1-866-999-8111 for show schedule and additional information.  For a memorable outing, the Rendez-Vous VIP package offers the best seats in the house, a full meal buffet dining before the show, a selection of various refreshments, desserts during intermission and an exclusive visit to the stables after the show.
Originally Published February 2017 Issue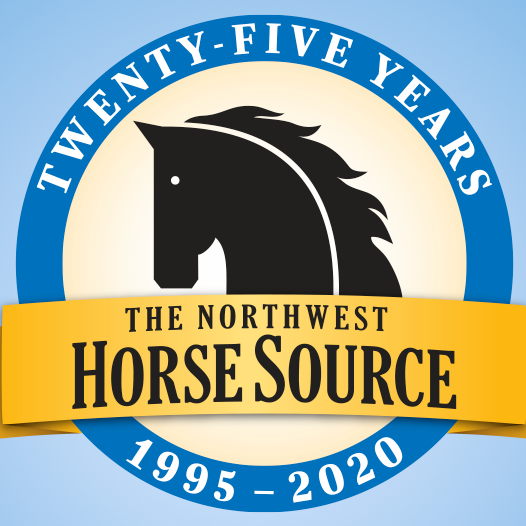 The Northwest Horse Source is an independently owned and operated print and online magazine for horse owners and enthusiasts of all breeds and disciplines in the Pacific Northwest. Our contemporary editorial columns are predominantly written by experts in the region, covering the care, training, keeping and enjoyment of horses, with an eye to the specific concerns in our region.