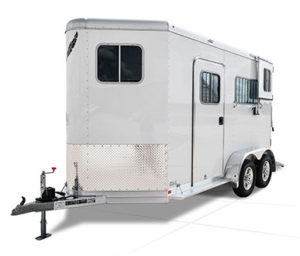 Outfitted with a standard rear ramp, Featherlite's new Model 9652 straight load bumper pull horse trailer offers even more value to horse owners.
It features a 54" full width rear ramp with double doors, aluminum butt/chest bars with padding and aluminum wheels standard. This newly enhanced design for Featherlite straight loads includes a 7′ straight load divider with shoulder separator and back leg on a removable post along with a camper door in the trailer's v-nose.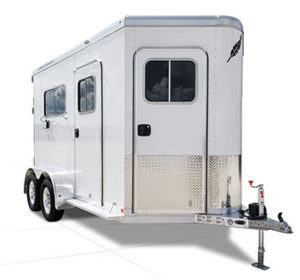 The trailer is 12'6" long and 6'7" wide with an inside height of 7'6". It features ¾"cushioned rubber floor mats in the horse area and one pop-up roof vent per horse. Featherlite's Model 9652 comes with Featherlite's 10-year limited structural transferable warranty and 3-year bumper-to-bumper warranty.
For more information on the Model 9652, see a Featherlite dealer, call 800-800-1230 or go to the Featherlite website at www.fthr.com.
In Western Washington State, visit:
www.bickfordtrailers.com
Bickford Ford
3100 Bickford Avenue
Snohomish, WA 98290
Sales: 800-242-5367
Service: 360-563-0947
Fax: 360-563-0946
Email: trailers@bickford.net
About Featherlite
Featherlite Trailers (www.fthr.com), located in Cresco, Iowa, is the nation's leading aluminum specialty trailer manufacturer. Featherlite has highly diversified product lines offering horse, livestock, car, utility and recreational trailers through an extensive dealer network in the U.S. and Canada. Featherlite is a sponsor of many organizations, including NASCAR. Featherlite is part of the "Family of Brands" of Universal Trailer Corporation, which is headquartered in Fort Myers, Florida.