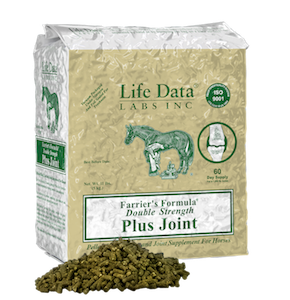 Farrier's Formula® Double Strength Plus Joint is a pelleted combination hoof and joint supplement formulated to promote dense hoof wall growth along with additional joint and tendon support. It addresses the following problems:
Painful joints associated with arthritis, degenerative joint disease, weak ligaments or injury not only affect the ability and willingness of the horse to perform, but also leads to daily discomfort and increased risk of further injury.
Weak hoof structure and problems such as quarter cracks, toe cracks, sand cracks, brittle hoof walls and hoof wall separation not only predispose the horse to further hoof wall deterioration and lameness, they create an environment ideal for the microbial invasions associated with white line disease and crumbling horn.
By providing the same nutrients in the same levels, hoof growth and quality is equally effective as Farrier's Formula®, but with the additional benefit of supplemental nutrients for joint health. With the inclusion of proline, ornithine, glucosamine and manganese, targeted joint support is provided.

Farrier's Formula® Double Strength Plus Joint eliminates the concern of excessive sulfur supplementation that usually occurs when feeding hoof and joint supplements separately. It also reduces the expense of feeding a hoof supplement and a joint supplement separately.

Life Data Labs, Inc. www.lifedatalabs.com

<!-comments-button-->