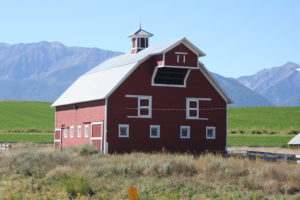 by Michelle Binder-Zolezzi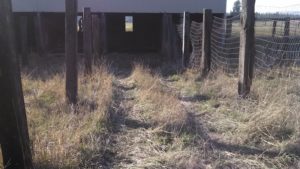 As farms and ranches age, everyday use takes a toll on all parts of the facilities that contain and help us care for livestock.  Eventually, fences sag, gates get crooked, posts loosen, wire rusts and siding gets dented. Over time a once beautiful farm becomes a collection of dilapidated enclosures, buildings and grounds.  Perhaps you have purchased a farm or ranch that needs renovating, but the budget has only a little room for necessary repairs. This was our story; sometimes financial realities put a damper on work that needs doing. Time is also a serious consideration. It is true that all the work a farm needs for regular maintenance takes both time and money. However, if you can make time, many improvements can be managed for very little money.  For us "do-it-yourselfers," farm improvements might take a little longer, but an amazing amount of money can be saved by taking full advantage of what can be recycled, repurposed and reused. 
Make a Plan
First, take stock of what materials are in place and assess the condition of what you already have. Then, draw a simple picture of what you want the finished project to look like.  Measure new fence lines out and decide what distance the posts will be center to center.  Shorter centers lead to a stronger fence, longer centers require fewer posts.  We elected to take out the old railroad tie posts that were on 8 foot centers and put them on 10 foot centers since some of the posts were really rotted at the bottom and we did not have enough to reinstall them at 8 feet apart.  Count the number of posts needed and calculate the lengths of the fence to be hung.  This will help generate a material's list so you can shop over time for items you will need once you start work. A plan will help determine what you need, but it is also important to adjust things if an opportunity comes up to acquire materials the original plan did not call for.  Be flexible, but don't sacrifice the goal of property improvement.  Once the materials are collected it's time to begin the work.
Shopping
When there are budgetary concerns, one important luxury is being able to take time to shop for used materials from private parties: on Craigslist or eBay, or collected from friends and neighbors who have construction projects with leftover materials.  Check these sources and also local newspapers for everything from gravel and fill dirt to posts and wire for fencing, conveyor belting and used rubber mats for stalls and barn floors. You might be surprised at the materials that can be found this way. We took out thousands of feet of field fence and posts that were too short for our purposes that will be re-used by someone who wants to fence a field.  Contact tree services and construction sites for hog fuel/tree mulch to use as mud management.  Call local saw mills for lumber seconds and irregulars that can be used for fencing and shop around at the local discount lumber places, too.  The worst thing that will happen is that they will tell you they don't have anything!  We contacted our local pallet manufacturer and purchased 4 units of rough cut 2X6X10 boards for $3.00/board—half the price of milled fir boards at the local contractors' supply.  This was material that was repurposed for use as fencing.  We bought a bucket of new staples and started working. 
Rental Equipment
It is fairly inexpensive to rent some of the equipment needed to do all kinds of construction jobs. Augers, fence post tampers, compressors, plate compactors, even skid steers are readily available at local rental places.  Renting this stuff was worth every penny to drill the over 1,000 posts holes we needed and set the posts.  Not all projects are that big so decide what is best in your situation. If you are going to dig the holes yourself, borrow a hand auger, or auger them out with rental equipment.  Doing it yourself with proper equipment can save a lot of time while making the job easier.
Demolition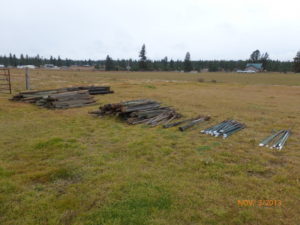 Start demolition of the areas you want to improve.  Place similar materials together so you can see what you have. This also makes for easy access later.  Pull up and stack posts by type, length and useable condition.  Remove all the old hardware like staples and nails and save what is straight enough to be reused.  Measure fence wire lengths and roll up carefully, labeling the rolls with the length of fence contained in the roll.  Even if there are a variety of different materials, by making each new enclosure consistent in appearance the overall look of the project will be improved. 
Focus on Fencing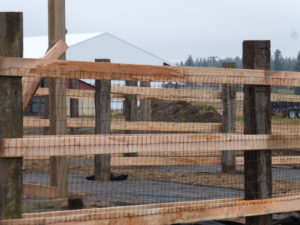 Fencing is an absolutely critical element for livestock management.  Safe, well maintained fencing should not be a luxury; it is a requirement on the farm.  We've all seen fences made out of everything from old cars to broken pallets tied together with baling twine. It's not only unattractive, it's unsafe. With a little ingenuity and  "elbow grease" old fence lines can be made both safe and attractive.  The farm we purchased had lots of different kinds of wire, badly hung on a variety of posts.  With a limited budget, and "sweat equity," we made time for the job and transformed saggy paddocks into safely fenced runs.  
Ready, Set, Build
We used string lines to map out the project and spray paint to mark the hole placement.  New post holes were augered out and the old railroad ties were re-used, installed on 10' centers and top down so the end of the post that was in better condition was put in the ground.  This increases the longevity of the post. We packed the posts with 3/8 minus gravel (the pick-up load was only $25.00) to get a more solid seat on them and reduce rotting.  Corner posts and pull points were set in concrete and if there are only a few, this is not a tremendous expense.  Braces were installed using re-purposed railroad ties whose rotted end was cut off with a chainsaw.  Then, the 2x6x10 boards were installed on the railroad ties. Ten foot centers and 10 foot boards ensured there was no waste.  Finally, we reused the woven horse mesh that was taken down originally.  The old wire fence was secured to a pull post with the new staples, stretched using a homemade fence stretcher and our Suburban, and stapled to the 2×6 fence boards.  The ends were trimmed, folded back and secured.  Total cost of the finished fence was $1.11/foot.  It is safe, looks great and is considered a "real" improvement by the bank. 
Using a little creativity and old fashioned elbow grease, along with the principles of reuse and recycle, you can give an old farm new life.
Michelle Binder is the founder of the Relational Riding Academy, a program that utilizes dressage as fundamental training for all horses performing in all disciplines. A rider for 39 years, Michelle has competed in English, western and hunter and has been a professional trainer since 1994. For more information about Michelle or her program visit relationalridingacademy.com
Published March 2014 Issue
Michelle Binder is the founder of Relational Riding Academy, a program that utilizes dressage as fundamental training for all horses performing in all disciplines. A rider for 40 years, Michelle first competed English and Western rail horses in Washington, then Thoroughbred Hunters in Kentucky. In 1987 she began pursuing Combined Training though USCTA Novice and Training levels. She settled into dressage in the Pacific Northwest in 1995. Over the years Michelle trained extensively with Sue Sherry of Michigan. She has participated in clinics and instructors workshops with many well known instructors, including Sally Swift, Mary Wanless, Gerhard Politz, Jeff Cook, Dr. Rudolph Vlatten and, most recently, Claus Bergener, Grand Prix Judge for the GNEF.
In addition to being an ARIA certified instructor since 1989, Michelle has been a professional trainer since 1994. In the 1997 show season, Michelle finished "V.P. Medly" 5th in the nation in USDF All Breed Awards for Arabian Sport Horses and 26th in the nation for all breeds. In 2006, "A Perfect Mr. Re" finished 8th in the nation in the AACAP Awards for Appaloosas in dressage. In 2007, King of Broken Hearts, a four year old Appaloosa stallion qualified for the ApHC World Show, trained and ridden almost exclusively by Michelle for Vision Quest Ranch.
relationalridingacademy.com