BCHW Hosts BCH of North Carolina at its July Statewide Work Party
By Deirdre Perot, BCH of NC Public Lands Representative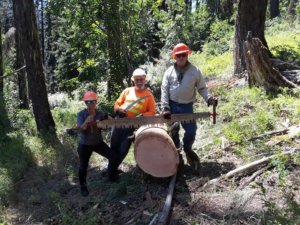 What started as some creative bidding on a hard hat at the April 2018 Back Country Horsemen of America National Board meeting in Spokane turned into an offer by BCH of Washington to a couple of members of the BCH of North Carolina to come out and participate in its annual Statewide Work Party.
Two members from BCH of NC, Dave Michael and myself, Deirdre Perot, accepted the challenge. We booked our tickets and packed our gear with great excitement to come see the other side of the country by horseback. We stuffed our suitcases with our work gear too!
No detail was overlooked in making sure Dave and I were taken care of, including a great camp and wonderful mules to ride. And ride we did! Over the five days we were at the Black Pine Horse Camp outside of Leavenworth, we covered 12-15 miles a day. We aren't rookies but wow, there was a ton of work! Participation included packing in gear for backcountry teams, clearing wilderness trails with cross-cut saws, and working on puncheons—all with primitive tools.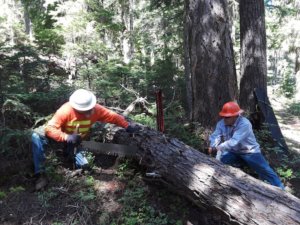 The coordination and planning that organized this 75-person work crew was staggering. Food was all prepared by Kim Merrick and her talented crew (who knew you could camp out for five days, work your buns off and gain weight?) and the equines' hay was provided by the Leavenworth Forest Service District. Stock water was provided by Jason Ridlon and his team. Having all these details taken care of for us allowed us more time to work and get the jobs done.
The tally for work included 45 miles of wilderness trails opened, 3 puncheon bridges and 3 turnpikes built, and 30 planks and 320 pounds of gear packed into the backcountry for the crews. Clearing Black Pine Horse Camp and getting so many trails cleared would have been an impossible task for one or two chapters, but Washington State brought in the posse with members from 17 chapters, independents, and North Carolina involved.
Being part of the national BCHA organization encourages this type of partnership between state chapters. We are all out there trying to do the same thing: working to keep trails open for equestrians. And we're all facing the same challenges: collaborating with other user groups, working with land managers and following legislative issues.
Participating in a team-building, best-practices-sharing, and fellowship-connecting program like this work exchange has been a rewarding experience. We are encouraging our national organization to endorse and promote this exchange as a nationwide opportunity, to make connections across states and learn from each other. There is expertise out there with our legacy members just waiting to be shared, and acres of amazing diverse landscapes to explore and maintain on the back of our equine partners. 
Back Country Horsemen of Washington is dedicated to keeping trails open for all users, educating stock users in Leave-No-Trace practices, and providing volunteer service to resource agencies. To learn more about BCHW go to www.BCHW.org. Keep up with BCHW and issues and events we are following on our state Facebook page www.facebook.com/public.bchw/
Upcoming BCHW Activities and Events
Most of the 32 BCHW Chapters have fun rides other events scheduled throughout the   
year. Go to www.BCHW.org and click on Upcoming Activities and scroll down for the list.
2018 Board of Directors Meetings—Kittitas Valley Event Center in Ellensburg. All members are welcome to sit in: December 1
2019 Rendezvous and General Meeting—March 15-17 at the Kittitas Valley Event Center.
Back Country Horsemen of Washington (BCHW), is a 501 (c) (3) organization with 32 chapters across the state dedicated to: keeping trails open for all users; educating horse users in Leave-No-Trace practices; and providing volunteer service to resource agencies.