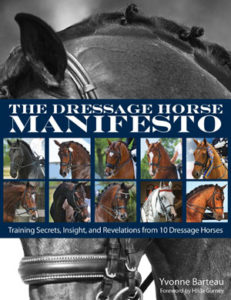 Grand Prix dressage rider and performer Yvonne Barteau has trained her share of horses over the years—from off-track racing Thoroughbreds, to Arabians, to Friesians, to Warmbloods—and she asserts that everything that needs to be known about effectively training a horse is already known…by any horse.
"Each horse," says Barteau, "will know and respect the person who figures out how to train him, if that person is fair. The best trainers are not only 'horse whisperers,' they are listeners. And readers. They can read horse body language and behavior patterns. They are calm and they stay calm under pressure. How did they learn that? By studying horses. Over time the horses told them how to be a horse trainer and they listened."
In this book Barteau has used her knowledge and experience to help put to paper what 10 different dressage horses would say to you about horse training if they could. Through the dressage horse's mouth readers learn: how simple things really are and how complicated we make them; the value of routine, consequence, and peace; the importance of leadership, fairness, and trust; the need for your sense of responsibility to match your ambition; plus, what kinds of rewards really work and what frightens, annoys, or causes horses to disregard us altogether. Trafalgar Square Books, www.horseandriderbooks.com
NWHS Editor's Review: I thought of this book for our Educational Opportunities issue of the NWHS because Barteau's platform that the horses themselves are our greatest teachers rung true with me. She uses the first person narrative where each horse tells the reader what to do in the training – the horses give the lesson! Color photos and well explained exercises make it a useful book to have on your shelf.
Published September 2016 Issue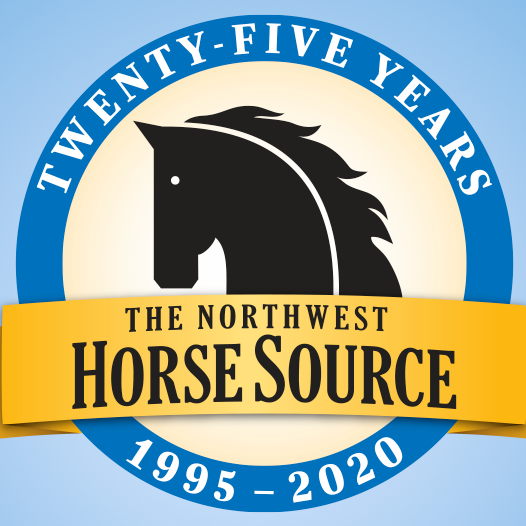 The Northwest Horse Source is an independently owned and operated print and online magazine for horse owners and enthusiasts of all breeds and disciplines in the Pacific Northwest. Our contemporary editorial columns are predominantly written by experts in the region, covering the care, training, keeping and enjoyment of horses, with an eye to the specific concerns in our region.