Prevent a Muddy Mess on Your Farm
By Alayne Blickle
Runoff from driveways, parking areas, hillsides, or even slight slopes can add significantly to the problem of managing mud in equine confinement and high traffic areas. Winter is the time of the year when rain and melting snow can create muddy havoc on horse properties. When teamed with runoff and drainage issues, these areas can become difficult to deal with for both people and horses.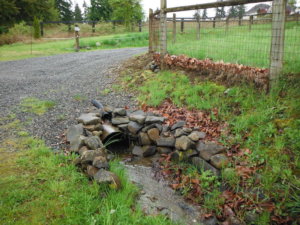 Environmentally speaking, the golden rule for mud management on horse properties is "keep clean rainwater clean." This is accomplished by diverting rainwater and surface waterflows away from paddocks, buildings, manure piles, and high traffic areas. Doing so keeps nutrients and sediments (from manure and mud) out of the runoff as well as reducing mud on your horse property—all win-win!
Here are a few tips for improving drainage on your horse property:
When tackling drainage issues, "slow the flow". The best and simplest way to reduce surface water runoff is to just slow water runoff down. This allows it to infiltrate back into the ground, which may be all that's needed to solve a drainage issue. This also helps recharge the natural ground water hydrology of your property (very important if you have a well) and reduce soil erosion. 
Examples of ways to slow the flow on your property:
Cover a sloped driveway or trail with new gravel. Each piece of gravel helps catch and slow down water traveling downslope towards your barn or shed.

Divert roof run-off into a grassy swale (a gently sloping depression) or a grass-lined ditch.

Water bars (like a speed bump for water runoff) can be used to divert water away from an easily eroded or high traffic area.
The following techniques can be useful to intercept and divert clean surface water out of your paddock and thereby reduce mud:
French drain lines

(a

trench

filled with

gravel

or

rock

or containing a perforated pipe that redirects

surface water

and

groundwater

away from an area).

Diversion ditches (a grass-lined shallow ditch used to reroute the flow of water).

Dry wells (used in well-draining soils, a p

it is dug into the ground and filled with large rock. During a heavy rain, water fills the well and slowly percolates back into the ground water system).

A hedgerow of native plants will intercept water as it runs toward a building or paddock and soaks it up. Use plants that grow in the winter (such as evergreens) and vary in size.
Use these techniques on the outside, uphill side of your paddock or high traffic areas so that surface water is intercepted before it becomes a muddy problem.
In cases where water is diverted to another area of your property, utilize vegetated areas like an unused corner of your pasture or a well-vegetated woody area.
Never divert surface water directly into an existing water body (such as a creek, pond, or wetlands) as the amount of added water can drastically and unnaturally change water levels. When water levels go up quickly, that increases turbidity and important fish habitat is often ruined or destroyed.
Have other mud, manure, pasture, and paddock management questions? Check out these upcoming Horses for Clean Water events.
Clarkston, WA
Asotin County Conservation District
Saturday, November 17, 9 am – 4 pm
Workshop: Preparing Your Horse and Small Acreage Livestock Property for Winter
Contact Steven Woodley, 509-552-8120
Nampa, ID
Idaho Equine Hospital's Client Education Series. Free! Call IEH to pre-register at 208-466-4613
16080 Equine Dr., Nampa, ID. Second Wednesday evening per month, 6:30 – 8:30 pm.
December 12–Winter Hoof Care and Mud Management

January 9–Biosecurity and a Least Toxic Approach to Managing Mud, Dust, Bugs and Weeds on Horse Properties.

February 13–Ulcers, Track Paddocks and Slow Feeders
Online:
Want something horsey to do in the middle of the cold, dark winter? How about an online course to help you get rid of mud, discover options for managing manure, and learn ways to reduce chemical use! Start now to make winter less muddy and the coming summer more chore-efficient with productive pastures and less flies. Courses are updated regularly – join us again for a review! Visit our website for course details and dates.
Online Course – Horses and Land Management
Cost for series is $49 early registration by 1/04/19; $80 late registration.  www.horsesforcleanwater.com/events/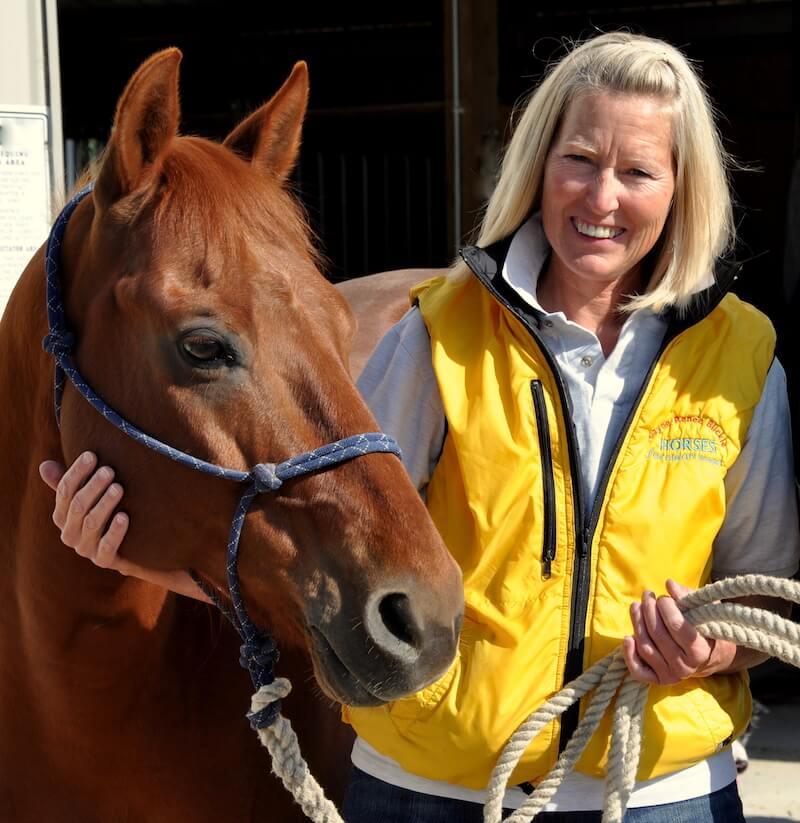 Alayne Blickle, a life-long equestrian and educator, is the creator/director of Horses for Clean Water, an award-winning, nationally acclaimed environmental education program that "wrote the book" on caring for horses and land. Known for her enthusiastic, fun and down-to-earth approach, she is an educator and photojournalist who has worked with horses and livestock owners for over 20 years. Alayne teaches and travels throughout North America and abroad, and also runs Sweet Pepper Ranch, an eco-sensitive guest ranch and horse motel in Southwestern Idaho where she and her husband raise top-notch reining horses and beautiful grass hay. For more information contact Alayne at [email protected] or 206-909-0225.