Come See Why Size Matters at Lynden, Washington Equine Events Center
by Catherine Madera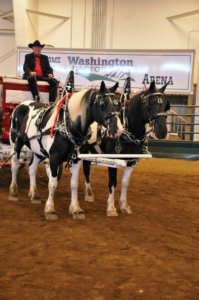 Since the 1970s, horses have been celebrated at the Northwest Washington Fair and Equine Events Center in Lynden, Washington. After 40 years of shows and exhibitions, the facility underwent a 2.1 million dollar upgrade in 2010 with the addition of the Washington Tractor Arena, making it one of the best show venues in the northwest. Whatcom County has an unusual number of draft-horse hitches featuring Clydesdales, Percherons and Belgians, and on July 20-21 draft horses from all over the region will gather at the fairgrounds for the second annual Draft Horse Spectacular.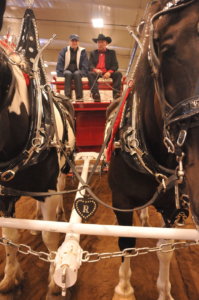 While there are many places to host equine events, not many have the menu of services and amenities available at this facility along with the sheer space requirements of 17-18 hand equine guests. Located just south of the Canadian border and an hour and a half from Seattle, the events center has showcased horses of every size and discipline, from ponies to draft horses. Drawn by the sheer beauty and "wow factor" of its equine stars, the event attracted 1,000 spectators. This year it features vendors, a beer garden, exciting horse shows, drill performances by a draft "Dream Team," a rare team of spotted drafts, and the Warm Beach Vaulters. The event will focus more on draft horse education and hands-on experiences to engage attendees, all arranged at a facility able to accommodate horses and humans in comfort.
"We work hard to keep up the cleanliness, horse safety, user friendliness, and beauty of our facility," says Facility Coordinator Maryjo Turnbull.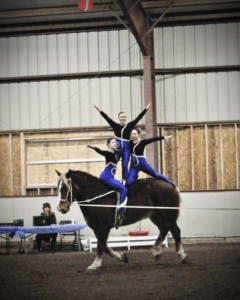 Turnbull has spent a lifetime around horses. Her experience with horse show and program management training makes her uniquely qualified to plan and facilitate equine events of any size and discipline. The NWWF doesn't just rent a facility, it offers event management and outstanding customer service.
"We want to collect as many details as possible so that we can help take away some of the stresses of putting on a horse show," says Turnbull. "We want everyone from the show management, to the participants and their horses, to the spectators and vendors to have a great experience."
While Turnbull is on hand throughout an event to meet the needs of the customer, the facility alone lends itself to comfort. For starters, the sheer size of the place keeps horses moving in comfort. During inclement weather a warm-up arena ensures participants are kept dry while waiting for the action happening next door in the brand new Washington Tractor Arena, a 130×235 foot space that can be heated upon request. This arena has quickly become known for some of the best footing in the region, successfully serving a wide array of disciplines. Other amenities include accommodation for up to 500 horses undercover, seating for about 1,000 spectators, on-demand hot water wash rack, elevated announcer stands, show office and lobby area, wireless capabilities, modern sound system, cattle holding pens, and two outdoor arenas. Space for RVs and easy access to restaurants and the freeway make this equestrian center a favorite venue for horse shows.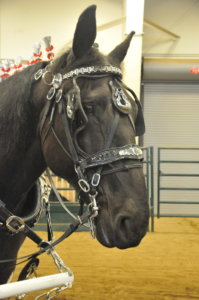 Since the new facility's unveiling at the fair centennial celebration in 2010, MaryjoTurnbull has been busy planning equine events such as cattle sorting, jumping and barrel racing, and also assisting during a wide variety of breed shows, clinics, and exhibitions. Recently the center hosted its largest event ever, the Washington State Equestrian Team Finals. Over 450 horses and 325 campers arrived from all over the state for four days of competition at this spacious facility. Sure to be equally well attended is the upcoming Northwest Washington Horse Expo October 5-7.
"The facility is the best I have ever been at; it was so easy to be there," said WAHSET secretary Carol Brizek. "I have heard nothing but positive feedback. I hope we get to return soon." Last year the Draft Horse Spectacular exceeded expectations.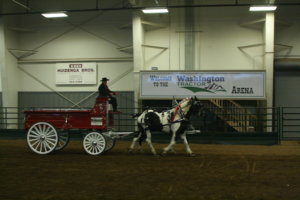 The NWWF has a line-up of exciting equine events to finish out 2012 including clinician Chris Cox, presenting July 13-15 and the Draft Horse Spectacular July 20-21. Each night of the Spectacular attendees will enjoy seeing exhibitors compete in classes from a single horse in cart through a six-horse hitch. The Saturday night finale will be the beautiful and rarely seen eight-horse hitch competition. Tickets for this event are $10 for adults and $5 for seniors. Children 12 and under get in free.  For more information on the Draft Horse Spectacular and other exciting upcoming events visit: www.nwwafair.com.
Customized, competitive rate packages are available for renting the equine center as well as discounts for 4H. For more information visit the website or call the fairgrounds at: 360-354-4111.
Published July 2012 Issue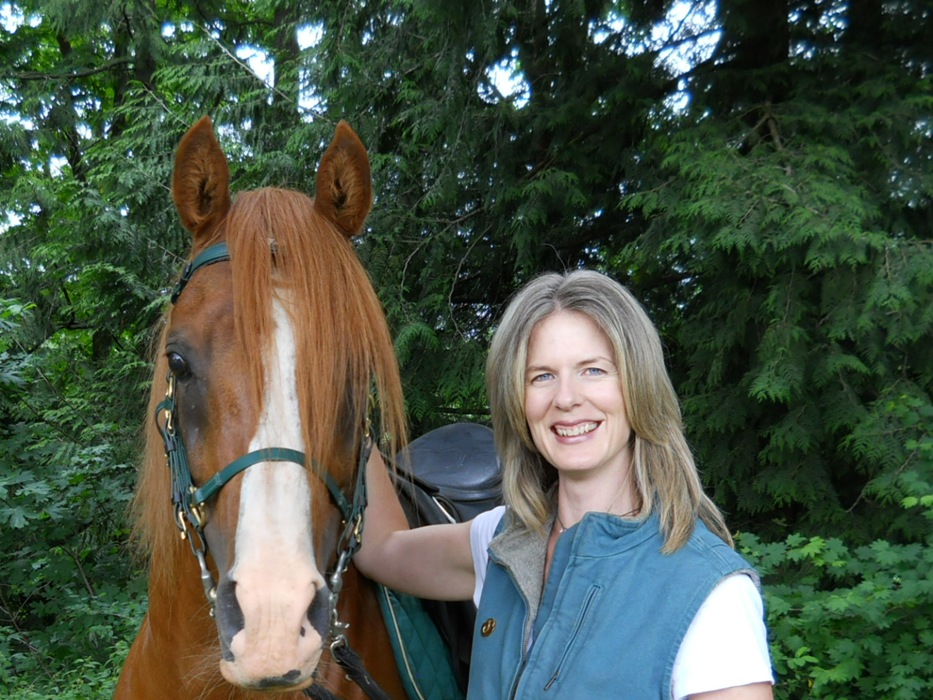 Catherine Madera served as editor of the Northwest Horse Source for five years. She has written for numerous regional and national publications and is a contributing writer for Guideposts Magazine and the author of four equine-related books. She has two grown children and lives with her husband and three horses in Northwest Washington.