Appleatchee Riding Club to Host Fall Spectacular October 2-5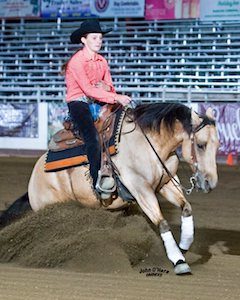 Washington Reining Horse Association will hold its third and final show for 2014 October 2-5 at the Appleatchee Riding Club in Wenatchee. The show starts off Thursday October 2 with a full day of paid practice runs. Classes start at 8am on Friday October 3. A full slate of NRHA classes will be run including Open, Intermediate Open, Limited Open, Rookie Professional, Non Pro, Intermediate Non Pro, Limited Non Pro, Rookie Levels 1 & 2, Open and Non Pro Novice Horse Levels 1 & 2, Youth 13 and under and Youth 14-18. NRHA approved classes are open to Arabian and part Arabian horses in both Open and Non Pro divisions.  Feature classes for the Fall Spectacular are NRHA Futurity classes open to horses 3 years old.  Both Open and Non Pro Futurity divisions will run Saturday evening October 4. Classes that do not require an NRHA competition license for the horse or NRHA membership for the exhibitor will be offered throughout the weekend. See website for details.
WRHA members who have qualified for the NRHA Regional Affiliate Finals by placing in the Top 10 in the WRHA Affiliate Circuit for 2014 can show at the 2014 Regional Affiliate Finals show hosted by the West Coast Reining Horse Association held at the Murrieta Equestrian Center in Murrieta, CA October 8 – 12. Reiners from Washington, Oregon, Idaho and California compete at the Regional Affiliate Finals. The Top 8 in each division are invited to compete at the NRHA North American Affiliate Championship show held in conjunction with the NRHA Futurity in Oklahoma City in November. Visit us at wrha.net.
Originally Published October 2014 Issue
Washington Reining Horse Association's objective is to promote and encourage the showing of reining horses; and to develop and dissemble informational material deemed desirable to provide contestants and spectators a better understanding of a proper performance of the reining horse in the show arena. Our club has members from under ten years of age to over seventy years old and classes are offered from beginner riders to national level open riders. Learn more at www.wrha.net