by Robert Eversole
The Danville-Georgetown Trail System is conveniently located southeast of greater Seattle and features over 27 miles of well maintained trails and a trail obstacle course recently designed and installed by the local Backcountry Horsemen of Washington Chapter.  This King County open space is open to riding year-round and is a good example of the excellent front country riding that the Pacific Northwest has to offer.
Danville Georgetown Highlights:
Easy roadside parking and a very accessible location make Danville-Georgetown a very attractive location for winter rides. This area also holds a wealth of local history that you'll experience while on the trail. As a bonus, an informal agreement between the local equestrian and mountain bike communities, which preserves D-G for equestrian usage only, means that you are somewhat less likely to experience a horse/bike wreck at D-G than you are in some other local trail areas.
Main trailhead parking is located along the side of SE Summit Landsberg Road just west of the Tahoma Junior High School. The parking area is a broad widening of the roadside and is adequate for 10+ truck/trailer rigs. The trails depart from both sides of the road so be sure to explore them all.
While the looping nature of the trails will easily allow you to create a ride of any length, a few of the "must ride" trails are: The Putnam Loop – Blue trail markers will guide the way above stretches of the Cedar River as you ride on the area's longest trail. At times during the year you may be able to spot the flashing fins of spawning salmon in the river below. Old Indian – When you ride this trail you'll be following a route that has been documented since the early 1800's. Local tribes used this path to travel between Puget Sound and the area now called Rattlesnake Lake. For a bit more of a wild flair, The Lone Wolf Trail is the location of several gray wolf sightings in the mid 1990's.  The Ridge Loop Trail will take you past remnants of the area's recent coal mining past. Several pits are located just off the trail where underground mines have collapsed and offer reminders of the hazards of venturing off trail in this area. A short side trail off of the Ridge Loop takes riders to a sober memorial for four miners who were trapped in a 1955 mine collapse 600 feet below.
Old logging and mining roads crisscross the southeastern area of Danville-Georgetown and lead to and through private property owned by a local mining interest. Passes can be obtained for these areas from the landowner.  See photos and more at www.kingcountyexecutivehorsecouncil.org/trails/dangeorge.*
* The kingcountyexecutivehorsecouncil.org is no longer active at the time this article was added to our website in 2018.
Published February 2014 Issue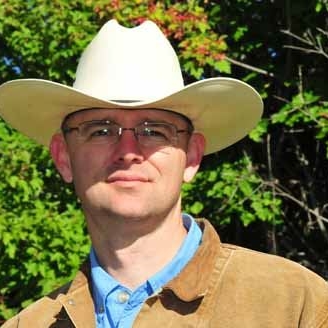 Robert Eversole, "the trail meister," owns www.TrailMeister.com, the largest database of horse riding and camping areas in the U.S. with free trail and trailhead information, trail maps, and much more to help horse enthusiasts experience the joys of trail riding. Robert is a registered riding instructor with PATH International, a mounted search and rescue team member, and a U.S. Marine who has served on the board of the Backcountry Horsemen of Washington (BCHW). He is enjoying his new career helping fellow trail riders stay found and safe on the trail. When not on the trail, The Trail Meister resides near Spokane, WA and teaches land navigation to a wide variety of outdoor groups across the nation. For North America's largest horse trail and camping directory, trail tips, and more, visit www.TrailMeister.com.