Best Rides off Interstate 5: Oregon and Washington
by Robert Eversole
As you drive through Oregon on I-5 the Cascade Range, with its thundering waterfalls, raging rivers, volcanic peaks and glorious clear mountain lakes, clearly beckons you towards its myriad of trails and special places. The Mount Jefferson Wilderness area expands over 104 thousand acres of central Oregon's high country, including the famed Pacific Crest Trail and well over a hundred miles of horse and mule-friendly trails. The western slopes offer wonderful rides through tall forests and rhododendron thickets while the eastern slope offers a somewhat drier experience.
One of my favorite camps on the west side, with easy access into the Mount Jefferson Wilderness, is the Big Meadows campground (about two hours off the interstate). The camp is very well appointed and features potable well water, four horse corrals in each campsite, multiple restrooms and, of course, lots of varied looping trails. It's a wonderful destination point. Rides here meander through forests of pine and fir, stopping occasionally at the small lakes that dot the region. In the right season the wildflowers are spectacular. In every season the glimpses of the nearby 8,000 foot high peak of Three Fingered Jack are awe-inspiring. Although there are many fine loop trails immediately surrounding the camp, we're here for the wilderness and getting there is as simple as following the Duffy Lake Trail. Be sure to fill out the free wilderness permit when you reach the boundary point, about a mile from camp. These permits let the Forest Service know that equestrians use and enjoy these areas and help keep them open to us.
As we cruise Interstate 5 though Washington, the Pacific Ring of Fire is good company with its volcanic peaks towering over the surrounding mountain ranges. If you hop off of President Eisenhower's interstate system in Southern Washington and head east you'll find the Indian Heaven Wilderness, the equally heavenly Indian Racetrack, and a delightful horse camp about two hours from the rushing freeway. Visitors to the Indian Heaven Wilderness area are in for quite a treat: lakes, scenic views, forests and huckleberries, to name a few. Visit at the right time and you'll understand how this area got its name.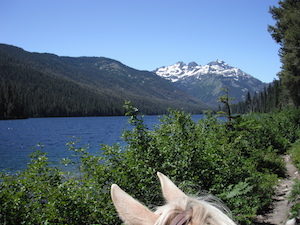 The Falls Creek Horse Camp is small, only six or so spots and the camp drive is tight –I'd be very wary of taking a living quarters rig into the camp. If you have such an outfit, it may be best to disperse camp along the access road in one of several meadows north of the horse camp proper. Riders with rigs capable of the tight turns in the horse campground will find high lines, picnic tables, fire pits, and a centrally located vault toilet in camp. Water in camp is limited to that found in the eponymous creek, an easy and short walk just south of camp.
Once you've arrived and settled in, it's time to ride. The Indian Racetrack Trail (#171) is located on the opposite side of Forest Service Road 65 just north of the horse camp entrance. This trail will take you into the Indian Heaven Wilderness (remember to sign in) and proceeds through a rather rough and rocky trail to a broad meadow and the Indian Racetrack. The Indian Heaven Wilderness, and particularly the Indian Racetrack, has some great history behind it. For centuries, local native tribes would gather here each summer to partake of the area's bounty of deer, fish and huckleberries. When not hunting, fishing, or berry picking, they raced their horses so frequently and with such vigor that the track drummed into the dirt still exists today as a bare depression that runs straight as an arrow for about a quarter of a mile. This is the "racetrack." When we visited we thundered down the track ourselves, at a trot.
As always for more information on these and many more horse riding and camping areas in North America visit www.TrailMeister.com.
SIDEBAR: A notable viewpoint quite near Indian Racetrack is Red Mountain. From the top of Red Mountain you'll have a wonderful (if not windblown) vista of many of the volcanoes forming the Pacific ring of fire. To the north, Mount Baker and Rainier are clearly visible; to the northwest is Mount St. Helen's broken cone, which is mirrored to the northeast by Mount Adams. A glance to the south will bring Mount Hood, along with California's Mount Shasta, into view.
Originally Published November 2014 Issue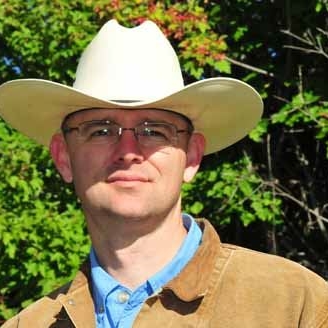 Robert Eversole, "the trail meister," owns www.TrailMeister.com, the largest database of horse riding and camping areas in the U.S. with free trail and trailhead information, trail maps, and much more to help horse enthusiasts experience the joys of trail riding. Robert is a registered riding instructor with PATH International, a mounted search and rescue team member, and a U.S. Marine who has served on the board of the Backcountry Horsemen of Washington (BCHW). He is enjoying his new career helping fellow trail riders stay found and safe on the trail. When not on the trail, The Trail Meister resides near Spokane, WA and teaches land navigation to a wide variety of outdoor groups across the nation. For North America's largest horse trail and camping directory, trail tips, and more, visit www.TrailMeister.com.