Spring is the perfect time to head out on a camping adventure with your horses – especially in Eastern Oregon where the weather is dryer and warmer.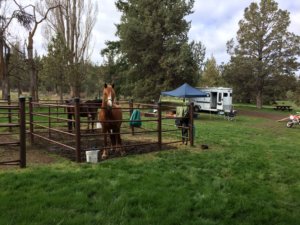 Cyrus Horse Camp, located about an hour north of Bend, Oregon is the perfect place for those seeking easy trail riding and comfortable camping. This high desert horse camp was constructed in 1992 with the help of volunteers on remnants of an old homestead and orchard near Haystack Reservoir.
Cyrus Horse Camp is available for horse camping, standard camping, and RV camping opportunities.
This high desert horse camp sits in an old orchard and is located within the Crooked River National Grasslands recreational area. The camp offers lots of room to park as well as easy riding, beautiful starry nights, and trails suitable for riders of all levels. Endurance rides are commonly held here each year. Unfortunately, reservations are not accepted.
The camp is safe and well-equipped for horses with sturdy pipe corrals, plentiful spring water, lots of meadows for hand grazing, easy trailer parking, level tent spots, picnic tables, a pit toilet, and easy access to miles and miles of beautiful trails through the high desert. The trail footing is very good with soft loam, dirt, and sand. Beautiful vistas, spring wildflowers, and convenient access to springs for drinking make this an excellent place to trail ride.
If some family members prefer to ride motorized horses (aka dirt bikes), Henderson Flats OHV area is easily accessible right from camp and features high desert, open terrain, and a few fun hill climbs. East Fork Rock OHV, a short drive away, is an amazing area with over 200 miles of great flowy trails. There are also hiking and mountain biking opportunities.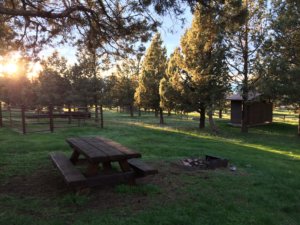 Amenities Include:
Stock water (available seasonally)
5 standard campsites
8 corrals
2 hitching racks
1 water trough
1 manure pit
1 wooden picnic table and 1 combination fire ring/grill per campsite
1 vault outhouse for the campground
Stock water may or may not be available in the future. There was conflicting information on various websites so be sure to call the Crooked River National Grasslands Office (541-416-6640) or Ochoco National Forest Office (541-416-6500) to verify.
For more information search for Cyrus Horse Camp at www.fs.usda.gov or visit www.smithrock.com/cyrus-horse-camp-blm-trails
Here's a good map of the area: www.fs.usda.gov/Internet/FSE_DOCUMENTS/stelprd3794947.pdf
Note: At the time of publication, the area was closed due to the "Stay Home, Save Lives" direction from the Oregon Governor. We offer this article for your future plans.