Can Being Eco-Friendly Help Your Bottom Line?
By Alayne Blickle
Have you heard the old joke about how to make a small fortune with horses? The punchline: by starting out with a large fortune. Does making money on horse acreage need to be this way?
We explored this topic at a Snoqualmie, WA workshop I held this past March in conjunction with the King Conservation District. We looked at managing horse properties so that eco-friendly land management practices are a draw for potential clients.
The workshop was for horse owners and focused on different ways horse properties can utilize their acreage as money-making endeavors. The bottom line was to stimulate the thinking that sustainable and environmentally sensitive ways of keeping horses can by themselves be a draw.
The workshop was held at a private horse property where the owners plan to utilize their eco-sensitive horse property as a venue for corporate retreats or trainings. Promoting thoughtful management of the land as part of the attraction for visiting it, the farm owners explained about their journey, the process of working with their local conservation district, as well as their business plans.
Our next speaker was a Redmond, WA horse property owner who spoke about developing her boarding operation around one specific trainer and her clients, tailoring the boarding operations to meet their needs. Additionally, she created more financial sustainability by diversifying what she does with her rural acreage.
She now has an organic garden and sells produce to a local co-op and has recently begun to raise and sell organic chickens and eggs. Other clever cost-savings include getting her shavings supply for free from a local cabinet maker and creating an attractive pollinator hedgerow for honeybees (yes, she will be raising bees and selling honey too). These are all innovative ways to utilize the environmental aspects of good land management and bring in clients.
I concluded the workshop speaking about Sweet Pepper Ranch, our horse motel and guest ranch in southwestern Idaho. Sweet Pepper Ranch offers a paradigm shift from stereotypical guest ranches or dude string operations. For travelers, we offer overnight stalls for horses and bed & breakfast for humans. We also offer a host of cowgirl retreats, horse camps for youth, as well as clinics for all ages and stages of horse owners.
All this is based around an environmental, eco-friendly theme. We have cement composting bins for manure management, we do rotational grazing in pastures, and we have mud-free paddocks. Other "green" projects at Sweet Pepper Ranch include:
Gopher and rodent control with rodent-eating wildlife like barn owls and American kestrels. We're excited to have two barn owl nest boxes in place now, along with several kestrel nest boxes.

Non-toxic insect control with swallows (several swallow nest boxes installed), non-toxic fly tape and fly bags, as well as fly predators (stingless, nocturnal beneficial wasps that seek out and destroy fly larvae by laying their eggs in them).

We've established a native pollinator hedgerow of drought tolerant prairie flowers that native pollinating insects use.

Water conservation through our use of xeric (drought-tolerant) native grasses and flowers for landscaping as well as habitat for native insects and small animals. Native hedgerows also provide a privacy screen, wind barrier, and dust barrier between us and neighboring uses.
In other words, we showcase horse-healthy and environmentally sound land management as attractive components of our place for clients to enjoy and learn about.
Studies prove that tourists and visitors appreciate agriculture producers and the quality of life they lead—plus, these open spaces protect wildlife habitat and water quality. You too can join in the fun by creating extra income from your eco-sensitive, "green" horse property and by thinking outside the box.
Watch the HCW website to join in on learning about mud, manure, and pasture management—and put your land to work for you!
Join Alayne Blickle at these upcoming Horses for Clean Water events:
Molalla, OR
Saturday, May 5, 9 a.m. – 4 p.m.
All Day Workshop: Pasture Management, Horse Healthy & Track Paddocks plus! Firewise for Horse Owners. lkilders@conservationdistrict.org or 503-210-6002
Online
Join Alayne Blickle in these virtual, live programs which are fun and informative.
Register at Horses for Clean Water.com or alayne@horsesforcleanwater.com
Monday, May 7 – Least Toxic Pest Control
Monday, May 14 – Firewise for Horse Owners
Wednesday, May 23 – Seven Top Tips for Spring Horse Pasture Management
Monday, June 4 – Composting Horse Manure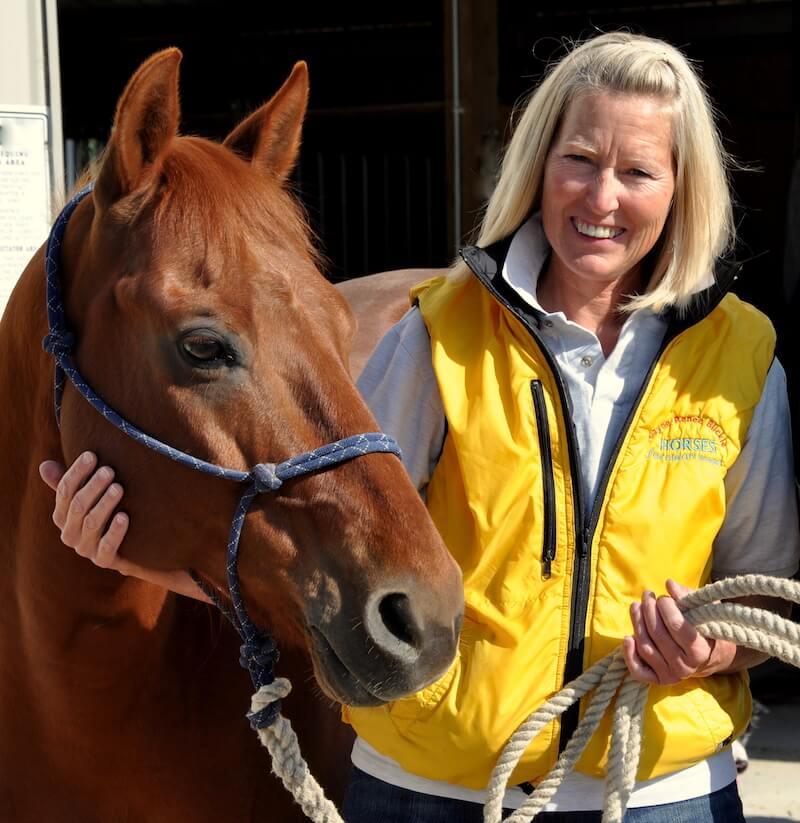 Alayne Blickle, a life-long equestrian and educator, is the creator/director of Horses for Clean Water, an award-winning, nationally acclaimed environmental education program that "wrote the book" on caring for horses and land. Known for her enthusiastic, fun and down-to-earth approach, she is an educator and photojournalist who has worked with horses and livestock owners for over 20 years. Alayne teaches and travels throughout North America and abroad, and also runs Sweet Pepper Ranch, an eco-sensitive guest ranch and horse motel in Southwestern Idaho where she and her husband raise top-notch reining horses and beautiful grass hay. For more information contact Alayne at alayne@horsesforcleanwater.com or 206-909-0225.