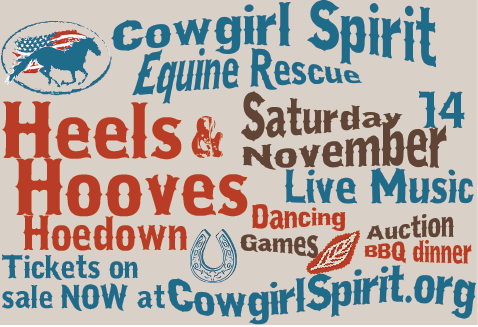 Tickets are now on sale for the Heels & Hooves Hoedown, an annual celebration to benefit Cowgirl Spirit Equine Rescue. The event will feature a live auction, silent auction, live music, dancing, barbecue dinner, drinks, games, and other activities.
"I don't know what excites me more about this event each year: the warm-hearted fun that we all share or the funds that we raise for our rescued horses! We're so excited to host another great night with even more exciting items up for auction," said Cowgirl Spirit Vice President Belinda Jensen.
Among the prizes on the auction block are:
– a Washington equestrian getaway with horse lodging and mountain trail access
– old west cattle drive adventure
– horseback riding lesson packages
– spa and therapy treatments for both humans and horses
– original art work and beautiful crafts
All proceeds go towards caring for and training wonderful, deserving horses. Cowgirl Spirit President Teri Gustafson explained the mission, "We save the horses from neglect and starvation, teach them to trust and love again, and place them where they will be forever cherished."
The hoedown will take place at 6 p.m. on November 14 at the Brightwater Education and Community Center, 22505 Washington State Route 9, Woodinville (Maltby) WA. All adults are welcome. Tickets cost $50 each. Tables of 8 are discounted at $350.
For more information and to buy tickets, go to http://www.csrdt.org/events/.
To donate auction items or ask a question, contact officers@csrdt.org
About Cowgirl Spirit:
Cowgirl Spirit Equine Rescue shelters, rehabilitates, and rehomes unwanted and slaughter-bound horses. Located in Carnation, Washington, our horses are cared for by an all-volunteer staff and supported entirely by donors like you.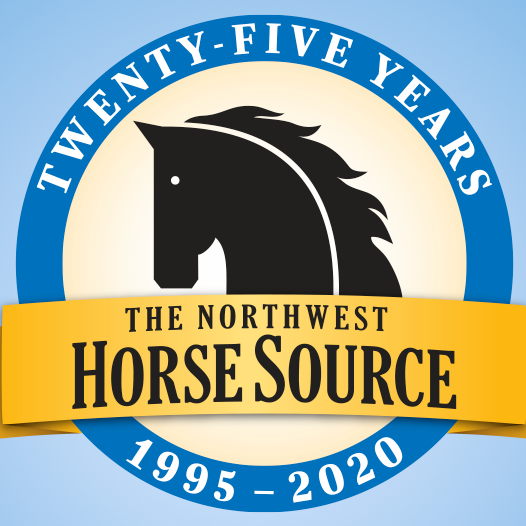 News from the horse industry. Sharing today's information as it happens. The Northwest Horse Source is not responsible for the content of 3rd party submissions.